The biotech news at the end of March was grim. "Are Biotech Stocks Popping a Bubble?" read a Bloomberg News headline that was typical. The story explored whether the recent reversal in biotech indices was a harbinger of the end of the bull run. It's been a roller coaster ride since the tumble, with stock charts across the board still trending downward.
The 12 stocks in The Life Sciences Report's Biotech Watchlist portfolio have not been immune. The 2014 portfolio has been in negative territory for the past couple of weeks—a bit of a shock for followers who saw the 2013 Watchlist portfolio post an overall gain of 59%.
Biotech's dip has been pegged to a letter sent by members of Congress that questioned the pricing structure for Gilead Science Inc.'s Sovaldi, a hepatitis C medication. Politicians raising the specter of governmental interference in how drugs are priced "sent investors scrambling for cover," wrote Michael King, managing director and senior biotechnology analyst with JMP Securities in a May 23 industry update.
"Let's hope Gilead mounts a robust defense of its practice and reminds the committee of the risks entailed in drug discovery and development, in addition to the value generated in avoiding cirrhosis, liver transplant and liver cancer. Oh, not to mention that nearly everybody treated with Sovaldi will be cured. . ." King continued.
John McCamant, editor of the Medical Technology Stock Letter, addressed the issue this way in a special update to investors: "Having analyzed this sector for more than 25 years, we have observed periods of major selloffs and sentiment shifts. Most often, those times were driven by secular changes—negative clinical trials of a high-profile drug, U.S. Food and Drug Administration (FDA) rejections and regulatory push-backs, declining sales/earnings, etc. Every now and then politicians stick their two cents into the high price of new drugs and that usually does not have a lasting effect on innovation and value creation. This time the major influence, we believe, is an extreme sentiment shift in the market combined with excessive valuations—kicked into high gear by the congressional letter and subsequent media coverage."
Though Gilead's Sovaldi could be thought of as an instigator, there is some consensus that valuations in the biotech industry were due for what BioCentury's Bernstein Report on BioBusiness calls "a healthy correction." Once that correction takes place, both King and McCamant, who selected companies included on The Life Sciences Report's Biotech Watchlist, believe the market will stabilize and valuations will continue to climb for companies backed by solid science and sound business models. While King believes the biotech market could get worse before it gets better, ". . .as long as the FDA is accommodative and companies continue to advance the state of the art with products that truly redefine the standard of care, valuations in the group will continue to climb." McCamant concurs: "Capitulations are dominated by the negative emotions of gloom and doom; eventually this will pass, as the underlying fundamentals remain strong for biotech investing."
Here's a brief summary of how the indices have fared (from the week of March 23):

Source: ThomsonOne and JMP Securities LLC
As of April 9, the NASDAQ Biotechnology Index was down 0.63% year to date, and the NYSE.Arca Biotech Index was up 6.25%. The Biotech Watchlist is down 4% year to date, with most of the companies in the basket reflecting the overall market malaise. The status of each company is summarized briefly below. Be sure to check out the Biotech Watchlist portfolio tracker to follow the companies, as well as the overall portfolio, in real time. (All charts sourced from Yahoo Finance; year-to-date as of April 9.)
Anthera Pharmaceuticals Inc. (ANTH:NASDAQ)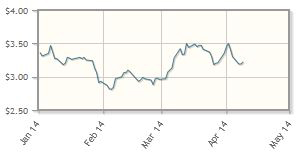 With a focus on inflammatory and autoimmune diseases, Anthera's blisibimod, currently enrolling for a Phase 3 trial, is due for an interim look in Q2/14.
BIND Therapeutics Inc. (BIND:NASDAQ)


Data from Phase 2 trials for BIND-014, the company's targeted treatment for prostate cancer and non-small cell lung cancer based on its Accurin platform technology, are expected in H2/14.
Celgene Corp. (CELG:NASDAQ)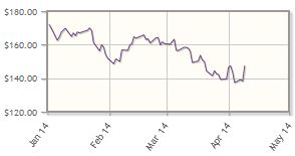 Celgene's stock met with the good, the bad, and the indifferent. The company received FDA approval for Otezla (aprelimast) as an oral treatment for psoriatic arthritis. But events surrounding headline drug Revlimid (lenalidomide), approved for multiple myeloma, was mixed. Regulators in the United Kingdom rejected use of the drug in certain instances, a decision that analyst King called "astonishing. . .but unlikely to affect earnings materially nor set a precedent for other European Union countries." Celgene's stock was also impacted by news that its patent infringement case was set to go to trial sooner than expected. Catalysts for Celgene's pipeline therapies are ongoing.
Celldex Therapeutics (CLDX:NASDAQ)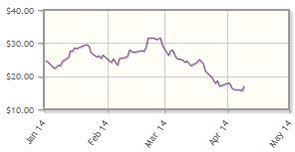 King expects a "productive year" for Celldex, with four clinical studies expected to read out in 2014, The company, focused on cancer treatments using monoclonal antibodies and immunotherapies, has pipeline headliners including rindopepimut, a peptide-based therapeutic vaccine for brain cancer and CDX-011, a breast cancer treatment.
Cerus Corp. (CERS:NASDAQ)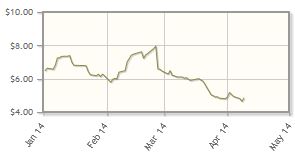 Cerus continues to make progress toward getting approval for its Intercept Blood System, designed to improve the safety of the blood supply by inactivating pathogens, in the North American marketplace. The system already is in use in European countries. The company announced on April 7 that it had submitted a medical device license application to Health Canada. Premarket approval for Intercept is anticipated in Q3/14, with a U.S. launch expected in Q4/14.
CytoSorbents Corp. (CTSO:OTCBB)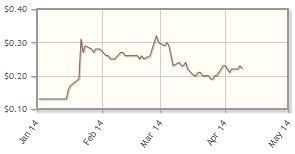 In Q1/14 Cytosorbents announced it had secured additional funding through a direct offering to institutional investors, with the stated goals of facilitating commercialization of CytoSorb, a cytokine filtration system that removes toxins from blood, in Europe, as well as funding clinical studies in the U.S.
Incyte Corp. (INCY:NASDAQ)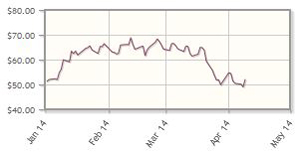 Data for Jakafi (ruxolitinib) in the treatment of pancreatic cancer is expected to be presented at the American Society of Clinical Oncology (ASCO) annual meeting in late May/early June. Jakafi, a potential "blockbuster," is already approved for treatment of myelofibrosis. Data on the company's IDO inhibitors, another cancer immunotherapy, are also expected at ASCO. Incyte also plans to file for FDA approval of Jakafi for polycythemia vera later in 2014.
Novavax Inc. (NVAX:NASDAQ)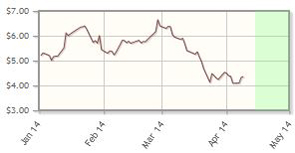 The catalyst is upon us: Data for the company's respiratory syncytial virus (RSV) vaccine is set to be released following completion of its Phase 2 study later in April.
Omeros Corp. (OMER:NASDAQ)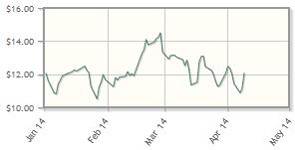 The first review of the new drug application for Omeros' lead compound, Omidria, in ocular inflammation, is set for late May; the product is slated for commercialization in H2/14. In addition, the company announced that it plans to start a Phase 2 clinical trial for OMS721 in thrombotic microangiopathies. Omeros announced the closure of a public offering of common stock in mid-March; funds will be used, in part, to support Omidria's launch.
OncoGenex Pharmaceuticals Inc. (OGXI:NASDAQ)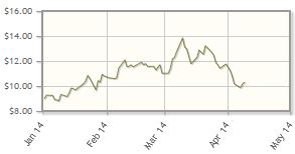 Targeting metastatic castrate-resistant prostate cancer, Phase 3 trial results for custirsen are due mid-2014.
Pharmacyclics Inc. (PCYC:NASDAQ)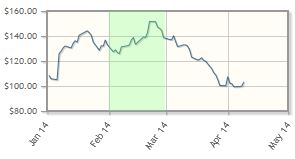 The "contagion" in the biotech sector appears to have infected Pharmacyclics, according to King, "which, despite a robust Imbruvica launch (that appears to us to be well ahead of Street expectations), is succumbing to concerns about longer-term competition." Nonetheless, Imbruvica remains positioned for approval in additional blood cancer indications. The company is expected to present data from its Phase 3 RESONATE trial at ASCO and to initiate a Phase 1 trial in autoimmune disorders.
Verastem Inc. (VSTM:NASDAQ)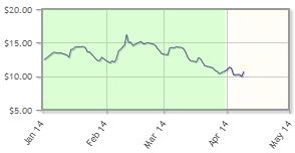 Interim data for the company's mesothelioma therapy, VS-6063, a cancer stem cell (CSC) pathway inhibitor currently in a Phase 2 trial, was presented at the American Association of Cancer Research meeting on April 9. According to the Verastem presentation, ". . .research results demonstrated that VS-6063 directly kills CSCs through FAK inhibition."
Biotech Watchlist 2014 (story) Biotech Watchlist 2014 Portfolio Tracker The Approval Process in Action (infographic)
Read what other experts are saying about:
Want to read more Life Sciences Report interviews like this? Sign up for our free e-newsletter, and you'll learn when new articles have been published. To see recent interviews with industry analysts and commentators, visit our Streetwise Interviews page.
DISCLOSURE:
1) Tracy Salcedo-Chourré compiled this article for Streetwise Reports LLC, publisher of The Gold Report, The Energy Report, The Life Sciences Report and The Mining Report, and provides services to Streetwise Reports as an employee. She owns, or her family owns, shares of the following companies mentioned in this interview: None.
2) The following companies mentioned in the interview are sponsors of Streetwise Reports: Omeros Corp. Streetwise Reports does not accept stock in exchange for its services.
3) The article does not constitute investment advice. Each reader is encouraged to consult with his or her individual financial professional and any action a reader takes as a result of information presented here is his or her own responsibility. By opening this page, each reader accepts and agrees to Streetwise Reports' terms of use and full legal disclaimer.
4) From time to time, Streetwise Reports LLC and its directors, officers, employees or members of their families, as well as persons interviewed for articles and interviews on the site, may have a long or short position in securities mentioned. Directors, officers, employees or members of their families are prohibited from making purchases and/or sales of those securities in the open market or otherwise during the up-to-four-week interval from the time of the interview until after it publishes.