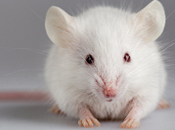 Most experimental drugs fail before they make it through all the tests required to figure out if they actually work and if they're safe. But some drugs get fairly far down that road, at the cost of hundreds of millions of dollars, based on poorly conducted studies at the outset.
Medical researchers reviewing this sorry state of affairs say the drug-development process needs serious improvement.
Consider drugs that are being developed to treat , or Lou Gehrig's disease. In the past decade or so, nine potential drugs have been tested in people who have this degenerative nerve disorder. Not one has been effective.
So Steve Perrin, who runs the in Cambridge Mass., decided to take a close look at the mouse studies that had initially suggested these drugs were promising.
"We tried to replicate those findings precisely by talking to the authors and trying to repeat the experiments in an identical fashion," Perrin says. "And what we found was that we couldn't replicate a lot of the experiments."
Perrin says that if scientists had been more careful with their initial mouse studies, they would have realized that these drugs were never good candidates and that it made no sense to try them in people. . . view more
Richard Harris
NPR