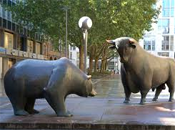 Although global mine supply set records in 2013 and is forecast to continue setting records this year, gold mining equities have been one of the worst performing sectors both in the equity markets and relative to gold, precious metals consultants CPM Group observed in the 2014 Gold Yearbook made public Tuesday.
The prices of most gold mining equities are at the lowest levels they have been since the depths of the previous gold bear market in 1997-2002, CPM said.
Nevertheless, CPM noted that during the fourth-quarter 2013, "the bear market in gold equities was bottoming out, and that there was some rejuvenation of interest in mining equities beginning to emerge."
"CPM Group has anticipated such a revival, and expects equity investors to return to the mining share market slowly but steadily," said the report. "Such a revival may be anemic for a few more quarters, but by the final quarter of 2014, it may be more clearly in place."
Gold prices declined for the first time in over a decade in 2013. While CPM does not expect the gold price to drop significantly from current levels, nor anticipates sharp increases in prices over 2014 and 2015, it does expect that gold equities would be expected to turn higher before the price of gold.
In their analysis, CPM acknowledged that mining cost cutting "and the manners in which they are executed can have differing effective on the value of gold and gold equities."
"A reduction in capital and exploration expenditures for both new and existing operations will eventually weigh on future gold mine supply. This would be supportive of gold prices in the medium term." However, CPM noted, while the loss in mine supply can be supportive of gold prices, it does not necessarily push gold prices higher.
"The primary driver of gold prices, which can move prices significantly higher or lower, is investment demand," CPM observed. "Insofar as investors see lower gold production coming along in the future due to these cutbacks, they may increase their gold bullion purchases assuming that such lower production should support prices."
"The reduction in costs resulting from the reduced exploration and capital expenditures, coupled with support for gold prices, would help equity values in the medium term as well," CPM suggested.
CPM estimated that between 2002 and 2012, an estimated $44.5 billion or 42% of total global nonferrous metals exploration budgets were allocated to gold mining. Last year, weaknesses in gold and other nonferrous metals prices sent global exploration expenditure tumbling 29% to $15.2 billion.
Over the longer term, the loss in new mine production could keep gold prices higher, but mining stocks could suffer, CPM cautioned. "This is because mining companies may not have the capacity to grow ounces or revenues when the gold price is high. Conversely, if producers improve their profitability, equity investors may re-invest in the sector, boosting their share price."
"A reduction in cash costs could have a more positive impact on gold mining stocks than it would on the price of gold," CPM asserted. "Reducing cash costs does not necessarily hurt mine supply; it does benefit the mining company's financial statements."
Global mine production
Global mine supply rose by around 500,000 ounces in 2013 and is forecast to continue rising by another 3.3 million ounces to 87.5 million ounces in 2014. What drives mine supply is the gold price, capital expenditure, access to capital, and cash operating costs, said CPM.
Most gold producers have responded to lower prices by focusing their mining on higher grade ores, producing more gold ounces and lowering their average per-ounce cost of production.
Meanwhile, 12 million ounces of new gold mining capacity are expected to come on stream by 2016, down substantially from the original projection of 22.8 million ounces of new mining capacity. Projects that started production last year are estimated to have added 6.2 million ounces to global gold production capacity, while projects beginning this year are projected to add 2.68 million ounces, CPM forecast.
Large increases in mine supply are expected from Brazil, China, DRC, Ghana, Indonesia, Mongolia and the United States this year. Among the major gold producing countries, South Africa and Australia are forecast to see production declines this year, according to CPM.
China remains the world's largest gold producer, contributing almost 16% of global mine supply last year for a total of 13.8 million ounces. Mine production in China this year is expected to increase 5.6% to 14.5 million gold ounces.
"Even as production continues to grow, the lower prices of gold and difficulties mining companies are experiencing in securing development financing are reducing projected future increases in production," CPM observed.
"Poorly controlled costs are one of the biggest issues that investors have with gold mining companies, and the recent decline in gold prices has drawn greater attention to poor cost management at gold mining companies," CPM said.
Although mining companies have been able to reduce all-in sustaining costs, they have not been as successful in curbing cash cost inflation, said CPM, as cash costs rose 7.7% during the first nine months of last year.
Going forward cash costs are likely to decline, CPM advised "because as metals prices decline or remain relatively weak there will be less of a rush to start new mines and therefore a reduced demand for inputs, which should reduce the level of cost inflation of these inputs."
"Going forward, a further reduction in the cost related to sustaining production may be limited, but cash costs still have the potential to be reduced further," CPM stressed.
Dorothy Kosich
Mineweb