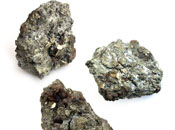 Back in December, Uranium Investing News (UIN) took a look at current uranium industry developments in the African countries of South Africa, Niger and Tanzania. As that article made clear, there are a wealth of opportunities in that sector on the continent.
In this second installment, UIN covers the history and future of uranium mining in Mauritania, Gabon and Zambia, three more African countries. While none of them are top producers of uranium at the moment, they have potential that has attracted many companies, from juniors to established multinationals.
Gabon
While uranium is not currently being mined in Gabon, the country was a center of uranium mining activity for decades, the World Nuclear Association (WNA) notes. Uranium deposits in the Mounana area of Southern Gabon were discovered in 1956 by French Atomic Energy Commission geologists, and mining began there in 1960. In 1999, however, operations at Mounana were halted "due to a lack of economically recoverable reserves," as per the WNA.
One company that operated in that region during those years is AREVA (EPA:AREVA), the world's second-largest uranium producer; it mined uranium in Southern Gabon through its subsidiary, Comuf. Unfortunately, a study commissioned by the European Parliament in 2010 notes that the company's "past mining activities continue to pose health risks to the local population and environment," Facing Finance states. AREVA has since founded an initiative to compensate those whose health was impacted.
Currently, the company is in the midst of exploration campaigns in Gabon aimed at renewing its uranium mining operations there. It operates under the subsidiary AREVA Gabon and has four mineral exploration permits in Mopia, Andjogo, Lekabi and N'Goutou, which are promising areas. Exploration activity is also occurring at the Bagombe, Mikouloungou, Ndzali and Mberse deposits.
In terms of the country's operating conditions, Gabon's World Bank Ease of Doing Business ranking for 2013 was 169, though for 2014 it has improved by six points. Starting a business, dealing with construction permits and paying taxes are all becoming easier, according to the World Bank.
Mauritania
The WNA describes Mauritania as a relatively promising country for uranium production. One key company operating there is Aura Energy (ASX:AEE), an Australian company that the Mauritanian government has welcomed on an official level. Its Reguibat project is a greenfields calcrete uranium discovery with a current resource of 49 million pounds.
In its recent annual survey, the Fraser Institute identifies Mauritania as a top African country for mining. However, the nation ranks fairly low on the World Bank's Ease of Doing Business index; it holds an overall rank of 173.
Zambia
Zambia has issued uranium mining licenses since late 2008, the WNA notes, and has been a member of the International Atomic Energy Agency since 1969. Operating in the country is privately owned Equinox Minerals, which controls the $762-million Lumwana project in Northwest Zambia. It produces copper and uranium from separate deposits in the same area and has an indicated uranium resource of 3,800 tonnes and an inferred uranium resource of 2,570 tonnes.
Chirundu, which is near the border with Zimbabwe, is another major project in Zambia. It has 4,300 tonnes of measured, indicated and inferred resources and is 100-percent owned by African Energy Resources (ASX:AFR).
Zambia ranked 94th among 185 countries on the World Bank's Ease of Doing Business 2013 index; however, it scored highly on some measures like getting credit and paying taxes. It is still difficult for producers to deal with construction permits, get electricity to sites and engage in cross-border trade.