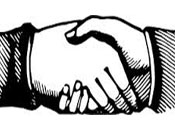 Specialty pharma dominates 2013 M&A: Specialty pharma companies, with far less firepower individually and as a group than traditional big pharma, have been more resourceful in using mergers and acquisitions (M&A) to drive growth while simultaneously enhancing shareholder value. In 2013, nine companies collectively added US$100B of market valuation, with shareholder returns up 82% for the year. Specialty pharma acquirers accounted for roughly 40% of all 2013 M&A by value, with no fewer than seven offshore deals totaling over US$35B. All of these deals resulted in increased 2014 guidance, driven in part by lower projected tax rates. Notably, this subset of specialty pharma companies, which entered 2014 with headquarters outside the U.S. (mostly in Ireland), enjoyed shareholder returns averaging 130%.
But the real story going into 2014 is strategic. Specialty pharma has bulked up to unprecedented levels that will allow this most acquisitive group to pursue larger deals—the recent announcement that Actavis is acquiring Forest Laboratories for US$25B as an example—that would have been inconceivable just a few years ago. Consider this: During the Winter Olympic Games four years ago, there was only one specialty pharma company with market capitalization over US$30B and just two over US$10B. As they lit the torch in Sochi, five specialty pharma companies are standing on the US$30B+ market value podium, with 10 over US$10B. So why is this relevant now?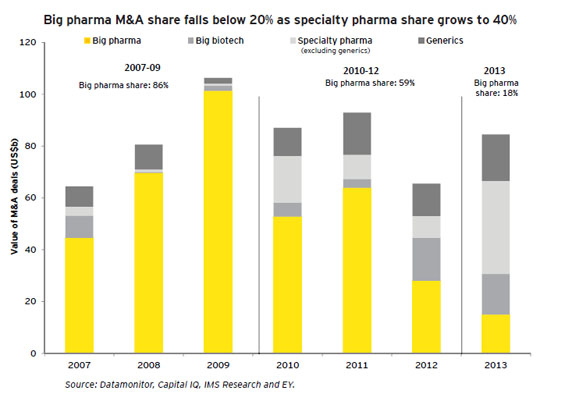 Big pharma has been moving through its painful restructuring going back to the Vancouver games, and is now in the midst of a potentially major divestiture period. Of the dozen US and European majors, nearly half (Abbott, Pfizer, JNJ, Novartis, GSK) have completed or announced divestiture deals—two IPO spins, one sale to strategic, two sales to private equity, with most of the others openly sharing on their year-end conference calls over the past month that they are considering strategic alternatives, with increasing likelihood of divestitures.
Some of these noncore assets have substantial sales, including newly formed business units with established products with revenues north of US$6B, animal health assets with sales ranging from US$1B to US$4B and consumer products businesses with similar scale. Looking at this mix of businesses, which includes branded generics with strong growth trajectories in emerging markets, there is clear interest among the suddenly much-larger specialty pharma companies that now exist. Several now have the firepower to pursue select assets and, more importantly, the requisite operational infrastructure to generate growth and healthy returns for shareholders from such acquisitions. This landscape did not exist just a few years ago.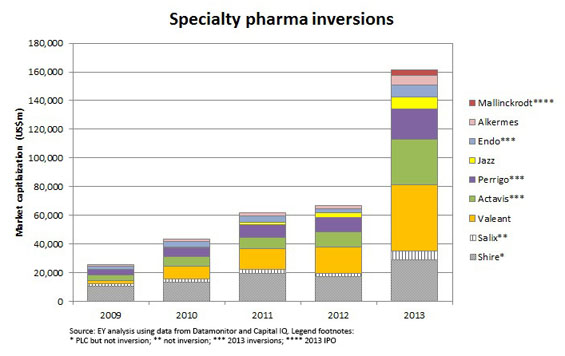 However, getting there will be no easy task and may take some time, as one prominent big pharma CFO articulated on a year-end analyst call. Meeting asset, income and investment tests whereby the percentage of divested assets within the acquired entity range from 20% to more than 50% can affect the timing of potential transactions, in the range of one to three years. In short, the larger the acquirer and/or smaller the divested assets, the shorter time to get deals done.
This could have a significant impact on the strategic thinking of both big pharma and specialty pharma players as they contemplate potential transactions in 2014 that could be springboards for M&A in 2015. Last week's watershed deal for Forest Laboratories may exemplify the strategic value of bulking up. With biotech companies less likely to be interested in acquiring pharma's noncore assets—with the possible exception of select vaccine and diagnostic franchises—the pool of buyers may come from big pharma peers and the specialty pharma crowd. None of the specialty pharmas had the firepower to compete for these franchises just a few years ago, but now several can, and others may try to enhance their capability to participate in M&A in the next few years. That's good for everybody.
Andrew Forman
EY Changing Business of Life Sciences blog