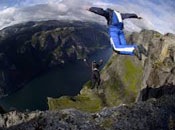 The pharmaceutical industry is on the brink of another significant patent expiry cliff. Unlike the one it fell off in 2012, though, the latest version will leave it relatively unscathed.
Big drugs like Copaxone, Nexium and Namenda will be hit hard, but pharma's collective ability to replace lost sales will negate the overall effect (see tables below). This, coupled with the continued resilience of off-patent biologicals and inhaled products, could see the industry stay in rude health for some time to come—at least if sellside forecasts prove accurate.
This year drugs expected to go generic will leave some $38.7B of sales "at risk." In 2015 this figure rises to $47.5B—not far off the $54.7B that came under threat in the notorious patent expiry cliff of 2012.
That said, nowhere near this amount will actually evaporate. A look at EvaluatePharma's consensus forecast data reveals that the sellside expects only 36% of 2015's $47.5B to be lost to generics, compared with a massive 70% of the corresponding 2012 number.
Better still, the industry is expected to add $58.4B of new revenue in 2015. This "sales replaced" figure eclipses even the total revenue at risk, and makes the $17B set actually to be lost seem like a minor irritation.

The best indication of pharma's growing resilience is the 5% compounded annual growth rate at which prescription drug sales are set to grow over the next five years, with the obvious caveat that the numbers are generated by investment bank analysts. 2012 was unprecedented in seeing prescription drug sales fall.
Big Sellers
This year's loss of IP protection for Copaxone and Nexium has been well documented, and at this stage it is too late for their makers to make up for the expected revenue losses. The genericization of Namenda, meanwhile, is no longer an issue to Forest shareholders given their company's recent agreement to be acquired by Actavis; branded Namenda will apparently be withdrawn in August.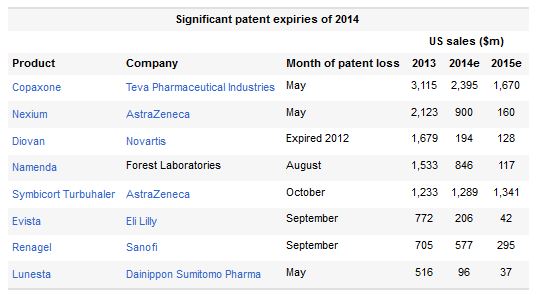 More interesting in the class of 2014 is the advent at last of generic versions of Novartis's hypertension drug Diovan. This actually lost patent protection two years ago, but Ranbaxy, holder of first-to-file status, has been unable to launch a generic because of an ongoing U.S. import ban.
This technicality has prevented any U.S. generics from entering the U.S. market. Each week of Diovan sales is now taken as an unexpected bonus and it remains unclear when Ranbaxy will be given the go ahead.
Also telling is that two of this year's five biggest genericizations—Novo Nordisk's NovoRapid and Allergan's Restasis—are expected to see growing revenue for a few years to come. As a fast-acting insulin the former enjoys the benefit of being a biological, while substitutable forms of the latter seem unlikely without clinical studies, blunting the effect of patent expiry.
AstraZeneca's Symbicort seems relatively safe in the U.S., thanks to the difficulty of showing bioequivalence for inhaled products—the same benefit that has protected GlaxoSmithKline's Advair—though in the EU, Teva's version of Symbicort recently got regulatory backing.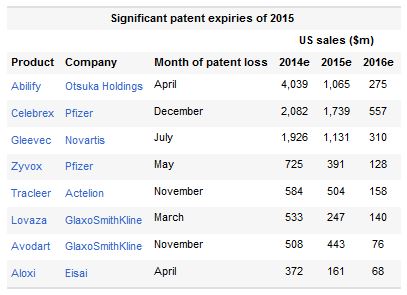 Such resilience can be seen even more keenly in 2015, when loss of patent protection will barely have an effect on Lantus's or Neulasta's revenues, forecast that year to hit $6.5B and $3.4B respectively. While both are biologicals, the former will eventually be threatened by biosimilars under development by Lilly and Boehringer Ingelheim, and Merck & Co. and Samsung.
It is undeniable that the 2015 loss of small-molecule drugs like Abilify, Celebrex and Gleevec will be tough, but only Otsuka, at present, faces a significant dip in group sales as a result. Novartis has plenty of new revenues coming through, while Pfizer is opting for a corporate transformation, mulling a three-way business split to release hidden value for investors.
Of course, the forecasts could well prove far too optimistic, but as major patent cliffs go the industry has worked hard to prevent a repeat of 2012.
To contact the writers of this story, email Jacob Plieth or Joanne Fagg in London at [email protected] or follow @JacobEPVantage and @JoEPVantage on Twitter