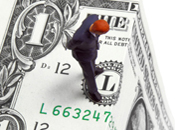 This could be the biggest year ever for investing in biotech takeover targets—all due to the patent cliff.
The "patent cliff" refers to the sharp revenue drop a pharmaceutical company faces when the patent on one of its drugs expires. At that point, other drug companies can begin replicating name-brand drugs, cutting into the billions of dollars in revenue that large-cap pharmaceutical companies are used to.
In 2014, nearly $50 billion in pharmaceuticals will be going off patent, according to Bloomberg.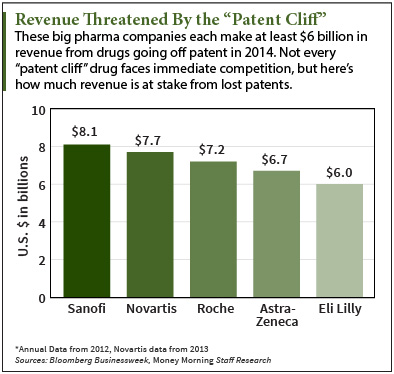 Sanofi (NYSE ADR: SNY), Novartis AG (NYSE ADR: NVS), Roche Holding Ltd. (RHHBY), AstraZeneca PLC (NYSE ADR: AZN), and Eli Lilly & Co. (NYSE: LLY)will all be losing more than $6 billion each in annual revenue this year due to expiring patents.
These large-cap pharmaceutical companies, instead of starting from scratch on a new patent, want an easier and more effective way to replace their lost "cash-cow" revenue. They will look to acquire biotech companies—and their phase 2 or phase 3 drugs.
The ideal candidates are small-cap biotech firms whose pipelines include late-stage drug candidates or other promising pharmaceuticals.
With that criteria in mind, here are six small-cap biotech firms on the list of takeover targets to watch in 2014. . .
Biotech Takeover Targets in 2014
Insmed Inc. (Nasdaq: INSM) primarily develops inhalation therapies for the treatment of lung diseases. Insmed's most notable project is ARIKACE, an inhaled antibiotic for patients suffering from cystic fibrosis and non-tuberculous mycobacteria. Currently, ARIKACE is in phase II trials in the United States and phase III trials in Canada and Europe.
INSM stock has gained an impressive 241% in the last year and currently trades at $19.73. Insmed has a market cap of just $772 million, which also makes it an attractive takeover option for large-cap pharmaceutical companies.
Acorda Therapeutics (Nasdaq: ACOR) provides treatments for people suffering from multiple sclerosis (MS), spinal cord injuries, and other nervous system disorders. The biggest product for Acorda is Ampyra, which helps MS patients who have difficulty walking. The company reported that through the first nine months of 2013, Ampyra sales had risen by 13%. Ampyra is already approved by the U.S. Food and Drug Administration (FDA), and Acorda currently has three FDA-approved drugs in its portfolio.
ACOR stock reached an all-time high of more than $40 per share last April, but has drawn back quite a bit since then. Currently, ACOR shares trade at $28.47. ACOR's market cap is $1.18 billion.
Dynavax Technologies Corp. (Nasdaq: DVAX) is best known for its phase 3 candidate HELPLISAV, which is used to treat hepatitis B. HELPLISAV's claim to fame is that it provides earlier and higher protection with fewer doses than other licensed vaccines. Dynavax has 18 issued U.S. patents in its portfolio. The company has also partnered with GlaxoSmithKline plc (NYSE ADR: GSK) for an autoimmune program and has partnered with AstraZeneca to create an asthma therapy.
Dynavax is the smallest company on this list with a market cap of $449 million. Trading at just $1.70, DVAX is truly a biotech penny stock. Analysts at the investment bank Cowen Group have listed DVAX as a buy and have posted a lofty price target of $8 for the stock. That would represent a 370% increase from today's price and would be the type of penny stock rocket that investors hunt for.
Nektar Therapeutics (Nasdaq: NKTR) has products in its pipeline that deal with cancer, infectious diseases, viruses, and diseases of the immune system. NKTR currently boasts eight late-stage drug candidates, which makes it very attractive to any large-cap biotech company looking to add to its product portfolio.
NKTR has rewarded shareholders in the last year to the tune of a 47% gain. Despite having so many late-stage candidates, NKTR still has a market cap of just $1.62 billion.
Idenix Pharmaceuticals Inc. (Nasdaq: IDIX) develops drugs for a variety of viral and infectious diseases, but is best known for its treatments for hepatitis B, hepatitis C, and HIV. Idenix has a market cap of $1.02 billion and currently trades at $6.75 per share. In the last three months, IDIX stock has gained 42.3%. In January, analysts at UBS rated IDIX stock as a "buy" and listed it as a possible takeover candidate in 2014.
Just a couple of weeks ago, hedge fund Baupost Group agreed to purchase 16 million IDIX shares, bringing its total stake in Idenix to 35%. That majority ownership has stoked the rumors that IDIX could be poised for a buyout in 2014.
Portola Pharmaceuticals Inc. (Nasdaq: PTLA) has a phase 3 product in betrixaban, which is a once-daily Factor Xa inhibitor for those suffering from venous thromboembolism prophylaxis (VTE). That's important for investors because there is no other approved treatment for VTE prophylaxis on the market. The fact that betrixaban is already in the third phase of development makes Portola extremely attractive to potential buyers.
Portola's market cap of just $874 million also makes it an attractive takeover candidate. In the past year, PTLA stock has jumped nearly 64%, and the stock is currently worth $24.88 per share.
Kyle Anderson
Money Morning