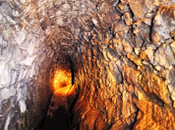 Most of the world isn't watching.
But they should be.
When you have giant private equity firms heatedly bidding on a copper mine, that's huge news by itself. . .
Add in China—the world's biggest commodities consumer, responsible for 40% of the world's copper demand—vying for the same mine, and you could be looking at an explosive spike in copper. . .and, of course, in the companies that get it out of the ground.
First, here's what's going on. . .
Private Equity "Insiders" Can See It Coming
When Glencore International merged with Xstrata PLC, the world's largest commodity trader and fourth-largest mining company took shape.
But that merger put China, the world's biggest commodities consumer, on high alert.
China feared Glencore Xstrata PLC's (LON: GLEN) expanded influence over the copper market, and put pressure on Glencore.
To get the merger through, Xstrata agreed to sell Las Bambas, a Peruvian copper mine that is one of its largest projects, set to produce over 450,000 tons of copper annually starting in 2015.
Now, one of Wall Street's shrewdest investors wants a piece of the action.
And they're hardly alone. The China Minmetals Corporation is currently considered the front-running bidder. With large cash reserves and a voracious appetite for copper, it's easy to see why.
But the competition just heated up. A group led by Magis Resources (headed by former Barrick CEO Aaron Regent), also including Teck Resources Ltd. (NYSE: TCK), Newmont Mining Corp. (NYSE: NEM), and private equity giant, The Blackstone Group L.P. (NYSE: BX), is expected to take a serious run at Las Bambas.
That's right, the world's largest private equity, with $240 billion in assets, wants in on copper.
Blackstone's interest in Las Bambas likely means the firm smells an opportunity in both mining and copper, simultaneously.
Interestingly, as financing for mining has become particularly challenging, sophisticated investors are being drawn in.
Pim Kalisvaart of investment firm Altus Strategies expects private equity could even lead investment in the resource sector over the next several years as they search out mining and hard assets as an inflation hedge.
And Kalisvaart would know—he used to head Xstrata Ventures, a division of the same Glencore Xstrata that's now selling Las Bambas.
Sprott Consulting LP, Sprott Inc.'s (TSE: SII) private equity unit, has been awarded a mandate to co-manage a 10-year $750 million private equity fund. South Korea's National Pension Service and Korea Electric Power Corporation (ADR) (NYSE: KEP) will each contribute $375 million to the fund, and Sprott—along with Woori Asset Management—will make private equity investments in global natural resources and power sectors.
This isn't the first time either that I've mentioned private equity's interest in mining assets. Only two months ago I told you about Mick Davis, the former CEO of Xstrata, raising $1 billion to go hunting for ripe resource deals.
Understand this. These are "insiders" who know the industry exceedingly well. And they see the opportunity for some major profits.
Even Politicians Are Lining Up Behind It
Mining isn't always popular, but it is necessary.
And copper is one of the most important metals for construction, infrastructure, and technology. That's a message finally hitting politicians, as well.
Recently the Commerce Committee in Arizona's House of Representatives hosted representatives from in-state mining companies to discuss the benefits of copper mining within Arizona. Arizona is a major copper-producing jurisdiction, so they're looking to streamline permitting and development for copper production.
So big equity and big government are moving in the same direction.
The Subtle Market Signs Are Already in Place
For the better part of three years, the price of copper, the ubiquitous base metal, has essentially traded sideways.
But this consolidation may be about to end soon.
A number of bullish developments, from major asset acquisitions to supportive politics and recent price action, could be setting the stage.
This confluence of factors seems to be combining, pointing to a strong signal that copper may be on the verge of a breakout.
Here's what the copper price looks like over the past five years.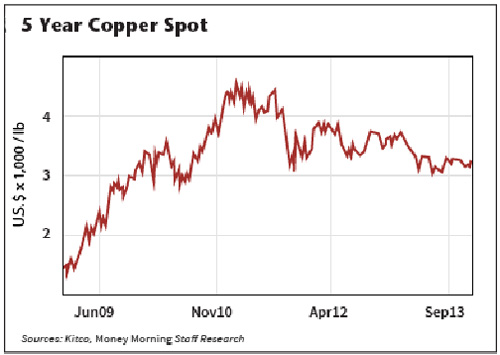 But if we zoom in to examine price behavior over the past nine months, a different picture emerges.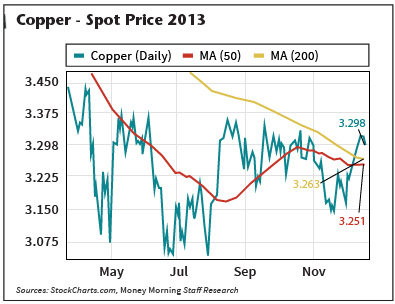 You can see a recent surge in the copper price from the $3.15 range up to the $3.30 range. While that's happened before, this time the price has broken through both the 50 and 200-day moving averages.
What's more, both these averages have recently been flattening out, bolstering the odds that copper is nearing the end of its consolidation period, and potentially gearing up for a run up.
Three Stocks Running the "Copper Race"
Freeport-McMoRan Copper & Gold Inc (NYSE: FCX) is based in Phoenix, Arizona—a state seeking to leverage copper production.
BHP Billiton Limited (ADR) (NYSE: BHP) is based in Australia. Its prices have mirrored copper's recent increase.
RIO Tinto plc (ADR) (NYSE: RIO)is based in London. These shares have also followed the recent December upturn.
Peter Krauth
Money Morning