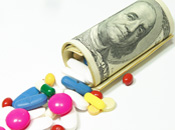 After enduring the biggest patent cliffs in recent times, the pharmaceutical industry has been slowly recovering with the effect of the genericization of a number of major drugs gradually fading. Though the major patent expiries are over, the industry will continue to witness a few more in the near to mid-term.

However, new products are expected to support top line going forward. This, along with increased pipeline visibility and smart utilization of cash, should increase confidence in the sector.

Meanwhile, a flurry of restructuring activities has been witnessed in the sector. In order to offset the adverse effects of genericization, a number of companies have adopted different cost-cutting measures including layoffs and the divesture of non-core business segments. This should further help the industry regain its footing.

Given this scenario, it might be a good idea to zero in on a handful of pharma stocks that are poised to beat earnings estimates this quarter. An earnings beat should help these stocks gain investors' confidence and show price improvement.

How to Pick the Right Stocks?

Given a number of industry participants, finding the right stocks that have the potential to beat earnings estimates could appear to be a difficult task, but our proprietary methodology makes it fairly simple. We suggest picking stocks that have a combination of a favorable Zacks Rank—Zacks Rank #1 (Strong Buy), #2 (Buy) or #3 (Hold)—and a positive Zacks Earnings ESP.

Earnings ESP is our proprietary methodology for determining which stocks have the best chance to surprise in their next earnings announcement. It shows the percentage difference between the Most Accurate Estimate and the Zacks Consensus Estimate.

Our research shows that for stocks with this combination, the chance of a positive earnings surprise is as high as 70%.

Below are four pharma stocks we believe are best positioned to receive a strong boost once they announce earnings in the coming days:

Shire plc (SHPG—Analyst Report) is a Zacks Rank #3 (Hold) stock with an earnings ESP of +6.1%. The Zacks Consensus Estimate for the third quarter is $1.64. In the past 7 days, estimates (on an average) have inched up by a penny.

Dublin-based Shire is a specialty biopharmaceutical company catering to diverse medical needs through research and development, manufacture, sale, and distribution of pharmaceutical products. Shire is well placed in the attention deficit hyperactive disorder (ADHD) market, thanks to key drug Vyvanse, which is now being developed for additional indications as well. Shire's recent focus on expansion in additional geographies like China, Brazil and Japan is also encouraging.

The company has registered an average earnings surprise of 1.17% over the trailing twelve months.

Shire is expected to report its third-quarter 2013 results before the opening bell on Oct 24.

BioMarin Pharmaceutical Inc. (BMRN—Analyst Report) carries a Zacks Rank #3 (Hold) and has an earnings ESP of +67.86%. The company has delivered an average earnings surprise of 13.46% over the trailing twelve months.

This California based company develops and commercializes biopharmaceuticals for treating serious diseases and medical conditions. The company's product portfolio comprises four approved products besides multiple pipeline candidates. The company has seen an increase in product revenues on a year-over-year basis in the last four quarters.

BioMarin is scheduled to report its third-quarter 2013 results on Oct 24.

Mylan, Inc. (MYL—Analyst Report) is a Zacks Rank #3 (Hold) stock and has an earnings ESP of +2.56%. The Zacks Consensus Estimate stands at 78 cents. On an average, Mylan has posted a solid positive surprise of 3.61% in the past four quarters.

This Canonsburg, Pa.-based company specializes in the development, manufacture, marketing, and distribution of generic, branded, and branded generic pharmaceutical products, as well as active pharmaceutical ingredients (APIs). Mylan's boasts of a vast geographic reach, diversified product portfolio and robust generic pipeline.

Mylan is one of the leading players in the global generics market with a deep generic pipeline. Mylan's generics business segment is expected to continue to perform well with a large number of high-value branded pharmaceuticals going off-patent and many more expected in the next few years.

Mylan is expected to report its third-quarter 2013 results before market opens on Oct 31.

Incyte Corporation's (INCY—Analyst Report) Zacks Rank #3 (Hold) and an earnings ESP of +7.69% make it another candidate of this category. For the third quarter, the Zacks Consensus Estimate is pegged at a loss of 13 cents, reflecting an increase of 23.5% on a year over year basis.

Incyte Corp. is a Wilmington, Del. based biopharmaceutical company with a focus on oral compounds to treat inflammation and cancer. The company's sole marketed product is Jakafi for myelofibrosis. Jakafi has performed well since launch and is expected to keep doing so going forward.

Incyte is scheduled to report its third-quarter 2013 results before market opens on Oct 31.

Bottom Line

While a number of companies will continue to face industry challenges, many others are beyond their worries and are witnessing a turnaround in results. As the pharma stocks look for a survival strategy, a sneak peek to the space for some possible outperformers could be a great idea for investors looking to profit this earnings season.
Get the full Analyst Report on SHPG
Get the full Analyst Report on BMRN
Get the full Analyst Report on MYL
Get the full Analyst Report on INCY