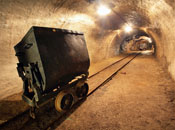 2014 will be as bad or worse than 2013 for junior explorers, Miranda Gold CEO Ken Cunningham informed members of the Nevada Mineral Exploration Coalition Tuesday.
Nonetheless, Cunningham, Roger Steininger, NuLegacy Gold COO, and analyst John Kaiser of Kaiser Research Online suggest a number of junior companies with Nevada gold exploration projects are in a position to survive the financing downturn if they are willing to employ certain managerial strategies.
In a strategy aimed at raising money through unique exploration ideas, Cunningham is cutting staff in Miranda's Nevada office to concentrate on its Colombia exploration program.
Junior companies need executives who are connected with the financial community to survive, he observed. Cunningham credits his relationships with power players in the financial sector as "very critical" to Miranda's survival during tough financial times for junior explorers.
Noting that very few brokerage firms are writing checks for mineral exploration, Cunningham observed that the remaining investors are interested in hard assets, companies which are potential takeover targets, and have some cash in the bank.
Cunningham explained that junior companies must be prepared to spend $500,000 annually to simply list on the TSX-V and must maintain a minimum $1 million exploration budget. A budget of at least $4 million-$5 million is needed to go public, he observed.
If a private junior explorer cannot raise $3 million to $4.5 million in financing, Cunningham warned that company should not consider going public at this time.
Many underfunded juniors will fail due to lack of financing, a situation which may prove good for the future of gold mining exploration, he suggested.
Joint ventures with senior gold producers as well as joint ventures with other junior companies are simply not working at the present time, Cunningham said. Alliances between junior and senior mining companies are also not doing well, he added.
Among the current more successful capital raising strategies are working with executives in major resource brokerage firms or fund managers. Merging with a company that has a treasury also seems to be working, as well as pre-selling royalties on properties, along with flow-through financing, Cunningham suggested.
NuLegacy Gold's Steininger observed that Nevada gold explorationists' foremost challenge "is funding, funding and funding." He urged junior explorers to merge with a better funded company and make sure their company keeps its news flowing.
"The key is you got to make a discovery," he declared, adding that a company needs to focus on only its highest quality property and eliminate the rest, observing there are too many "one-hole wonders."
Staying within the five-acre notice level permitting scenarios can also save valuable dollars for a junior explorer, Steininger advised. Nevertheless, he noted that filing a plan of operations is becoming necessary for permitting even exploration projects. Those plans generally cost $100,000 and take at least one year to complete.
Steininger observed that junior explorers can employ several strategies to survive the tough times including: reduce overhead and land holdings; hold out for a better investment climate; or bit the bullet and suffer stock dilution.
If there are funds in a junior company's treasury, that company should consider looking for additional holdings, but focus on Nevada properties, he suggested. That company should also focus on actual geology of a property and not waste time with anomalies.
The good news during difficult times is that more good people are available for mineral exploration and contractors are easier to obtain, Steininger noted.
John Kaiser considers Nevada properties special and believes the state is going to become the focus for another modern day gold rush.
While many exploration properties domestically and globally currently face "predatory, rock-bottom valuations," Kaiser observes that most of these properties are not located in Nevada. He also noted that a surplus of low-grade gold properties now exist globally.
Of the 800 junior companies that still have money in their treasuries and retain competent management, Kaiser estimates that 40 of these companies specialize in Nevada and of those, two companies—Midway Gold and Pilot Gold have millions in their treasuries.
Dorothy Kosich
Mineweb