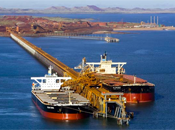 Record export figures from Western Australia's Port Hedland suggest iron ore miners BHP Billiton, Fortescue Metals and Atlas Iron are set to report strong quarterly earnings in the coming two weeks.
The port authority published figures last week showing September volumes of 29m tonnes, up 6% on August and 46% higher than September last year. Rio Tinto, which pushes its Australian shipments through its own facilities at Dampier and Cape Lambert, is also at record iron ore capacity, having completed an expansion program last month that lifted output to 290m tonnes per annum.
"Rio, BHP and Fortescue are all running at record levels," says Macquarie metals analyst, Colin Hamilton, who is short-term bullish on prices. "It shows the lagged impact of investment that we've seen over the past three years yielding some results."
Driven by restocking, the Pilbara's export figures paint a buoyant picture of Chinese demand, which accounts for 80% of shipments from Port Hedland, the world's largest bulk port by tonnage. Current Chinese import prices of $131 per tonne represent a 20% improvement on levels this time last year.
Bumper volumes flowing from the Pilbara, however, also reveal the increasing dependence by once diversified majors on seaborne iron ore markets. Rio Tinto's iron ore division generated $11.8bn in the first half of this year, equal to 44% of total group sales. Over 90% of that came from its share in eleven mines in Western Australia. By comparison, five years ago, its iron ore unit only accounted for 27% of first half sales.
BHP Billiton similarly generated $20.2bn from iron ore in its last full-year, equal to 31% of its group-wide total revenue. Five years ago that figure was 16%.
Growing efforts to strengthen their balance sheets and minimize capital commitments has encouraged both Rio and BHP to increasingly slim-down their portfolios, divesting non-core assets to concentrate expenditure on their largest and longest-life assets. Whilst BHP exited its diamond business in April, Rio has sold-off its Eagle copper-nickel project in Michigan and its idle Blair Athol coal mine in Queensland, announced last week.
With the mantra of production growth firmly out of favor, the shedding of lossmaking and, or, capital intensive peripheral projects is the focus for these firms. But, coupled with a consistent expansion of their Pilbara operations, the indirect consequence has been a sharply rising dependence on iron ore.
Rio Tinto has already begun a new expansion program in the Pilbara, lifting output to 360m tonnes per annum by 2016. Internally, the group has also seen the promotion of its former iron ore head, Sam Walsh, to the position of group chief executive. Analyst tours have meanwhile prompted a batch of broker upgrades, lifting shares in London by 8% in three months versus a 2% fall in the FTSE 100.
The Shanghai Composite Index, to which Rio's shares are now practically pegged, is a better proxy however for the Anglo-Australian majors, with a bet on Rio or BHP more than ever a bet on Beijing. Macquarie's Hamilton says the iron ore market is very largely a play on China. "We've seen tentative signs that ex-China is no longer a drag on the market," he says, "but it's not really contributing to growth. Iron ore continues to be the most China levered metal and bulk commodity."
Alex Williams, Mineweb