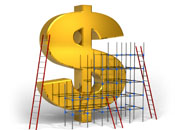 Continuing where they left off at the end of the second quarter, global biotechs recorded yet another positive quarter. However, the fundraising pace did slow down reflecting what proved to be a comparatively quiet summer period. Nevertheless, more than $4 billion was banked by public and private companies in the third quarter of 2013, a 29% drop from the almost $6 billion that was raised in the second quarter and 17% shy of the total generated in Q1/13.
According to analysis by BioWorld Snapshots the sector has been able to raise $15.1 billion year-to-date, a 9% increase over the almost $14 billion that was garnered in the same period of 2012. Approximately 57% of the total cash generated in 2013 came from public offerings. The sector appears to be on track to hit $20 billion in cash raised by the end of year.
In all there were 27 public offering transactions generating $1.26 billion in the third quarter, with companies continuing to take advantage of their higher stock valuations and welcoming capital markets to raise funds for their operations. Most of the transactions were for less than $100 million, and, as a result, the total fell well short of the more than $2.8 billion that was raised through public offerings in the third quarter of 2012 from just 17 deals. However, padding the total last year was Celgene Corp., which priced two series of senior unsecured notes for an aggregate principal amount of $1.5 billion. (See BioWorld Insight, Oct. 8, 2012.)
The transaction totals are not huge because "Companies are showing good discipline and accessing cash when they need it and not overcapitalizing in spite of the level of euphoria that is surrounding the biotech sector currently," John Chambers, head of Healthcare Investment Banking at Roth Capital Partners LLC, told BioWorld Insight.
The top deal in terms of dollars raised was Synageva Biopharma Corp., of Lexington, Mass., which closed a $179 million underwritten public offering of 3.16 million shares of common stock, including 412,500 shares related to the exercise of the underwriters' option to purchase additional shares, at $56.63 per share. Proceeds, the company said, will be used to support its lead program, sebelipase alfa, which is in Phase III testing in late-onset lysosomal acid lipase deficiency, also known as cholesteryl ester storage disease, and also the acceleration of development of its early stage pipeline. (See BioWorld Today, Sept. 26, 2013.)
This was the fourth substantial public offering for the company in the past two years as it rides the wave of growing enthusiasm for the rare disease space. (See the Rare Disease section on this page.) The company's share price shot up 51% in the third quarter and it is up 37% year-to-date.
Public companies, both large and small, also took advantage of their increased stock values to conduct private placements such as registered direct offerings, rights offerings and at-the-market deals raising $1.7 billion in the third quarter of 2013 from these vehicles, 73% more than the $982 million raised during Q2 2013. The largest of the 46 transactions involved Cubist Pharmaceuticals Inc., of Lexington, Mass., which closed its offering of $800 million aggregate principal amount of convertible senior unsecured notes in two series: $350 million aggregate principal amount of 2018 notes and $450 million aggregate principal amount of 2020 notes.
Capital Market Performance
Although fund raising might have slowed down in the third quarter the performance of public biotech companies certainly did not. According to BioWorld Insight analysis, 54 biotech companies developing therapeutics, with market caps greater than $1 billion, collectively saw their share prices jump by an average of 27% and are up by a whopping 92% year-to-date.
Even newly minted public biotechs are rapidly vaulting themselves into the "billion dollar" market cap group. Epizyme Inc. joined the "club" seeing its shares jump by 167% since the company's first day of trading. (See BioWorld Today, June 3, 2013.) At the close of the markets on Sept. 30, its share price was $40, which valued the company at $1.14 billion. (See Biotech IPOs Reward Investors, p. 2.)
"It is an exciting time right now for the biotech sector with the IPO market open, great company valuations and follow-on financings taking place," said Chambers. As a result the comfort level for investors is high. A re-pricing of biotech is taking place in the context of an active M&A market and with about $100 billion flowing back to investors from acquisition payouts over the past couple of years. It is being re-invested, which is a positive for the biotech sector.
Among the group of large-cap companies there have been some impressive individual performances. Clovis Oncology Inc., for example, has seen its share valuation jump by 280% year to date, driven by impressive results from Phase I/II trials of its oral CO-1686, which were reported at ASCO 2013.
The experimental therapy CO-1686, a targeted covalent (irreversible) inhibitor of mutant forms of the epidermal growth factor receptor (EGFR) in patients with initial activating EGFR mutations as well as the dominant resistance mutation T790M, garnered four confirmed partial responses in heavily pre-treated patients.
Rare Diseases
Investors also have been impressed with large cap companies developing therapies targeting rare diseases. NPS Pharmaceuticals Inc., of Bedminster, N.J., for example has seen its shares vault 250% this year (111% in the third quarter). NPS gained FDA approval of lead candidate Gattex (teduglutide [rDNA origin]) for short bowel syndrome late last year and is developing Natpara (rhPTH [1-84]) for adult hypoparathyroidism. Sarepta Therapeutics Inc., of Cambridge, Mass., which is developing its exon-skipping drug eteplirsen to treat Duchenne muscular dystrophy (DMD), has seen its share price jump 83% YTD (24% in the third quarter).
Buyout speculation for two other companies in the rare diseases space—Alexion Pharmaceuticals Inc. and Biomarin Pharmaceutical Inc.—has pushed up the valuation of both companies. (See BioWorld Today, Sept. 20, 2013.)
Capital Market Performance
The statistics are equally impressive when the 257 public biotechnology companies that are developing biotherapeutics are taken into account. According to the BioWorld Stock Report, they have collectively recorded an average 28% share price increase in the quarter and a 51% increase since the beginning of the year.
With this strong performance over an extended period there is always the fear that biotech's "bubble" will burst.
Chambers said the horizon for a major slowdown in the sector is further out than many people might believe. The fundamental underpinnings of the sector are still strong because biotech companies are the incubators for large cap biotechs and big pharmas that need to prepare for an uncertain environment of slowing growth in health care costs as the Affordable Healthcare Act takes effect in the U.S.
Companies realize that critical mass will be important with strong product portfolios and personalized medicine, targeted therapeutics and companion diagnostics being key factors to staying resilient.
However, the changing milieu will occur gradually, which is why the sector, while it may lose some of its momentum going forward, will still experience slow and steady growth during the next few years.
Venture Capital
Globally biotech firms have received $2.5 billion in venture capital year-to-date, slightly ahead of the $2.4 billion that private companies received in the same period in 2012.
In the third quarter of 2013, according to BioWorld Snapshots, $948 million was raised, about the same amount that was raised in 3Q 2012. While the totals were the same the volume of VC deals was much higher in the current period with 53 transactions completed versus 40 last year.
Despite the high volume of deals in the quarter, the total raised was 27% lower than the almost $1.3 billion raised in the second quarter. This was primarily due to the fact that deal sizes were smaller.
The largest deals in the third quarter were later-stage deals. Dicerna Pharmaceuticals Inc. pulled in $60 million in a Series C round, representing one of the largest private financings for biotech so far this year, to move into the clinic with its lead RNAi-based candidates against genetically defined targets in disease areas such as oncology. (See BioWorld Today, Aug 1, 2013.)
Execs from Watertown, Mass.-based Dicerna said the firm is on track to file an investigational new drug application by the end of this year for its lead oncology RNAi therapeutic, with the drug to start clinical testing in the first quarter of 2014. That drug is designed to target Myc, a transcription factor implicated in many different cancer types but one that has proved difficult in terms of drug development.
NGM Biopharmaceuticals Inc. also raised a sizeable $50 million in a Series C round to advance in-house efforts in cardiometabolic diseases, including diabetes and obesity. (See BioWorld Today, July 19, 2013.)
Otonomy Inc.'s Series C round generated $45.9 million and should last into the second half of 2014, when one of its ear disease drugs is expected to be ready for a new drug application filing, another will have finished the first of a pair of pivotal trials and a third will be eligible for an investigational new drug application.
Peter Winter
BioWorld