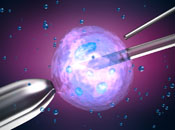 During the past few weeks, investors have seen a tremendous rally in the biotechnology industry. Many stocks have been participating in the rally, but there have been a few that are especially standing out because of performance and/or new announcements.
Celldex Therapeutics (NASDAQ:CLDX) appears to have traded into another stratosphere. Since Sept. 20, the stock has appreciated by more than 25%. With a lot of positive press coming out about the company's pipeline, investors appear to be big believers in the company's eventual ability to treat a variety of cancer indications. Of particular importance is CDX-011, an antibody-drug conjugate that targets glycoprotein NMB (GPNMB). GPNMB is a protein overexpressed by multiple tumor types, including breast cancer and melanoma. In late 2012, the company completed a Phase 2 EMERGE study in metastatic breast cancer. The final results supported overall survival benefit in patients with high GPNMB expression.
On Sept. 23, analyst Howard Liang from Leerink Swann raised his price target for Celldex to $45. Mr. Liang expects positive updates from the company at the upcoming Society for Immunotherapy of Cancer meeting on Nov. 7. While Celldex appears to have some incredible trading momentum, investors may want to be wary of the current market capitalization, which values the company at over $3 billion. Investors looking for a cheaper play in the breast cancer space may want to consider a smaller competitor called Medifocus (OTC:MDFZF).
Medifocus develops and commercializes minimally invasive treatment systems used in the treatment of cancerous and benign tumors, and enlarged prostate. Of particular importance to breast cancer patients is Medifocus's APA-1000 system, which has already received FDA approval for use with radiation therapy. The system has also received the green light from the FDA to begin the Phase 3 trial for breast cancer treatment in Canada and the United States.
Another stock that has been soaring over the past week is CytRx Corporation (NASDAQ:CYTR). Investors have enjoyed an increase of more than 25% since Sept. 23. On Wednesday, Sept. 18, a positive article was published by a writer from Seeking Alpha. That article appears to have generated significant investor enthusiasm for the company as the stock has done nothing but soar since then. Like Celldex, CytRx is focused on developing treatments for various cancer indications. The company has a deep pipeline that includes aldoxorubicin, cyt-platinum, and cyt-topo.
Aldoxorubicin is currently being tested in five indications including second-line soft tissue sarcoma, first-line soft tissue sarcoma, glioblastoma multiforme, Kaposi's sarcoma, and a pharmacokinetic study. Cyt-Platinum is in preclinical evaluation for the treatment of ovarian cancer and small-cell lung cancer. Cyt-Topo is in preclinical evaluation for colorectal cancer and ovarian cancer.
The recent biotechnology rally has taught us that companies involved in the oncology space are on a significant run and show no signs of slowing down anytime soon. Because of CytRx's deep pipeline, investors have a built-in diversification model, which significantly reduces the risk of one specific trial failing.
A third stock that issued an important announcement this week was OncoSec Medical (OTC:ONCS). OncoSec Medical is another company that is primarily focused on developing therapeutic products for advanced-stage skin cancer. The company has developed a unique approach to destroying cancerous cells, called electroporation. Although a complicated process, it can be described in three key steps: tissue, poration, and uptake. During the tissue stage, the anti-cancer agent surrounds the cancerous cells. During the poration stage, a series of electrical pulses are delivered through needles. These pulses allow the anti-cancer agent to penetrate the cancerous cells. During the third and final stage, uptake, the cancerous cells reseal allowing the anti-cancer agent to remain within. The agent will remain there as long as necessary to destroy the cancer, and simultaneously avoids damage to healthy tissue or cells.
Earlier this week, the company provided investors with an updated development strategy on melanoma. OncoSec is moving ahead with an expansion study of its phase 2 trial for metastatic melanoma. The company will evaluate an accelerated treatment cycle in which an additional 10 patients will be enrolled and be given a second cycle of treatment after three weeks. Back in June, the company announced that it had completed enrollment of the phase 2 melanoma study. During the eighth World Congress of Melanoma in July, the company announced that the trial demonstrated positive immune response data. Top-line interim data will be provided at some point during the upcoming months.
Investors who are interested in OncoSec now should also know that the company recently completed a $12 million public offering. The shares already fell off after the announcement to account for the dilution, so investors interested in getting shares now can sleep easy knowing that the company is well funded going forward. The company plans to use the proceeds from the secondary to fund its ongoing trials and further its research and development efforts.
As always, investors need to perform due diligence before investing in any stock, especially in the biotechnology industry. While the industry has seen some incredible momentum of late, stocks in this sector are prone to volatile price swings. Although the stocks mentioned in this article appear to be headed higher based on their fundamentals and technical momentum, investors should diversify their portfolios across a variety of sectors and investment products.
Tom Meyer is a former equity derivatives market maker based out of New York. He currently manages his own personal portfolio using a combination of fundamental analysis, technical analysis, and event-driven catalysts. Tom also writes for several other prominent websites, including Seeking Alpha and Minyanville.