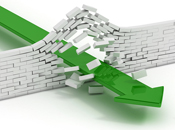 In vitro diagnostics (IVDs) is not only the largest segment within medtech, with forecast worldwide sales of $58.8bn in 2018, it is also one of the fastest growing, EvaluateMedTech's World Preview 2013 shows. The analysis of the top 20 sectors of the worldwide medical device market reveals that the IVD sector is expanding at a CAGR of 5.1%, outpacing the overall medtech market growth rate of 4.5% (see table).
This expansion, fueled by the increasing demand for companion diagnostics and interlinked innovations in molecular testing, is a contrast to much of the rest of the medical technology world. The diagnostic imaging and orthopaedics sectors, for example, have below-average growth, with higher regulatory bars and decreased investment working against the development of fewer transformative new technologies.
Regulatory changes are afoot on both sides of the Atlantic, with the FDA finally issuing its long-awaited rule on device identification numbers late last week. The Unique Device Identifier (UDI) will have to be printed on each product's label, along with a scannable barcode to allow physicians and regulators and even the public to track the devices and monitor safety, as the resulting data will be stored in a publicly accessible database.
A similar initiative is likely to be brought in Europe, too (Vantage Point—Europe set to tighten device regulation but reject central authority, Sept. 11, 2013).
While this new rule will not be excessively expensive—it is estimated that compliance with it will cost the U.S. medtech industry less than $100M a year—it is all part and parcel of the increasing stringency at the FDA.
In 2012, 5,606 medical devices were approved by the US FDA through one of its various pathways, a slight increase on the previous year. But so far in 2013, the number of first-time PMA approvals—the pathway used for the most innovative or dangerous devices—has fallen dramatically. The first eight months of the year have seen a 42% decline compared with the 24 new PMAs that had been approved by Aug. 31 last year.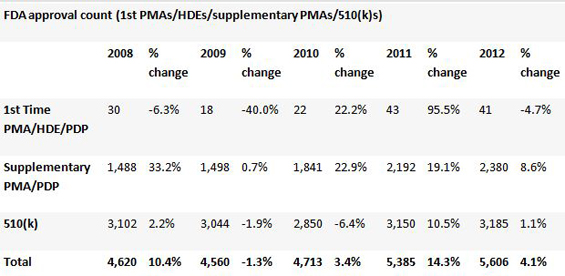 The FDA's aim of improving patient safety is laudable, naturally, but it must ensure that in tightening regulatory standards it does not deny patients life-saving therapies.
There is a squeeze on R&D, too. EvaluateMedTech consensus forecasts show that, while worldwide medtech R&D is expected to grow at a healthy 3.9% CAGR between 2012 and 2018, reaching $26.7bn, the share of revenues that medtech firms are investing in innovation is in fact falling.
The overall R&D investment rate is expected to be around 5.9% of sales in 2018, slightly down from the 6.1% observed in 2012, perhaps owing to companies husbanding their cash, fearing longer times to market.
Within the top 20 companies the reinvestment rate is higher at a forecast 7.6% in 2018, but still down on the 8.0% seen in 2012.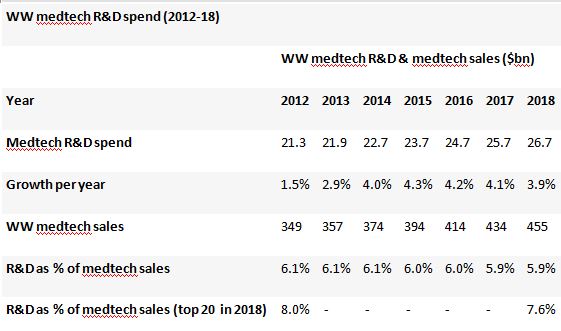 There are signs that the medtech market overall is maturing from a period of fast expansion to one of slower growth. Nonetheless the future of medtech is solid, and its forecast 4.5% CAGR overall means it is growing faster than the prescription drugs market, which is expected to see just 3.8% CAGR to 2018.
Medtech companies could find themselves having to clear ever-higher regulatory hurdles, but they seem to be relishing the challenge.
Elizabeth Cairns
EP Vantage