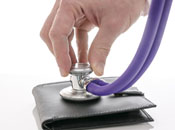 As expected, the Patient Protection and Affordable Care Act (PPACA), particularly the medical device excise tax, has taken a heavy toll on the medtech sector, hurting pricing decisions of the companies and subjecting them to tremendous margin pressure.
The small and the medium-sized players in the sector (comprising about 80% of the industry) are the worst hit by this public policy. The 2.3% excise tax (effective Jan 2013), which is imposed on the sale price instead of net profit, amounts to a material burden, wiping out almost a quarter's profit at many industry players.

On the other hand, the big players are trying every means to change their business models and cost structures to accommodate the excise tax. They are undertaking various restructuring initiatives to counter costs associated with the implementation of the new tax.
Restructuring, especially to offset the effect of tax, has already been adopted by key players such as St. Jude Medical, Inc. (STJ - Analyst Report), Stryker Corporation (SYK - Analyst Report), Zimmer Holdings (ZMH - Analyst Report) and Quest Diagnostics (DGX). The companies are also trying to focus on strategic mergers and acquisitions (M&A), emerging market expansion or are reducing operations in order to weather the tax burden.

M&A Activities

As mentioned above, medtech M&A has continued unabated so far in 2013. Wary of an uncertain economy, medtech giants have resorted to the acquisition route to harness their strength and diversify offerings.
The most noteworthy move is observed in medtech giant Medtronic Inc.'s (MDT - Analyst Report) strategic shift from being a device manufacturer to a provider of broader healthcare services and solutions with meaningful clinical and economic value for hospitals, physicians, patients and payers. As an opening move, on Aug 12, 2013, the company acquired privately held Cardiocom, a provider of integrated telehealth and patient services for chronic disease management for a total consideration of $200 million.

Also worth mentioning is the mega $13.6 billion takeover agreement by Thermo Fisher Scientific (TMO - Analyst Report) to acquire its major peer Life Technologies Corporation (LIFE - Analyst Report). This is the biggest ever deal for Thermo Fisher which will inevitably strengthen the company's global foothold and commercial reach. With the recent overwhelming approval of LIFE's stockholders in favor of the deal, the acquisition is expected to close in early 2014.

Medical device M&As are not stopping here. In an effort to expand its atrial fibrillation portfolio in the $900 million global cardiac ablation catheter market, in August, St. Jude Medical acquired Geneva, Switzerland-based Endosense SA for $170 million. St. Jude plans to pay an additional $161 million in cash on the achievement of a regulatory milestone.

About the same time, Abbott Labs (ABT) completed two significant purchases. These include privately-held IDEV Technologies for $310 million and OptiMedica Corporation for $250 million, both in cash. While the former would strengthen Abbott Lab's vascular business the latter would boost its cataract surgery business which accounted for 60% of total vision care business sales.

We also make a note of medtech giant Johnson & Johnson's (JNJ - Analyst Report) $1 billion acquisition of privately-held, pharmaceutical discovery and development company, Aragon Pharmaceuticals, Inc.

In August, C. R. Bard, Inc. (BCR) entered into a $200 million definitive acquisition deal to purchase a leading developer and supplier of plant based hemostatic agents, Medafor, Inc. The acquisition will help Bard gain access to a proprietary technology platform and expand its global footprint. It will boost the company's surgical specialties portfolio (particularly surgical hemostats) in its Davol subsidiary.

In June, to strengthen its contraceptive portfolio, drug and pesticide maker Bayer (BAYRY) acquired contraceptive device maker Conceptus Inc. (CPTS) for approximately $1.1 billion in cash. This acquisition has added the Essure permanent (nonsurgical) birth control system to Bayer's product portfolio.

Apart from the above mentioned takeovers and/or acquisitions, at the end of last year, Baxter International (BAX) entered into a $4 billion deal to acquire Gambro AB, a Sweden-based privately-owned renal products company. The deal, which is expected to close shortly, will strengthen the company's role in the hemodialysis market.

Also, Quest Diagnostics' acquisition of the lab-related clinical outreach service operations of California-based Dignity Health in Jun 2013 is in sync with its goal to create the planned "lab of the future." This acquisition is the third laboratory business acquired by the company in 2013.
In May, the company acquired the toxicology and clinical laboratory business from Concentra, a subsidiary of Humana, Inc. (HUM - Analyst Report). Earlier, in January, the company had acquired the clinical and anatomic-pathology outreach laboratory businesses of Massachusetts-based UMass Memorial Medical Center. According to the company, this will help boost its long-term growth opportunities in the faster-growing esoteric markets.

In Mar 2013, Becton, Dickinson and Company (BDX) acquired Austria-based Cato Software Solutions, the manufacturer of a suite of comprehensive medication safety solutions for pharmacy intravenous medication preparation, physician therapy planning and nurse bedside documentation. In the same month, the leading vendor of cloud-based services for physician practices Athenahealth (ATHN) took over Epocrates, a pioneer of mobile health workflows and POC health apps.

Low global penetration and demand outstripping supply provide a positive long-term thesis for investing in the blood processing and supply chain management industry. With the acquisition of the transfusion medicine business of Pall Corporation (PLL - Analyst Report), Haemonetics (HAE - Analyst Report) entered the $1.2 billion whole blood collection market. Moreover, in May 2013, Haemonetics acquired Hemerus Medical that develops technologies for the collection of whole blood, and processing and storage of blood components.

The year 2012 had also witnessed significant M&A deals including the acquisition of Switzerland-based Synthes Inc. by Johnson & Johnson for a whopping $19.7 billion and Gen-Probe Inc. by Hologic (HOLX - Analyst Report) for $3.8 billion. Moreover, Agilent Technologies (A) entered the Diagnostics and Genomics space through the $2.2 billion acquisition of cancer diagnostic company Dako.

In the light of the discussion above, the second half of 2013 is going to be dense with M&A deals in the medtech space. We also expect a significant pickup in in-licensing activities and collaborations for the development of pipeline candidates. Several medtech majors struggling in their core businesses are looking to explore potential emerging therapies through collaborations and alliances.

Divestments

Another trend that we have been observing of late is the divestment of non-core business segments. For example, to streamline its business, in July CR Bard agreed to divest certain assets of its Electrophysiology (EP) division to Boston Scientific. Management believes that the divestment will help the company to focus on other high-growth businesses, which in turn should boost its top line.

In Jun 2013, to focus on its high-margin Medical Devices and Medical Supplies businesses, healthcare products maker Covidien (COV) divested its pharmaceuticals business Mallinckrodt plc (MNK - Snapshot Report).

Quest Diagnostics has also been focusing on areas with high potential such as gene-based esoteric testing for cancer, cardiovascular disease, infectious disease and neurological disorders. As a part of this strategy, in Apr 2013, the company completed the divestiture of the HemoCue diagnostics products business.
Earlier, in Dec 2012, the company divested its OralDNA Labs salivary-diagnostics business in order to redirect its resources to core diagnostic information services. Johnson & Johnson is also currently looking for opportunities to sell or spin off its Ortho Clinical Diagnostics business.

In early January, Abbott Laboratories separated its research-based pharmaceuticals business by creating a new company, AbbVie (ABBV), to allow the two separate entities to focus on their core areas of expertise. In November last year, Becton, Dickinson and Company divested its Discovery Labware sub-segment (excluding Advanced Bioprocessing capability) to Corning (GLW).

Emerging Markets

Although the U.S. still holds the leading position with almost one-third of the global market share, a gradual slowing down of the established markets due to several prevailing headwinds are forcing medtech companies to move beyond their comfort zone. Accordingly, emerging economies like Brazil, Russia, India and China—collectively known as the BRICs—as well as Turkey, Mexico, Malaysia, South Africa, South Korea and the Czech Republic are fast coming up in the medical devices space.

These emerging economies are seeing an increasing uptake of medical devices due largely to growing medical awareness and economic prosperity. An aging population, increasing wealth, government focus on healthcare infrastructure and expansion of medical insurance coverage make these markets a happy hunting ground for global medical device players. Expansion in emerging markets, especially those with double-digit annual growth rates, represents one of the best potential avenues for growth in 2013 and beyond.

The focus on emerging markets is all the more significant given the saturation and uncertain growth in the developed markets of the U.S., Europe and Japan. Companies like Medtronic, Boston Scientific, Edwards Lifescience (EW), Thermo Fisher Scientific, Life Technologies, Smith and Nephew (SNN) and many more are all vying to expand their presence in BRIC and other emerging markets. These companies are also looking to establish their manufacturing facilities abroad.

According to a McKinsey & Co. report (Sep 2012), healthcare spending in China has more than doubled from $156 billion in 2006 to $357 billion in 2011. It is expected to grow to $1 trillion by 2020. China is also setting up proper health insurance coverage that should boost the healthcare sector. It is expected that within the next decade, China will be the biggest healthcare market in the world, even outpacing the U.S.

Among the BRIC members, Brazil is currently the largest healthcare market in Latin America, covering almost one-fourth of the population. Though India has one of the largest and fastest growing healthcare markets in the world, it is considered to have the least developed healthcare infrastructure and spends relatively little in this area. In order to reverse the trend, during the 12th Plan (2012-2017), the Indian government planned to spend 2.5% of its GDP (up from 1.2% earlier) on healthcare and raise it to at least 3% by 2022.

Given the possibilities rife in the emerging markets, in the last few months Life Technologies has undertaken several bolstering initiatives. In Aug 2013 the company opened an advanced DNA forensics laboratory in Gurgaon, India.
In June, the company acquired a South Korea-based distributor, Life Science Korea, which is in line with its 'go direct' strategy in this country. In April, as a part of this strategy, Life Technologies acquired KDR Biotech Co., a reagents distributor based in Seoul, Korea. In China, on the other hand, the company came up with a licensing agreement with Suzhou Ribo Life Sciences Co. Ltd. in Jun 2013.

Thermo Fisher is also expanding its presence in emerging markets. It expects to garner 25% of total revenues from the high-growth Asia-Pacific region and emerging markets by 2016, up from 19% in 2011 and 10% in 2006. According to the company, China with its rapid industrialization, increasing focus on healthcare, new BioPharma R&D centers and government sponsored research has robust growth potential.
On the other hand, key growth drivers in India include outsourcing of clinical packaging and logistics by pharma and biotech companies, growing biotech and food & beverage industries, and introduction of environmental regulations to address air quality issues in the wake of rapid industrialization.

Medtronic continues to record 20% growth in emerging markets, accounting for half of its overall growth. The adoption of its implantable cardioverter-defibrillators (ICDs) and pacers in emerging markets continues to improve. Moreover, commercialization of new products should accelerate sales growth in emerging markets.
After acquiring China Kanghui Holdings, which added strength to its orthopedic franchise in that country, Medtronic is keeping an eye on other accretive buyouts in the region. According to the company, the premium segments in China and India alone include a population of more than 380 million, leading to $5 billion of annual sales opportunity for Medtronic.

Boston Scientific is aiming to increase its below-average market share in the $700 million combined drug-eluting stent market in China and India, which is growing sharply at 20%. The company plans to invest $150 million in China over the next five years to build a local manufacturing operation.

Smith & Nephew on its part entered into two definitive agreements to expand in the BRIC countries. In Apr 2013, it contracted to purchase its Brazilian distributor, Pró Cirurgia Especializada (PCE).
PCE has been associated with the company for the last 30 years and has distributed its sports medicine, orthopedic reconstruction and trauma offerings in Brazil. In May 2013, the company announced another agreement to take over Adler Mediequip Private Limited and with it, the brands and assets of Sushrut Surgicals Private Limited, a leader in mid-tier, orthopedic trauma products for the Indian market.

Johnson & Johnson has already set up manufacturing and R&D centers in Brazil, China and India. The Guangzhou Bioseal biotech deal marked the company's first medtech acquisition in China. The company is expected to expand further in China on the back of the Synthes acquisition.

Other Issues at Work

Apart from the medical device excise tax, the medtech industry is currently plagued by several issues, including pricing concerns, hospital admission and procedural volume pressure, Medicare reimbursement issues and regulatory overhang. While the debt crisis in Europe remains unresolved, economies throughout the world are trying to come to terms with myriad challenges. Consequently, procedural volumes in the U.S. have been hit by a high unemployment rate, which has resulted in the expiry of health insurance as well as a decline in enrollment in private health plans.

Governments across several European countries have taken up measures to curb spending on devices, which is taking a toll on utilization. Volume headwind is likely to linger as unemployment continues to influence procedure deferrals.

Last but not least, the highly regulated U.S. medical device industry is constrained by stringent and complex procedures, leading to approval delays. This sometimes demotivates companies, deterring them from investing in product development. According to a report based on a survey of over 200 medical technology companies (FDA Impact on U.S. Medical Technology Innovation), the U.S. FDA takes a significantly longer time to review compared to its European counterpart.

Zacks Industry Rank

Within the Zacks Industry classification, medtech is broadly grouped into the medical sector (one of 16 Zacks sectors) and further sub-divided into four industries at the expanded level: med instruments, med products, med/dental-supp and medical info systems.

We rank all the 260-plus industries in the 16 Zacks sectors based on the earnings outlook and fundamental strength of the constituent companies in each industry. To learn more visit: About Zacks Industry Rank.

As a guideline, the outlook for industries with Zacks Industry Rank of #88 and lower is 'Positive,' between #89 and #176 is 'Neutral' and #177 and higher is 'Negative.'

The Zacks Industry Rank for med instruments is #189, med products is #104, med/dental-supp is #118, while the medical info systems is #162. Analyzing the Zacks Industry Rank for different medtech segments, it is obvious that while the outlook for med instruments stocks is negative, that for med products, med/dental-supp and medical info systems is neutral.

Earnings Trend of the Sector

So far, 100% of the medical sector participants have reported second-quarter results, which have been fairly good with respect to beat ratios (percentage of companies coming out with positive surprises). However, the results were not impressive in terms of year-over-year growth.

The earnings "beat ratio" was 70%, while the revenue "beat ratio" was 48% in the second quarter. Total earnings for the companies in this sector declined 1.1% year over year despite marginal revenue growth of 2.4%. In fact, earnings and revenues showed a sharp decline from the first quarter 2013 growth of 4.5% and 8.1% respectively.

The earnings is expected to decline by 4.3% in the third quarter 2013 although it will increase by 1.1% in the subsequent quarter. However, the sector is expected to register a nominal growth of 0.5% for the full-year 2013. In terms of revenue expectation, the sector is expected to register 4.1% and 2.4% year-over-year growth in the third and fourth quarters of the year respectively, resulting in an annual growth rate of 2.8%.

Earnings Numbers

Medical device majors like Boston Scientific and St. Jude Medical are confronted with challenging economic conditions, a competitive environment, pressure on core segments and a larger-than-expected currency headwind. Although they managed to stay ahead of the Zacks Consensus Estimate for earnings and revenues in the second quarter, challenges continue to remain in the core stent and defibrillators businesses.

On the other hand, Medtronic barley managed to stay in line with the Zacks Consensus Estimate for earnings. While we are to some extent relieved with the signs of stability in Medtronic's core CRDM and pacing segments, challenges still remain in the Spine business, which is expected to remain sluggish, thereby affecting the company's overall performance.

Other adverse earnings reports from major industry players include the second quarter earnings miss of Intuitive Surgical (ISRG) due to a stiff capital spending environment and sluggish benign gynecologic procedures in the U.S. We witnessed a negative earnings surprise from Quest Diagnostics. We believe that the overall soft industry trends leading to a challenging volume environment for testing laboratories and utilization weaknesses are looming headwinds for Quest.

On the positive, earnings beat from big names like Johnson & Johnson, Laboratory Corporation of America Holdings (LH), Zimmer Holdings, Thermo Fisher, Life Technologies, Edwards Lifescience and Abbott Labs kept the hope alive.

Opportunities

In spite of several core market challenges, the big two medical device players -- Medtronic and Boston Scientific -- are striving to gain share in the ICD market through several new product launches. They are also exploring new avenues of growth beyond the mature pacemaker and ICD markets. With gradual stability in the ICD market, they should be able to revive their top line. Also, better pipeline visibility and appropriate utilization of cash should increase confidence in the medical device sector.

Microarray product maker Affymetrix Inc. (AFFX) was languishing with its flagship GeneChip Expression products until management found a strategy to expand into high-growth markets for translational medicine, molecular diagnostics and applied markets. Consequently the shares of Affymetrix hit a 52-week high accompanied by a bullish Zacks Rank #1 (Strong Buy).

Zacks Rank #2 (Buy) stocks in the medtech sector include The Cooper Companies Inc. (COO) and Boston Scientific among others. Cooper represents a value proposition based on factors such as margin expansion, acquisitions, product line expansion and geographical reach as well as share buybacks. On the other hand, we are positive about multiple initiatives taken by Boston Scientific to expand electrophysiology (EP) division.

Zacks Ranked #3 St. Jude is also doing well with its growing Atrial Fibrillation products portfolio that witnessed a major boost with the acquisition of Endosense and regulatory approval for its Mediguide catheters.

Beyond the medtech majors, we are also optimistic about the Zacks Ranked #3 orthopedic device players, Zimmer Holdings and Stryker Corporation. The percentage of population over 65 in the U.S., Europe, Japan and other regions is expected to nearly double by the year 2030. In the U.S., the oldest baby boomers are now approaching retirement age. We believe the orthopedic giants stand to benefit from this aging demography.

Among scientific instrument makers, Thermo Fisher Scientific has been successfully expanding operating margins over the past few quarters on the back of operational efficiency. Thermo Fisher's market leading portfolio of analytical technologies and specialty diagnostic will be complemented by the upcoming buyout of Life Technologies. The latter has an expansive line of consumables for genomic, molecular and cell biology.

Among mid-cap medtech stocks, Align Technology (ALGN) and AmSurg Corp. (AMSG) carrying a Zacks Rank #2 (Buy) look attractive.

Challenges and Weaknesses

Coming to the weakest link in the medtech sector, we advise investors against names that offer little growth/opportunity over the near term. These include companies for which estimate revision trends for 2013 and 2014 reflect a bearish sentiment.

After posting dismal second quarter results and lowering its fiscal guidance, Intuitive Surgical (ISRG) currently retains a Zacks Rank #4 (Sell). Other Zacks Rank #4 (Sell) stocks which do not look inspiring are Allscripts Healthcare Solutions, Inc. (MDRX), Symmetry Medical, Inc. (SMA) and Merge Healthcare Inc. (MRGE).

Pricing compression on hips, knees and spine products, which impaired the performances of several orthopedic companies, remains a key concern, at the macro level. We remain skeptical about companies including Wright Medical Group (WMGI), which currently carries a Zacks Rank #4 (Sell).