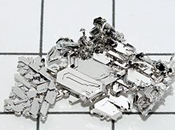 Despite continued labor tensions within the South African platinum sector, platinum is unlikely to rally significantly above $1,500 per ounce for any sustained length of time, says Standard Bank.
In a note out earlier this week the Bank writes, that while the risk of supply disruptions remains large, "one of our major concerns on the sustainability of a price rally above $1,500 is jewelry demand that is likely to fall away if the platinum price rise to far, and to long, above $1,500."
The reason for this, the bank says is that China accounts for 70% of the world platinum jewelry demand (jewelry demand makes up around 30% of total platinum demand) and, it would seem that Chinese imports of the metal have become increasingly sensitive to changes in the platinum price since 2012.
"The latest import data from China indicates that China's platinum imports have declined 6.6% m/m in July to 289 Koz," the bank writes. "YTD China platinum imports are almost unchanged, rising only 3% to 1.59 Moz compared to the same period last year. . .If imports are indeed price sensitive, perhaps it should not be a surprise then that the platinum price averaged $1,537 for the first 7 months of 2012 and almost registered an unchanged average of $1,528 for the same period in 2013, resulting in a relatively flat import number YTD compared to 2012."
"In fact," Standard Bank adds, "the correlation between the 3-month moving average of platinum imports for China and the platinum price is –0.77 since the start of 2012, implying that as the platinum price moves higher, imports fall away."
One reason for this increased sensitivity, Standard Bank surmises is that China might have "gone through a cycle of stockpiling (over and above platinum consumed in jewelry, autocatalysts and other industrial demand) and that perhaps China is more content to buy platinum at low prices rather than at any price."
As a result of this, the bank reiterates, while supply shocks may push prices higher, in a world where demand for auto catalysts remains low and jewelry demand is likely to peel off as prices rise, "for the time being rallies to far above $1,500, are likely to create opportunity to short the metal."
Geoff Candy
Mineweb