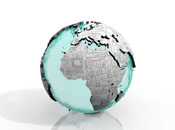 China's first rare earth products exchange, the Baotou Rare Earth Products Exchange, the first national trading platform of its kind, is expected to be launched in early October after a year's preparation.
Located in the city of Baotou in north China's Inner Mongolia Autonomous Region, the exchange will begin to recruit members starting from mid-August, Gu Ming, general manager of the Baotou Rare Earth Products Exchange, told reporters. "There are many institutions and enterprises interested in our exchange and some have already contacted us."
"The exchange will help the Chinese rare earth industry to have a bigger say on prices in the global market," said Gu. "The exchange will bring the different production regions closer, raise the transparency of trading prices, adjust long-term supply and demand and stabilize the market," he told China Daily.
The exchange will handle spot trading for rare earth products, but will not yet engage in futures. "We will do it step-by-step and build a firm foundation. We want to introduce futures trading later on if possible, as futures are a stronger indicator of market trends," Gu told People Daily.
Initiated by Baotou Steel Rare Earth (Group) Hi-Tech Co. and another 11 firms and institutions, the 12 companies and institutions hold 88% and 82.3% of China's rare earth mines and smelt separation products, respectively, as well as provide 79% of China's rare earth exports, said Zhang Zhong, general manager of Baotou Steel Rare Earth.
"The change will rectify irregular pricing practices among Chinese firms through standardized spot trading and the creation of a transparent information release system, said Yang Zhanfeng, head of the Baotou Research Institute of Rare Earth.
Dorothy Kosich
Mineweb