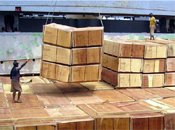 With reporting requirements for the SEC's Dodd-Frank Conflict Minerals Rule due on May 31, 2014, a PwC survey of 900 executives conducted in the spring determined nearly half of them are still in the initial stages of their compliance, while 32% are still trying to figure out if the rule applies to them.
Of the companies that at least started gathering conflict minerals information, 72% are in industrial products & manufacturing, technology and the auto industries. PwC found these industries have made the most progress in completing the reasonable country of origin inquiry (RCOI), partly due to their engagement with trade associations actively involved in the conflict minerals process.
The PwC survey determined that the single biggest challenge for companies is getting accurate information from their suppliers. Meanwhile, there are a number of other challenges facing companies as they comply with the rule.
"Respondents expect that identifying relevant suppliers, getting accurate and relevant information from them and establishing an entity-wide conflict minerals philosophy will be the most significant challenges they face," PwC observed.
The Conflict Minerals Rule identifies four conflict minerals—tantalum, tin, tungsten and gold—found in thousands of products including cell phones and laptop computers to jewelry, golf clubs, drill bits and hearing aids.
It is estimated that 6,000 SEC issuers will have to provide new disclosures under the rule while 275,000 private companies that are part of the issuers' supply chains will also be affected. Forty-four percent of the respondents to the PwC survey expect to be directly or indirectly within the scope of the SEC's Conflict Minerals Rule because they are either a registrant, a subsidiary of a registrant or a nonpublic company which has conflict minerals in their products.
"Determining which products may be subject to the rule, and engaging with suppliers to identify the resources of the conflict minerals in those products could weigh heavily on corporate resources," observed PwC.
For instance, PwC survey respondents indicated that usually legal/compliance and purchasing/supply chain departments are leading the compliance efforts, followed closely by the SEC reporting/finance department.
"Based on what we have seen, many companies are incorporating elements of OECD-specific due diligence guidance in developing their policies," said the report.
However, only 2% of the respondents have completed their RCOI and started due diligence. More than 40% of those companies responding "have either not done much with respect to gathering information and performing RCOI and due diligence, or are not sure of their companies' progress," according to the report.
The survey found that almost 58% of the companies have not yet determined how deep in their supply chain they will go to gather the necessary information to comply with the conflict minerals rule. "Nearly 27% of respondents plan to rely solely on information given by the Tier 1 suppliers, while approximately 16% intend to directly survey or follow up with their Tier 2+ suppliers," said PwC.
More than 75% of those surveyed are not yet sure which IT solution they will use to help comply with the conflict minerals rule. To compound the situation, PwC noted, "At this time, there does not appear to be a software solution that supports end-to-end compliance requirements for the conflict minerals rule."
While the conflict minerals rule does not force companies to stop sourcing materials from the Democratic Republic of the Congo and surrounding countries, six percent of the respondents to the PwC survey indicated their companies have decided to stop sourcing their minerals from the covered countries". . .If companies do so, it would eliminate the need to perform anything other than a ECOI and file a Form SD."
"However," PwC advised, "that approach may not be practical or cost effective for many companies."
"There's no time to waste," said Bobby Kipp, partner in PwC's Risk Assurance practice, and the firm's conflict minerals leader. "This can be an incredibly complex process and with the deadline fast approaching, companies will need to interpret the rule as best they can, and in a timely manner."
"It's critical for companies first to understand the population of products that are within the scope, the number of suppliers that provide conflict minerals, and the depth of information accessible from suppliers before they can properly design their compliance program as a whole," Kipp concluded.
Download a copy of PwC's Conflict minerals survey—"How companies are preparing."
Dorothy Kosich
Mineweb
Learn more about companies preparing for SEC Conflict Minerals compliance in The Metals Report interview with MetalMiner.com's Lisa Reisman, " The Conflict over Conflict Metals."