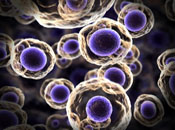 While big pharma delivered on its promise to present encouraging phase 2/3 results at the ongoing American Society of Clinical Oncology meeting, the drug giants were in good company—Peregrine Pharmaceuticals and Seattle Genetics were among the smaller biopharmas to report promising clinical data this week. The ASCO news was not all rosy, however: Several firms—large and small—also reported failures to meet primary endpoints and halted clinical trials.
Clinical oncologists were hungry for new data from Merck and Bristol-Myers Squibb. Both firms presented promising data for their anti-PD-1 melanoma candidates. The former firm said it plans to initiate late-stage clinical trials of its candidate lambrolizumab in both advanced melanoma and non-small-cell lung cancer during the third quarter of this year. Meantime, BMS said its Yervoy (ipilimumab) shrunk tumors in one-third of patients administered the treatment in a phase 1 trial by at least 30%.
Meantime, Bayer HealthCare Pharmaceuticals and Onyx Pharmaceuticals said Nexavar (sorafenib) improved median progression-free survival in patients with locally advanced or metastatic radioactive iodine refractory differentiated thyroid cancer by five months, compared with those who received placebo in their phase 3 DECISION trial. Per the investigators' discretion, all patients were given the option to cross over to open-label sorafenib at the time of progression. The firms note that they did not see a statistically significant difference in overall survival between the treatment arms.
"The DECISION results demonstrate sorafenib's ability to extend progression-free survival compared to placebo in these patients, potentially providing a new treatment option for these patients," trial PI Marcia Brose, M.D., Ph.D., said in a statement. Roche's Genetech said that addition of its Avastin (bevacizumab) to chemotherapy (paclitaxel + cisplatin or paclitaxel + topotecan) extended the lives of patients with advanced cervical cancer, compared to chemotherapy alone, in its phase 3 GOG240 study. The firm found the Avastin-chemo combination reduced the risk of death by 29%, extending medial overall survival to 17 months, up from 13.3 months with chemotherapy alone.
Genentech also presented results from its AVAglio study evaluating Avastin plus radiotherapy and temozolomide chemotherapy in newly diagnosed glioblastoma patients, showing its drug did not improve overall survival significantly.
Novartis reported that its Afinitor (everolimus) significantly delayed tumor growth in HER2-positive advanced breast cancer during the phase 3 BOLERO-3 trial it is conducting. The firm said its mTOR inhibitor reduced the risk of disease progression by 22% in patients administered Afinitor plus trastuzumab + vinorelbine, compared with those given the latter two drugs alone. Novartis said its trial was the "first phase 3 study showing that inhibition of HER2-positive receptor and mTOR provides significant benefit in HER2-positive advanced breast cancer."
Novartis also presented data on its LDK378, which was recently awarded FDA's breakthrough therapy designation in patients with advanced ALK+ non-small cell lung cancer, among other compounds. The firm said its candidate produced a 60% overall response rate in patients administered LDK378, including patients who had progressed during or after crizotinib therapy and those who were crizotinib-naïve. Novartis said this trial will serve as the basis for its first regulatory filings for LDK378, anticipated in early 2014.
Pfizer, too, shared data on several compounds, including its axitinib, bosutinib, crizotinib, dacomitinib, inotuzumab, ozogamicin, palbociclib and sunitinib, plus a handful of early-development compounds and biosimilars.
GlaxoSmithKline reported its phase 3 VOTRIENT trial—evaluating pazopanib as maintenance therapy in women with advanced epithelial ovarian cancer following front-line chemotherapy—has met its primary objective of a statistically significant improvement in progression-free survival, compared to placebo. "We are planning to submit regulatory applications in 2013," said GSK's Rafael Amado, M.D., head of oncology R&D.
Amgen presented results from its phase 3 study evaluating talimogene laherparepvec in patients with unresected stage IIIB, IIIC, or IV melanoma, compared to granulocyte-macrophage colony-stimulating factor (GM-CSF). The firm said it observed a significant difference in durable response rate, with 16% in the talimogene laherparepvec arm versus 2% in the GM-CSF arm, and an overall response rate of 26% with the former as compared to 6% for the latter.
"These are the first data from a controlled trial of oncolytic immunotherapy to demonstrate activity in melanoma," Amgen's Sean E. Harper, M.D., EVP, R&D, said in a statement. "We are pleased with the results of this pivotal phase 3 trial for talimogene laherparepvec and we look forward to the mature overall survival data later this year."
Elsewhere, AstraZeneca and Array Biopharma presented phase 2 results for selumetinib, which they said significantly reduced tumor size in patients with melanoma of the eye and delayed tumor regrowth for twice as long, compared with patients treated with temozolomide.
Also at ASCO, Tustin, CA-based Peregrine Pharmaceuticals presented results from its phase 2 trial evaluating candidate bavituximab + gemcitabine in patients with nonresectable stage IV pancreatic cancer, which it said more than doubled the overall response rate compared with gemcitabine alone.
Seattle Genetics further outlined its ongoing phase 3 clinical trials—ECHELON-1 and ECHELON-2— evaluating Adcetris (brentuximab vedotin) for the frontline treatment of Hodgkin's lymphoma and mature T-cell lymphoma, and highlighted its partners' progress in testing its antibody-drug conjugates (ADCs).
"ADCs represent an innovative and growing field in the fight against cancer, which is evident by the interest in this therapeutic approach at the ASCO annual meeting," Seattle Genetics' Clay B. Siegall, Ph.D., president and CEO, said in a statement. "We are focused on broadening the evaluation of ADCETRIS in earlier lines of therapy with our ongoing ECHELON-1 and ECHELON-2 global phase 3 trials," he added, saying that in the interim, "Our collaborators are making important progress utilizing our ADC technology."