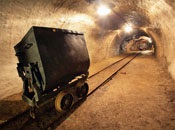 Few gold miners are in a position to acquire new assets at the moment, but those that are have a solid opportunity to pick up high-quality development assets, says a new National Bank Financial report.
"Despite the threat of production declines, many producers need to get their own portfolios in order and execute at existing operations before shareholders would support M&A or even strategic investments," said the bank's team of mining analysts."
"However, in the meantime, those companies that are in a position to execute on strategic investments or even bite-size acquisitions are likely to pick away at assets, if even to hold them in inventory until market conditions improve."
Possible acquirers include New Gold Inc., Yamana Gold Inc., Alamos Gold Inc., Eldorado Gold Corp., Goldcorp Inc. and B2Gold Corp., while the short list of high-quality acquisition candidates includes Romarco Minerals Inc., Balmoral Resources Ltd., Belo Sun Mining Corp., Minera IRL Ltd., Newstrike Capital Inc., Rainy River Resources Ltd., and Torex Gold Resources Inc.