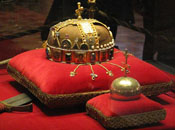 Only a couple of short years ago, junior gold explorers sitting on low-grade mega resources were riding high in the markets. But tight financial conditions as the world economies have turned down, together with the trials and tribulations suffered by many of the gold mining majors—the only likely developers of such massive low grade resources—have seen a rapid falling out of favor for such new mine developments demanding enormous capital investment.
Some massive cost escalations on projects like Barrick's Pascua Lama have also contributed to the downturn of investor interest in these resources.
The chances are that these huge potential ore bodies, which contain a significant proportion of the world's unmined gold, will be developed, eventually—but not in the near to medium term which makes their present values extremely unattractive to investors, except perhaps for those who are looking to the ultra long term.
The majors may be prepared to pick some of these up at hugely discounted values compared with where they were five years ago, although the propensity now for some countries to threaten cancellation of concessions that are just being held against possible future development may make this option less attractive.
And some of these resources already delineated are enormous in terms of metal content. Most are low-grade gold-copper porphyries—Barrick Gold's Cerro Casale, Exeter's Caspiche, Seabridge's KSM, NovaGold's Donlin Gold and Galore Creek, Pretium's Snowfield/Brucejack to name but a few.
But unless the deposits can contain higher-grade sections, perhaps amenable to much lower capital costs to bring to production and a far quicker payback, then these are likely to remain undeveloped for some time to come.
But some of these properties do appear to have the potential for areas of sometimes much higher grades.
In this respect Bob Quartermain and Pretium have led the way. Quartermain recognised the potential of high-grade epithermal feeders for the Brucejack section of the vast Snowfield/Brucejack resource—which lies immediately adjacent to Seabridge's even bigger KSM resource—and has thus concentrated exploration drilling on the ultra high grade Valley of the Kings section.
See also: Pretium eyes high grade underground gold-silver mine in BC
Some of the high-grade cores which have resulted from the exploration work have to be seen to be believed with sections running at kilograms of gold per tonne! Overall, the Valley of the Kings resource, which is comprised of high-grade visible gold stringers within a lower grade (5 to 20 grams per tonne) gold quartz stockwork system, is estimated so far to host a high-grade gold resource (5 g/t gold equivalent cut-off—it also contains silver) of 8.5 million ounces of gold Indicated (16.1 million tonnes grading 16.4 grams per tonne gold) and 2.9 million ounces of gold Inferred (5.4 million tonnes grading 17.0 grams per tonne gold).
Per contra, Pretium's Snowfield project, immediately adjacent to Brucejack (at one time both were considered as being a single project), comprises 25.9 million ounces of measured and indicated gold resources and 9.0 million ounces of Inferred resources at a cut-off grade of 0.30 grams of gold-equivalent per tonne.
Mineral resources also include silver resources of 75.8 million ounces measured and indicated and 51.0 million ounces of Inferred; copper resources of 2.98 billion pounds of Measured and Indicated and 1.10 billion pounds of Inferred; molybdenum resources of 258.3 million pounds of Measured and Indicated and 127.7 million pounds Inferred; and rhenium resources of 22.5 million ounces of Measured and Indicated and 11.5 million ounces of Inferred. This is a mega resource by any standards, but even so has been completely put on the back burner in favor of the high grade areas of Brucejack, and may well not have further work done on it until the next decade, unless there is a huge upwards shift in metal prices and availability of development capital.
Now Seabridge is attempting to get in on the act. In a release yesterday, Seabridge's CEO, Rudi Fronk, noted that of four major drilling targets this year, one will be on a potentially fully preserved down thrown block of epithermal-style gold and silver occurrence similar to Brucejack/Valley of the Kings. If Seabridge can find Pretium Valley of the Kings style high-grade epithermal gold at a sufficient size it could transform the economics of mining at least a part of the massive KSM discovery, although the greater part of it will likely remain undeveloped for several years yet.
Seabridge's KSM project also encompasses an enormous gold/copper resource—one of the world's largest—which is currently put at an estimated Measured and Indicated 45.3 million ounces of gold. An additional 14.5 million ounces has been classified as Inferred resources, all at a cutoff of 0.5 g/tonne gold equivalent (the deposit also contains copper, silver and molybdenum).
Others, where high-grade feeder zones have not been found, are looking at other options, like Exeter Resource at Caspiche in Chile's Maricunga, located halfway between Kinross Gold's Maricunga mine and Barrick's currently-on-hold, Cerro Casale property. Again the deposit is a massive one (quite similar in size and grades to Cerro Casale) with proven and probable ore reserves of 1.091 billion tonnes containing 19.3 million ounces gold, 4.62 billion pounds copper, 41.5 million ounces silver, but at an average grade of only 0.5 g/tonne. While economic analysis suggests a profitable mine could be developed, this would be at a capital cost of around $3 billion—not attractive in the current environment. Consequently Exeter is looking at the potential of initially developing a higher grade gold bearing oxide cap as a relatively low cost heap leach operation as a means of getting the project under way.
Even so, the Caspiche higher-grade oxide cap is still low grade by most standards and the altitude and associated infrastructure costs may still be too high to generate serious interest at current gold prices. Exeter will be recalling its successful high grade exploration success in Argentina which led to the divestment of Extorre Gold and its subsequent sale to Yamana, and now seems to be focusing at least a significant part of its new exploration activities on potential higher grade options in Mexico, rather than at altitude in Chile.
Other operators with big low-grade operations will be looking at similar higher grade development options where they are available as a means of generating value in the current difficult conditions. Smaller higher grade projects will continue to be sought worldwide, but even these are finding the going tough as exploration funding, and, as a result, drilling, dries up.
But overall the effective demise of the big low grade mega projects for the time being means that many projections of future gold supply over at least the remainder of the decade are likely to prove to have been very optimistic which should lead to a downwards re-assessment of gold supply fundamentals over the next ten years or so. The mega projects may have been ultra low grade, but their sheer size meant that they would have been the major contributor to new mined gold supply, and this will now be deferred until there is a significant upwards move in the gold price, or economic conditions and finance availability for such projects turns around—and this does not look like being any time soon.
Lawrence Williams
Money Morning