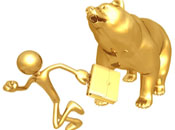 WHOLESALE PRICES for gold and silver rallied from a fresh plunge in early London dealing on Monday, rising to stand unchanged and 2.3% lower respectively from the end of last week's trade by lunchtime.

Asian stock markets closed sharply higher, even as the Japanese yen reversed Friday's drop to new four-year lows against the US dollar.

Commodities ticked lower as did major government bonds. Silver prices today touched the lowest level in 44 months, dropping within 25˘ of $20 per ounce.

This morning London's silver Fix came in at $21.66, very nearly one-third below the start of 2013.

Initially extending Friday's late drop to touch $1,340 per ounce for only the second time since January 2011, gold rallied from new five-week lows for euro and British pound investors.

"Investors are very bearish at the moment," said Bruce Ikemizu at Standard Bank's Tokyo office to Reuters this morning.

"The stock market and the dollar are quite strong. It's a natural move for investors to switch their money from commodities to equities."

Versus private households buying gold coins and small bars, most notably in India and China, "Financial investors hold the upper hand," says a note from Denmark's Saxo Bank, "[with] hedge funds now holding the biggest ever bet on falling prices."

New data released Friday showed the net long speculative position in US gold derivatives held by money managers and other non-industry players as a group falling to new four-and-a-half-year lows in the week-ending last Tuesday.

Down to the equivalent of 214 tonnes, the difference between bullish bets and bearish bets on New York gold futures and options has shrunk by 55% since the start of 2013, driven by a doubling in the number of "short" contracts.

The amount of bullion held to back shares in exchange-traded gold trust funds shrank again Friday, taking the combined total of the GLD and IAU products down 16 tonnes for the week at 1,230 tonnes altogether.

The two largest US gold ETFs have now shed 22% of their holdings since New Year.

Despite silver ETF holdings remaining much steadier, the silver price "is trekking a similar path to gold," reckons analyst Yang Xuejie at Galaxy Futures Co. in China, a division of a state-owned brokerage group.

More particularly, "Investment demand is slowly falling and there are doubts about industrial demand, which is the primary driver."

Some 60% of annual offtake in the silver market goes to industrial uses, rather than jewelry and other store-of-value forms like coin or bar. That compares to less than 15% for gold.

Solar panel demand, which has helped plug some of the gap left by the collapse in photographic demand for silver over the last decade, flat-lined in 2012 according to analysis from French investment bank and bullion dealer Natixis.

Back in gold bullion, "We have some left over consignment stocks," an Indian importer told Reuters this morning, pointing to the Reserve Bank's latest import restrictions to the world's largest gold-consumer market.

Local premiums over and above the world's benchmark London pricing doubled and more in response to the Indian central bank's new rules, imposed a week ago.

"For the time being we are catering to jewelers," the importer speaking to Reuters added today. But despite this tightness in domestic supplies, Indian gold prices continued to fall on Monday, dropping 1.5% in line with international prices.

The drop in Indian gold prices is hurting the gold-backed consumer loans sector, India Today reports, with non-performing loans—raised with the pledge of gold jewelry as collateral—tripling over the last year to 1.5% of the largest gold-loans book, built by Muthoot Finance.

Shares in competitor Manappuram Finance, India's first stockmarket-traded gold loan company, have dropped by 40% in the last month, says the paper.

"Gold, I think, is deep in our psyche and to take people away from gold, greater steps are needed," says State Bank of India chairman Pratip Chaudhuri, quoted Saturday by ZeeNews.

Commenting on the central bank's campaign to deter gold demand—first by imposing those new import restructions, but also by asking commercial banks to promote coins and bars less aggressively, in a bid to reduce India's trade deficit—"I don't know whether it would lead to reduction in consumption," Chaudhuri says.

"In India there is such a fascination for gold. What stops people from going to the jewelry shops and banks?"
Adrian Ash
BullionVault
Gold price chart, no delay | Buy gold online
Adrian Ash is head of research at BullionVault, the secure, low-cost gold and silver market for private investors online, where you can buy gold and silver in Zurich, Switzerland for just 0.5% commission.
(c) BullionVault 2013
Please Note: This article is to inform your thinking, not lead it. Only you can decide the best place for your money, and any decision you make will put your money at risk. Information or data included here may have already been overtaken by events – and must be verified elsewhere – should you choose to act on it.