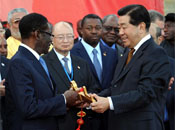 The Chinese government spent up to $75.4 billion on aid and development projects across Africa from 2001 to 2011, claimed a new study on Monday, coming close to the level of U.S. aid to the region – though the nature of Beijing's support was comparatively different.
The Center for Global Development, a Washington-based think-tank, said that there had been 1,673 undocumented Chinese development projects in 50 African countries over the time period, ranging from direct grants funding projects from dams to stadiums, to deals to finance and support natural resource exploration.
Yet only $1.1 billion a year from China had been official development assistance as defined by the club of major donors under the Organization for Economic Cooperation and Development, said the research, noting that "they (China) do a lot in the health sector, they do a lot in the education sector, they do a lot in government and civil society sector. . .a lot of things not usually appreciated as activities supported by the Chinese government."
The researchers said that they had initially faced difficulty tracking Chinese aid to Africa, after being rebuffed by the Ministry of Commerce during their study.
"We had people stationed in Beijing, going through archives and digitizing records with Ministry of Commerce officials, asking 'Don't you want the world to know how generous you are?' The one-liner in 2009 that came back was 'Everyone who needs to know about our generosity already knows,'" said Brad Parks, executive director of the AidData initiative behind the study.
Parks, a former official at the Millenium Challenge Corporation, then said that his team subsequently built a new methodology to identify Chinese aid, using media reports, cross-comparisons and audits.
What they found, perhaps not surprisingly, was that China significantly understated their financing in Africa; though Parks insisted that the study's objective was not to cast judgement on Chinese aid to Africa, but rather to fill in missing aid statistics.
"Frankly, there are a lot of people out there who have taken very strong opinions on one side or the other. From our perspective, the value of what we've accomplished is to try to create a public good of use to researchers, journalists and civil society organizations and they can draw their own conclusions,'' he said.
Among the top recipients of Chinese aid were Ghana ($11.4 billion), Nigeria ($8.4 billion) and Sudan ($5.4 billion). Some African economies also appeared to be reliant on Chinese financing, such as Ghana (where Chinese aid comprised 5.3 percent of its economy) and Zimbabwe (4.1 percent.) The most dependent nation was Mauritania, where a full sixth of its national wealth comes from the economic aid.
Burkina Faso, Swaziland, the Gambia, Sao Tome and Principe were the only countries who did not receive any Chinese money, as they recognised Taiwan, not the People's Republic of China, noted Quartz.
Contrary to popular opinion however, Beijing had few development projects related to resource extraction, rather choosing to focus on debt relief, followed by transport and storage projects.
The Guardian noted that this followed the lines of China's official Africa policy, released in 2006, which encourages exchange and co-operation between African and Chinese media to "enhance mutual understanding and enable objective and balanced media coverage of each other."