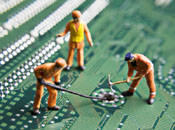 The Strategic Mineral Advisory Council is encouraging the U.S. Department of Defense to move away from stockpiling strategic and critical minerals from China to creating and nurturing a U.S.-based rare earth supply chain.
In its report, "Strategic and Critical Materials 2013 Report on Stockpile Requirements," the DOD studied 76 materials to determine if they would experience shortfalls, of which 23 were found to potentially have shortfalls.
DOD suggested stockpiles of heavy rare earths and critical should be secured by the U.S. Government. The DOD is in the process of identifying rare earths resources to stockpiles. The Strategic Materials Advisory Council is particularly concerned about the DOD recommendation that $120.43 million of heavy rare earth elements, which are only produced in China, be added to U.S. stockpiles.
"The root cause of these material shortages is our ongoing dependence on Chinese suppliers," said council executive director Jeff Green. "While it is encouraging that DOD acknowledges these risks, we urge DOD to move from theoretical studies to the only appropriate and permanent solution—the creation and nurturing of a U.S.-based rare earth supply chain."
Green cautioned that the U.S. 'must not rely on research projects and substitutions alone to close the current supply gap. Furthermore, it must not accept the status quo of material and technological dependence on China."
"Instead, it is incumbent upon the department to engage the industrial base domestically, and from U.S. allies, to achieve sustainable heavy rare earth development for defense and essential civilian requirements," he stressed.
China's REE Dominance Threatens Jobs
In recent testimony before the House Subcommittee on Energy and Mineral Resources, Avalon Rare Metals, Vice Presidents Sales and Marketing, Pierre Neatby cautioned, 'While we currently see relatively low rare earth prices, our interest is that when they spike again, the US and North America should not be impacted as much as we have been."
"Western companies are essentially being forced to set up manufacturing inside China, which puts at risk their intellectual property and eliminates jobs in countries like the US. This is troublesome not only for Avalon, but other companies along the supply chain and should remain a major security concern for western governments," he observed.
Avalon has endorsed the RARE Act of 2013 (Global Rare Earth Element Assessment), legislation which would conduct a global census to identify and quantify the availability of REE, as well as an analysis of the supply chain. "We believe that the results of this proposed undertaking will better inform industry participants and end-users on how all parties to work together to offset actions by a single monopolistic supplier (i.e., China) that can disrupt pricing, availability and security of supply," said Neatby.
"The supply chain analysis that H.R. 981 would provide will help government and industry determine where the most sensitive and cost effective investment should take place and highlight the importance of investment at all levels of the supply chain to be able to effectively offer a security alternative to China," he declared.
Dorothy Kosich
Mineweb