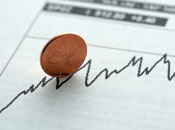 With gold prices—which closed at a nearly two-week high Tuesday to $1,591.70—rising year after year for much of the past decade, you might think all gold stocks have increased, too.
But they have not—not by a long shot.
In fact, gold mining companies' stocks specifically have lagged the performance of the precious metal for six years.
This sad tale can be seen by looking at the gold miners ETFs. The biggest fund in the sector is the Market Vectors Gold Miners ETF. It holds 31 of the world's top gold mining companies including the likes of Barrick Gold Corp., Newmont Mining Corp. and Goldcorp Inc.
It is down more than 20% in the last three months alone. That puts it at its lowest valuation versus bullion prices in over three years. Over the past year, GDX has fallen nearly 32%, which is roughly triple the decline of the largest gold bullion ETF, the SPDR Gold Trust.
It's even worse for the junior miners. The Market Vectors Junior Miners ETF is down roughly 42% of the past 12 months. This ETF focuses on smaller mining companies such as Argonaut Gold and B2Gold and contains 79 stocks.
So what's behind these declines? And when can investors bet on a reversal?
Why these Gold Stocks Have Failed to Deliver
The reason behind this lagging performance is simple: Poor management at many of the miners.
Management did not spend much time looking at projects to see if they made sense economically. That is, if the costs to produce the gold were lower than the market price of gold. Management simply focused on adding ounces of production.
The CEO of Gold Fields Ltd., Nick Holland, told the Financial Times, "The philosophy was 'let's increase the ounces, let's go for the marginal ounce'. . .I think we got that wrong because. . .that marginal ounce cost you a lot more than you thought it was going to cost."
Holland is right as rising production costs and lower grades of ore hurt profitability. Bloomberg News reports that the average cash cost of 10 of the largest gold miners was $649 an ounce in third quarter of 2012. That is 49% higher than the costs just two years ago.
The good news here is that change is in the wind...
Six CEOs of major North American gold producers have been fired or 'retired' in the past year.
This may be the first sign that gold stocks have marked a bottom in their relative performance to the metal itself.
Tony Daltorio,
Money Morning