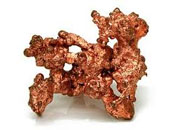 If you're considering investing in copper, you need to know what's happening in China right now.
The country's extraordinary growth spurt—and the resulting surge in demand for copper—will create a global shortage of the metal this year, likely driving up prices. Copper is currently trading around $3.50 a pound.
Indeed, the real demand story for copper continues to be in emerging markets, particularly in China, which is responsible for about 40% of global consumption of the metal.
Last year, China's imports of refined copper hit a record high 3.4 million metric tons, according to the General Administration of Customs in China. This figure surpassed the previous high of 3.19 million metric tons, set in 2009 during the stimulus following the 2008 financial crisis.
Why Copper Demand Will Keep Growing in China
The new administration in China, led by Xi Jinping, will likely hit the ground running with measures to boost the economy.
That's why many analysts forecast China's economy will grow more than 8% this year and that, in turn, will boost demand for copper.
The Chinese economy is already rebounding from its slowdown. According to BloombergNews, manufacturing and exports are growing at the fastest pace in two years. The pick-up in activity can be seen in the December data: China used 2.6 million miles of copper cable—used in electric grids, housing, autos and exports, Bloomberg reports. That's the most copper wire the country has needed in nine months—and enough to circle the Earth more than 100 times.
John Stephenson of First Asset Investment Management in Toronto told Bloomberg, "Copper is the preferred way to play China growth, and it should be very strong. The commodities that will do well [in 2013] are the ones that China doesn't have a hammerlock on in terms of their ability to produce, and copper certainly would be that." A recent report by Barclays PLC backs up Stephenson's assertion.
Barclays says China's domestic copper production of 6.541 million tons will fall short of domestic demand by 2.168 million tons this year.
This trend will continue into the future as China urbanizes over 100 million people in the next decade. That means a lot more infrastructure such as electric grids.
And as John Goldsmith of Montrusco Bolton Investments told Bloomberg, "The No. 1 usage for copper in China is the electric grid. That's a boatload of copper they're going to need."
A Look at the Supply Side
Bears have pointed to the increased supply of copper from new mines in the coming years.
But in reality, mining companies are facing rapidly increasing production costs, which have led to the delay or cancellation of numerous projects.
The world's biggest copper producer, Chile's Codelco, recently reported costs rose last year by 30%, thanks to rising energy expenses and lower ore grades. Another Chilean copper miner, Antofagasta, warned in January of production cuts due to rising costs.
At the same time, shareholders in mining companies are demanding miners invest only in projects that will result in a high rate of return. That priority is reflected in a change in culture in the major mining companies where new CEOs are taking the helm, including BHP Billiton Ltd., Rio Tinto Plc, Anglo American and Xstrata/Glencore.
Another factor coming into play is economic nationalism.
One of the world's largest copper mines—Oyu Tolgoi in Mongolia—is scheduled to come online soon.
But Rio Tinto, which is financing part of the project, continues to face major hurdles as the Mongolian government attempts to gain more of the future profits from the mine. Rio Tinto has twice rejected Mongolia's demands.
In the latest episode, the government of Mongolia has suspended Rio Tinto's licenses for a key portion of the Oyu Tolgoi project.
The government had already annulled the licenses for gold production in the same area held by Canada's Entree Gold. Production from the Oyu Tolgoi mine obviously won't start until the dispute is resolved.
Investing in Copper
For investors looking to take advantage of this trend, there is an ETF that allows them to directly track the copper price.
It is the United States Copper Index Fund . This exchange-trade vehicle owns copper futures contracts that trade on the COMEX. It currently owns futures that expire in May 2013, June 2013 and December 2013. Investors should also watch for new ETFs that actually hold physical copper available for purchase.
Two such ETFs—from JPMorgan and Blackrock's iShares—have been approved by the SEC. However, trading has been put on hold pending lawsuits from U.S. industrial copper users who claim such ETFs will drive up the price of copper.
There is already a physical copper ETF available in Europe and is becoming more popular. Bloomberg reports that holdings in it nearly tripled in one month from 2,122 tons (worth $16.4 million) on January 3 to 6,012 tons (worth $48.8 million) on February 3.