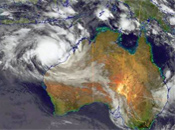 Tropical cyyclone "Rusty" and its "potential weather-related disruptions" are impacting production and iron ore exports in Australia's Pilbara mining region, which ships nearly half the world's seaborne iron ore, mainly to China, Japan and South Korea.
In its Monday daily market report, the Australia and New Zealand Banking Group (ANZ) suggested iron ore prices could "further gain this week, as a severe tropical low crossing Australia's northwest coast is likely to intensify over the coming days." Global iron ore prices already hit 16 month highs last week.
ANZ Senior Commodity Strategist Nick Trevethan told CNBC that if any lasting damage occurred to port or rail infrastructure, "That will have far more significant implications."
Weather forecasters fear the now category 2 cyclone could build into a category 4 system by Wednesday, which is far worse than the January category 1 storm that forced the shutdown of all three iron ore exports terminals on Australia's northwestern coast and contributed to a 9% drop in exports in January. The ports in the Pilbara iron belt ship around 500 million tonnes of iron ore annually.
Port Hedland, which is used by BHP Billiton, Fortescue Metals and Atlas Iron, has been closed and all vessels sent out to sea in preparation for the storm, Reuters reported. Port Hedland, which ships about one-fifth of the world's seaborne iron ore, is forecast to bear the brunt of Rusty's wrath.
Dampier and Cape Lambert, which are south of Port Hedland, are the ports used to ship Rio Tinto iron ore. Dampier Port is expected to be fully closed by sunset Monday. Cape Lambert's port closed Sunday evening although in-loading services were still operating, Reuters reported.
An extensive wet period that will last from a few days to two weeks is expected to affect iron ore exports. Very heavy rainfall could cause major flooding, which could curtail iron ore production in the Pilbara mining region and western Kimberley.
However, Gavin Wendt, senior resources analyst at Mine Life in Sidney, told CNBC that this is the quarter when iron ore production typically is impacted by the cyclone season. "There could be more bad weather on the way for Queensland coal as well," he observed.
The benchmark import price of 62% iron ore fines hit $158.90 per ton on Wednesday, the highest since October 2011. However, some analysts fear Rusty will only trigger a short-term blip of higher iron ore prices.
In an email to CNBC on Friday, BHP said, "We monitor all cyclone activity closely and shut in operations if we believe that this is the safest course of action. We do not intend to give a daily update on the status of all our operations, but if there is any material impact on our production, we will report it in our quarterly production report."
Dorothy Kosich
Mineweb