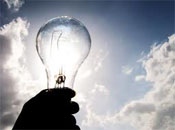 The weekend "snowmageddon" deterred few from attending this year's BIO CEO & Investor Conference—a BIO rep, in fact, said only one speaker had to cancel—and attendees made their way to the Waldorf-Astoria hotel on Park Avenue through slush-filled sidewalks on a rainy Monday morning.
Like the Big Apple, biotech has weathered its share of storms, both regulatory and economic, over the past few years. But 2012 saw a surge in the Amex Biotechnology Stock index—a 41.7% gain for the year, in fact—and an increase in FDA approvals, with 40 drugs cleared by U.S. regulators versus 31 approved in 2011. Initial public offerings are expected to keep on pace with last year; so far, three biotech IPOs have priced in 2013, and all within their projected ranges. Analysts also are looking for more M&A activity in biotech this year.
But does that mean the investment environment for the sector is really improving? Buy experts aren't so sure.
"Over the past 10 years, there's been a pretty dramatic compression," said Geoffrey Hsu, partner at healthcare investment fund OrbiMed Advisors, during Monday's plenary session. "We were due for a rerating."
Plus, there was "so much negative sentiment at the start of last year," pointed out Oleg Nodelman, founder and managing director of EcoR1 Capital, a recently formed investment firm, that "there was nowhere to go" but up in 2012. (See BioWorld Today, Jan. 14, 2013.)
All panelists agreed that the increase in the drug approval rate bodes well for the industry. Last year saw several drugs get the green light well ahead of their PDUFA dates, including Medivation Inc.'s prostate cancer drug Xtandi (enzalutamide), approved three months ahead of schedule, and Onyx Pharmaceuticals Inc.'s multiple myeloma drug Kyprolis (carfilzomib), which got the nod a week before its review date. (See BioWorld Today, July 23, 2012, and Sept. 4, 2012.)
And it seems the FDA has finally moved past the Vioxx and other safety scandals that made the agency skittish during the middle of the last decade. Safety still remains a sticking point—and an expensive one at that—in some indications, such as obesity and diabetes, with companies developing drugs for those indications required to conduct large cardiovascular outcomes trials.
But the transparency and predictability that industry observers would like to see has not yet emerged. A company can run a clinical trial using an FDA-approved design, hit the endpoint and still face a rejection, Nodelman said.
"That's just not sustainable for our business." He added that he still has "no great grasp" as to whether the FDA will grant approval in some cases. "So I don't think we're there yet."
Predictability at the FDA isn't the only factor from an investor standpoint. Trying to figure out valuations for biotechs has become a more complicated business these days.
There are myriad reasons: the regulatory environment, the growing number of companies, the increasing investment dollars needed to get a drug through approval, to name a few. Also, the fact that information is funneled so quickly via the Internet has created almost an overload of data, so that "it's a bit of an arms race," among those in the buyside community, Hsu said.
Valuations are easiest to determine at the extremes: companies that are trading well above their takeout value and those trading below cash. For those in the middle, investors look at metrics such as discount cash flow and price-to-earnings ratio, the make-up of management teams, the science, the market opportunity and assets, some more concrete than others. They also rely on consensus views, though sometimes the consensus is wrong.
"When you see a stock go down 50%, it's because someone was surprised," Nodelman said.
Nathan Sadeghi-Nejad, a partner at Palkon Capital Management, may have summed it up best: "We all like to pretend valuation is a science; in many ways it's more like an art."
But one trend in valuation remains clear. The past several years have seen investment enthusiasm move away from the supposedly risk-reduced reformulation-of-an-existing/generic-drug model. Innovation—new mechanisms, new targets—are what's going to attract the interest and the money.
Nodelman took that a step farther, adding that his firm looks for compounds that can product "clinically meaningful" results.
"Drugs that cure Alzheimer's disease are never going to face pricing pressure," he said.
"Cutting a depression drug in half and using for [a sleep indication]?" he asked. Not so much.
Jennifer Boggs
BioWorld