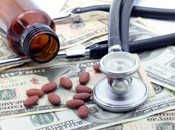 Investing in biotechnology can be exciting, profitable, and loaded with land mines. For every company that hits the jackpot with a new marketable drug that makes it through the FDA gauntlets, there are a dozen stocks that run up on such hopes and then crash and burn when the trials fail.
For this reason, some investors consider biotech stocks to be binary trades. Years ago I met some option traders who specialized in these "event" stocks and they called them "bipolar."
Whatever you want to call them, you have three basic routes to go if you still want to participate in biotech stocks:
1) Stick with large-cap, established businesses with deep and broad drug pipelines like Amgen (AMGN - Analyst Report), Celgene (CELG - Analyst Report) and Gilead Sciences (GILD - Analyst Report).
2) Plow into lots of homework on the small- and mid-cap names with promising new research and good Zacks Rank earnings momentum. Note than many of these companies may be as yet unprofitable, but they still often earn a Zacks #1 or #2 rank if the trend of Earnings Estimate Revisions (EER) is rising sufficiently.
If analysts suddenly see a company making it through some FDA hurdles of testing with one or more drugs for some form of cancer or other medical need that represents a significant market opportunity, they will begin raising estimates to account for this potential profitability. The takeover component of valuation is also a factor since big biopharma loves to scoop up hot new R&D.
Small and mid-cap biotech companies that I had some homework and investing success with in 2012 were Vertex Pharmaceuticals (VRTX - Snapshot Report), Spectrum Pharmaceuticals (SPPI), ViroPharma (VPHM), and Acadia Pharmaceuticals (ACAD).
But even these stocks had wild swings and if you were on the wrong side of the earnings or FDA trend, you got burned. Which brings me to a third way to play biotech with less volatility and company-specific risk.
3) Buy the Nasdaq Biotechnology Index ETF (IBB - ETF report). In March 2009, when it looked like stocks had made a trade-able bottom during the financial crisis, I wasn't out there picking individual stocks for people. But in my first appearance on business TV, I said it was a no-brainer for investors to put money into the future by buying two ETFs: Technology through XLK and Biotech through IBB, which was trading around $63 at the time.
Here are some vitals on IBB holdings and weightings from the iShares website. . .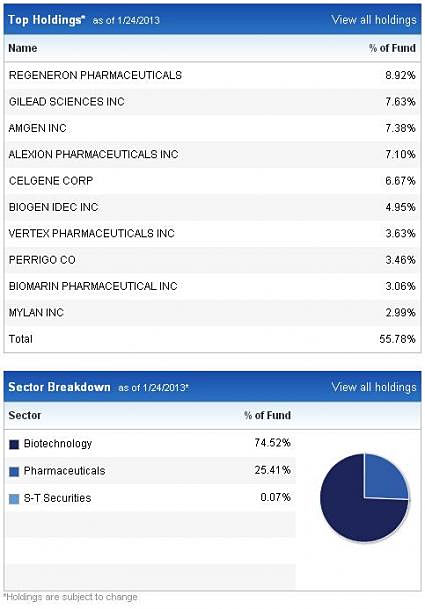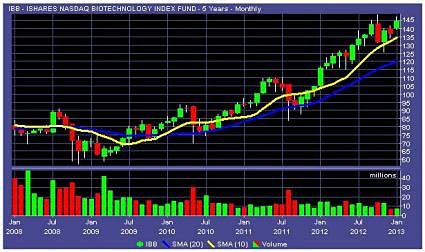 The IBB is near its all-time highs above $148. Am I saying you should buy it now at $145 after you just missed the drop in November to $125?
Yes, I am. At least a partial allocation. If the broad market goes on to make new highs above S&P 1550, biotechs will be part of the story and the IBB will make new highs as well.
And in the big picture, if you want exposure to the future of drug medicine, this is one of the safest ways you are going to find. The current waves of growth here are in R&D that is exploiting new knowledge of the human genome to create new drugs and treatments.
Genetic targeting of diseases is a multibillion dollar growth area that has large pharma firms like Pfizer, Bristol-Meyers Squibb and Merck scrambling to buy up younger companies with innovative science.
My best sense of the future of medicine is that five years from now more than half of the names in the top 10 of IBB will be different, but this index ETF with probably have net assets that put its price north of $200.
Even if I'm wrong, buying below $150 and trading the swings on the way to $175 in a few years isn't a bad way to participate either.
Kevin Cook is a Senior Stock Strategist with Zacks.com
Kevin Cook
Zacks.com