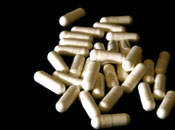 One sector offering stocks to buy now is an industry that's been prepping for huge product deliveries in 2013.
I'm talking about Big Pharma.
After being pummeled by generic rivals for the past few years, a few big pharmaceutical companies are fighting back with a new wave of blockbuster drugs that will hit the market in 2013.
More than ever, Big Pharma companies need new revenue streams to battle the "patent cliff," replacing fading profits from drugs that spawned generic competition.
Last year alone, the industry suffered from the expiration of patents for such lucrative name-brand drugs as AstraZeneca Plc's (AZN:NYSE.ADR) Seroquel, Pfizer Inc.'s (PFE:NYSE) Lipitor and Wyeth's Protonix, which total accounted for nearly $36 billion ($36B) in U.S. sales in 2011 and 2012.
But help is on the way.
Pharmaceutical firms logged 39 new drug approvals last year—the most since 1996—and there are signs the trend could continue through 2013, according to Reuters.
Drugmakers are betting that a new wave of medicines for cancer, diabetes and heart disease will shape up as tomorrow's blockbusters.
European drugmakers, for example, have the potential to deliver new drugs with peak annual sales of $64 billion in 2013-2015 while patent losses will be only $12B, according to Deutsche Bank AG (DB:NYSE) estimates.
No doubt about it—Big Pharma is taking aim at generics with both barrels.
That could mean fat profits for savvy investors who focus on high-quality companies with strong late-stage pipelines.
Here are three that are loaded for 2013.
Stocks to Buy: Big Biotech Delivers Big Profits
Innovations in biological science—or biotech—are evolving at the speed of light.
In fact, leading edge biotech products and breakthroughs are saving thousands of lives every day.
And business is booming for one biotech bellwether. . .
That's Celgene Corp. (CELG:NASDAQ).
Celgene just released a long-term outlook projecting its sales will double over the next five years.
For years, Celgene's growth has revolved around the multiple myeloma drug Revlimid, a $4B blockbuster.
But now new medicines are stepping up. . .in a big way.
Expect Pomalyst, a new treatment for leukemia that is expected to rake in $1B in sales, to receive FDA approval next month.
Another drug, Abraxane for pancreatic cancer, may draw global sales of $2B per year, Eric Schmidt, an analyst with Cowen & Co., told Bloomberg News.
In other words, Celgene's pipeline is chock full of potential blockbusters.
The biotech juggernaut forecast sales will rise from $6B in 2013 to $12B, while earnings will skyrocket to $14 per share in 2017.
Based on those projections, Celgene's stock looks "unsustainably cheap," Geoff Porges, an analyst at Sanford Bernstein, told Reuters.
Stocks to Buy: Drug Giant Sails Past Patent Cliff
A prime example of a big pharmaceutical company that has bounced back from losing patents is Eli Lilly & Co. (LLY:NYSE).
The Indianapolis-based drug maker is coming off a difficult 2012, when sales declined sharply because of competition from cheaper generics.
But the drug giant recently forecast 2013 revenue of roughly $23.4B, a slight increase over 2012, despite losing patent protection on Cymbalta, a $5B-per-year antidepressant.
Perhaps that's because Lilly now has 13 drugs in phase 3 development—the most in its history. Lilly also has another 23 programs in phase 2 development.
It could seek approvals this year for drugs for type 1 and type 2 diabetes, a disease that afflicts 371 million people worldwide. It also has drugs in phase 3 testing for gastric cancer and lymphoma.
While not every compound in phase 3 will gain FDA approval, analysts believe a majority of them will.
Lilly is also heading to a court trial in August to challenge the loss of its patent on the $3B-per-year lung cancer drug Alimta, a move that could extend its patent from 2016 to 2022.
The company said it expects significant revenue growth from emerging markets, including China, driven by sales of drugs for diabetes, osteoporosis, cancer, erectile dysfunction and animal health.
The company also vowed to maintain its dividend payout and complete a $3B share repurchase plan.
Stocks to Buy: A Full Pipeline
There's one drug company that's keeping its pipeline stocked with both quantity and quality.
Glaxo Smith Kline PLC (GSK:NYSE.ADR) has a pipeline with over 125 medicines in testing.
UK-based Glaxo is a $107B behemoth with a broad array of products spread across the world. Fully 68% of its sales come from outside the United States.
But Glaxo doesn't just invest heavily in research and development—it takes direct aim at the most promising products.
For example, Glaxo has a big lead in delivering the world's first malaria vaccine, a disease which kills 661,000 people annually.
Glaxo currently has 15 medicines and vaccines in phase 3 development.
In 2011, the company increased its dividend and initiated a share repurchase program that increased returns to shareholders by 75%. Glaxo increased its dividend again in 2012, and has vowed to continue for the foreseeable future.
Glaxo, trading at a forward multiple of only 11.5, and yielding an industry-leading 5.3%, represents a must own in the pharmaceutical space.
Don Miller
Money Morning