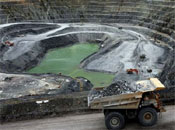 At the end of 2012, I indicated to investors to accumulate uranium miners as the uranium price hit three-year lows. The price pullback in uranium miners and price approaching year-end was a potential buying opportunity as both reached important support levels historically indicative of a bullish reversal. I also alerted investors to an increase in merger and acquisition activity in the undervalued uranium sector as there are many discount opportunities trading at ridiculously low levels. This was at a time of great pessimism.
Despite being ridiculed by the popular media, GST and smart contrarian investors were bullish and in fact that may have been the "Post-Fukushima" bottom. We are witnessing a powerful rebound in the uranium price and the uranium miners. Please read the prescient article where we predicted this powerful rebound.
This week, we hear that Uranium One Inc. will be bought by ARMZ Uranium Holding Co., its controlling shareholder, for $1.3 billion in a friendly deal. This means the Russians will have an increasing presence in the Powder River Basin. Putin is pushing nuclear power not only for Russia's internal use but in order to export technologies to emerging atomic nations. A few months ago, we predicted a growing Chinese and Russian role in developing domestic U.S. assets.
In a Sept. 2012 article, I wrote: "Cameco has announced that they will be actively searching for North American companies on the cusp of production. Uranerz Energy Corp. (URZ:TSX; URZ:NYSE.MKT) lies directly in the proximity of not only Cameco, but Uranium One too, as well in the Powder River Basin. Do not forget the Russians and Asians are donning cowboy hats in Wyoming looking for their next target."
This may be just the beginning of an increase in mergers and acquisitions in the undervalued uranium space. This announcement takes a major uranium equity out of the public market. This may allow Russia to tighten its control on its potential uranium supply, as the Russian HEU agreement ends later this year. Russia may choose to sell its uranium on the condition that buyers also use its nuclear services or technology. This will squeeze other nations to search for available supplies, which are far and few between. I have already positioned my readers for the coming price spike, which may occur even as early as this year.
Although we did see Germany temporarily back away from nuclear following Fukushima, we are seeing a continuation of the trend toward nuclear power development, especially in Europe. Europe only has one operating mine in the Czech Republic, despite being the largest per-capita consumer of uranium. This means there is very little domestic supply on the continent.
One small-cap uranium developer, European Uranium Resources Ltd. (EUU:TSX.V; TGP:FSE; EUUNF:OTCQX), may help fill that shortfall as demand continues to pick up.
Recently, another rising uranium miner, U3O8 Corp. (UWE:TSX; OTCQX:UWEFF), published a Preliminary Economic Assessment (PEA) on its flagship Berlin project in Colombia. The study was able to shed light on the potential economics and metallurgical process of the multi-commodity project which has uranium, rare earths, vanadium and phosphate. The PEA shows that the project can be economic with zero cash costs for the uranium as it can be paid for by the additional byproducts such as rare earths, vanadium and phosphate.
This small-cap uranium developer, Pele Mountain Resources Inc., is operating in a historic uranium mining camp which produced over 300 million pounds of uranium at one time in Ontario. It also commercially produced heavy rare earths. This deposit provides great leverage to the price of uranium and rare earths as it is a big production scenario which could produce close to 2.7 million pounds of uranium and 4,000 tons of rare earths. The company recently released an NI 43-101 Preliminary Economic Assessment with an NPV of over $1 billion and a before-tax payback period of 18 months. This is pretty impressive for a company with a market cap below $10 million.
This uranium explorer in the Athabasca Basin, Athabasca Uranium Inc. (UAX:TSX.V; ATURF:OTCQX), is making a major breakout above the 50-day moving average on record volume. In 2012, the company had a major vote of confidence by attracting the attention of a team of seismic experts who helped discover the major Athabasca deposits, such as McArthur River, Shea Creek, Key and Moore Lakes as well as Hathor's Roughrider Deposit.
Best wishes for a great 2013, which may turn out to be a great year for undervalued uranium miners.
Jeb Handwerger
Gold Stock Trades
We are not a registered investment adviser and information and analysis provided is for entertainment, informational and educational purposes only. Check with a registered financial adviser before making investment decisions. Some companies may not be registered in the United States with the SEC. From time to time, Gold Stock Trades and its directors, officers, employees or members of their families, as well as persons interviewed for articles on the site, may have a long or short position in securities mentioned and may make purchases and/or sales of those securities in the open market or otherwise. Please see our list of current sponsors and featured companies for any potential conflicts of interest.