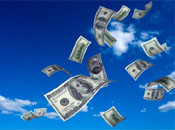 Gold prices are likely to average $1,847 per ounce this year as central bank buying continues and the U.S. liquidity program remains in focus.
This is the view of Thomson Reuters GFMS's Philip Klapwijk.
Speaking to Mineweb ahead of the launch of the group's Gold Survey: Update 2, Klapwijk said, "It may be that 2012 turns out to be the pause that refreshes—the 6% rise in annual average prices is still not that bad [but]. . .we still think that the outlook is pretty positive for 2013 given the expected economic and financial backdrop this year which should support a high if not higher level of investor and also in fact central bank interest on the buy-side in gold. "
Key to the outlook for investment demand is one's view on U.S. monetary policy.
Asked about the latest set of FOMC minutes that dampened the fire underneath the yellow metal and the likelihood that the U.S. may end its borrowing program sooner than expected, Klapwijk explained, "In my view these have been completely misinterpreted. If you read them carefully there really is no indication from them that the Federal Reserve is considering as a base case, the current and probable future set of circumstances in the U.S. economy to tighten monetary policy or cease buying assets"
Klapwijk adds that it is probable that, as people recognize that the Fed is likely to carry on along the course it has set, that will be an important stimulus for gold investment "because it will continue to, for some, represent a threat of higher inflation in future and also it will help to undermine the value of the U.S. dollar."
According to the Klapwijk, central bank buying is also likely to continue to grow in 2013 at very high levels, similar to those seen in the first half of 2012.
And, he adds, "We have a number in our forecast for the first half of 2013 of 280 tons for net official sector purchases. But, we would be more inclined to see that number outperformed rather than underperformed if we have a surprise either way."
Another important factor as to why prices traded as they did in 2012 was the resilience of the jewelery sector, which declined by just 4%.
"The fall last year was mainly a function of losses in India, which accounted for 85% of last year's (gross) decline. Also of note was a drop in Chinese jewelery fabrication (the first in nine years), chiefly as a lack of a clear price trend reduced investment-related purchases. At the same time, global scrap fell by 2%, despite the 6% price rise. This was in turn attributed chiefly to price acclimatisation, near market stock depletion and expectations of higher prices to come," Thomson Reuters GFMS says.
On the production side of the equation, the survey says mine production failed to respond meaningfully to higher gold prices, rising just 0.2%.
"But in so doing, nevertheless chalking up a new record level," the consultancy writes, "The outcome was moderated by a handful of mining projects that faced setbacks and widespread strikes in South Africa.
Turning their attention to 2013, Klapwijk says the consultancy expects to see some small lift in production in 2013.
"The interruption to the modest growth trend that we've seen in recent years is expected to have been confined to 2012. . .We're currently forecasting growth year-on-year of around 1% to 1.5% in 2013 over the 2012 mark and that is good for about 35 tons or so of extra mine production."
Geoff Candy
Mineweb