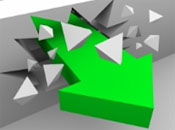 Hoping to beef up its arsenal against drug-resistant bacteria, the FDA is taking the first steps to blaze a new approval shortcut for drugs, both small molecules and biologics, that narrowly focus on serious or life-threatening diseases in which there's an unmet need.
The proposed trail is intended to cut through the undergrowth of current clinical trial requirements by allowing for smaller, more targeted studies that wouldn't take as long to complete. By focusing on a drug candidate's risk-benefit profile in a subpopulation of patients with the most serious forms of serious or life-threatening conditions, such trials could be more efficient and cost-effective.
As a first step in clearing the new path, the FDA will hold a public hearing on the proposal Feb. 4 and 5. It also will take written comments through March 1, according to a notice published in Tuesday's Federal Register.
The idea for the "Special Medical Use" pathway was sparked by a report from the President's Council of Advisors on Science and Technology (PCAST) issued last September. As part of a goal to double the number of new drug approvals over the next decade, PCAST recommended the shortcut to get much-needed therapies to well-defined populations for which there's a favorable risk-benefit balance, while strongly discouraging off-label use and reimbursement. (See BioWorld Today, Sept. 27, 2012.)
In its "Report to the President on Propelling Innovation in Drug Discovery, Development and Evaluation," PCAST fingered today's conduct of clinical trials as a primary cause of the burgeoning cost of drug development, without commensurate increases in approvals.
Clinical trials represent an aggregate expense of about $31.3 billion, or nearly 40% of the R&D budget of major drug developers—much of that due to systemic inefficiency, according to the report.
The FDA already has other paths available to shorten the distance between development and approval of much-needed new drugs. For instance, the agency has approved more than 100 new therapies and indications under the accelerated approval process. However, the agency sees PCAST's proposal as a way to address the growing need to develop new therapies for infections caused by antibiotic-resistant bacteria, as well as for other serious unmet needs.
The new designation, and possibly a logo that would be used in the labeling, could be designed to inform physicians, patients and payers of the compelling reasons to limit the use to patients in the subpopulation tested. By restricting the use, the new pathway could help reduce the development of resistance to important antibacterial drugs, the FDA said.
Of course, drug makers would be able to develop the narrowly approved therapies for other indications by conducting full-blown trials in broader patient populations, but off-label use would be highly restricted.
Court: Pfizer on the Hook
Pfizer Inc. is on the hook for injuries caused by generic versions of Wyeth's Reglan if it failed to warn about the risks of long-term use of the drug, the Alabama Supreme Court said in a nearly unanimous ruling released Friday.
The decision adds Alabama to a small list of states—comprising California and Vermont—holding brand drug makers responsible for the labeling of generic versions of their products. The Alabama high court was asked to weigh in on the issue after federal district courts in the state issued opposing opinions in similar cases.
In Wyeth Inc. v. Danny Weeks, Wyeth (now part of New York-based Pfizer) sought to have the case dismissed, arguing that it was a product liability claim, so the brand company shouldn't be held responsible for injuries resulting from the use of generics.
But Weeks, who developed tardive dyskinesia after years of using generic metoclopramide (Reglan), alleged that Wyeth and Pfizer "falsely and deceptively misrepresented or knowingly suppressed facts" about the drug. As a result, the doctor who prescribed the drug was misinformed and misled about the likelihood that metoclopramide would cause tardive dyskinesia and related movement disorders.
The court acknowledged its decision could have a far-reaching impact. In the past year, the number of Reglan cases nationwide ballooned from 250 to about 3,500. Of those, at least 250 involve Alabama residents, most of whom are asserting the fraud, misrepresentation or suppression theories raised by Weeks, according to the court.
Takeda Fights and Wins
Takeda Pharmaceuticals North America Inc.'s victory Friday in a federal appellate court shows that fighting a whistleblower suit can pay off.
The U.S. Court of Appeals for the Fourth Circuit upheld a lower court ruling that dismissed a qui tam suit, joined by the Department of Justice, against the drug maker, saying that the whistleblower, a former Takeda sales rep, failed to show that the company's off-label promotion of Kapidex, a proton pump inhibitor approved to treat various gastric conditions, caused false claims to be submitted to the government.
The appeals court also upheld the lower court's refusal to let the whistleblower, Noah Nathan, amend his claims for a fourth time.
The suit alleged that Takeda promoted Kapidex (renamed Dexilant) to rheumatologists, who typically don't treat patients having conditions for which the drug was approved. It further claimed that the company, by giving doctors 60mg samples, promoted using the higher dose to treat conditions for which a 30mg dose was approved.
Be that as it may, the appellate court said the whistleblower, to succeed in his case, had to show that the practices led to actual false claims being submitted.
NIA Funds New Alzheimer's Trials
The National Institutes on Aging (NIA) will award up to $55 million over the next five years to fund four studies being conducted by the Alzheimer's Disease Cooperative Study, a national consortium of academic medical centers and clinics set up by the National Institutes of Health in 1991 to develop Alzheimer's treatments and diagnostics.
The funding will support the following trials:
• A4 secondary prevention trial, which will test an amyloid-clearing drug in 1,000 symptom-free older volunteers who have had PET brain images that show abnormal levels of amyloid accumulation;
• Exercise MCI Trial, a randomized, controlled trial evaluating whether supervised aerobic exercise can influence cognitive decline, slow brain atrophy or mitigate Alzheimer's pathology in older adults with mild cognitive impairment (MCI);
• Prazosin for Treating Agitation Trial, which will test a generic prazosin in treating agitation in frail and elderly patients;
• CSF Pharmacodynamic Trial, which will use advanced methods to sample cerebrospinal fluid and plasma levels over time to help researchers better understand how a drug influences Alzheimer's pathology. It's hoped that the results will help guide decisions in the future on whether a drug warrants further clinical testing for Alzheimer's.
Mari Serebrov
BioWorld