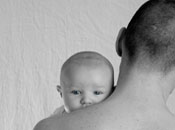 John Crowley raised over $100 million to save his children's lives.
John grew up in Bergen County, New Jersey. He married his high school sweetheart, Aileen, in 1990. Their first child, John Jr., was born in 1995. Megan and Patrick were born a few years later.
He was a well-educated man. He had a bachelor's degree in foreign service from Georgetown, a law degree from Notre Dame, and a master's degree in business administration from Harvard. John had a great job working for a consulting firm, so the young couple bought a new home for their new family.
Just as life seemed to be going well for the Crowleys, they received news that would change their lives forever. . .

In 1998, their one-year old, Megan, was diagnosed with a rare neuromuscular disorder called Pompe's disease. In short, a child with this disease lacks a particular cellular enzyme. Without it, the body can't break down sugar. The buildup causes progressive muscle weakness, namely in the heart and the skeletal muscles. In most cases, patients have enlarged hearts and have difficulty with basic activities like breathing and walking.
Children with Pompe's often die soon after being diagnosed. John and Aileen were told Megan would likely die before she turned two. As if this news wasn't devastating enough. . .Patrick, their youngest child, also tested positive for Pompe's Disease.
John and Aileen were told that nothing could be done for their children. One doctor said, "Go ahead and enjoy your time with your children."
At that moment, John embarked on a quest to save his children's lives. . .
Frustrated by the slow pace of research into Pompe's disease, John left his high-paying job in March 2000 to become CEO of a four-person biotech start-up called Novazyme, which was working on new methods for treating Pompe's.
John had executive experience but knew nothing about the biotechnology field or how to raise cash for a start-up. However, failure was not an option. . .Time was running out for his children. In less than two years, he grew the company to 120 people and raised over $100 million ($100M).
Shortly after, the company was bought by biotech giant Genzyme Corp. Together, these companies were able to bring a new treatment for Pompe's disease to market, which John credits for saving his kids' lives. Megan and Patrick are still physically handicapped. . .But they are alive and currently attending high school.
John has since moved on from Genzyme to become CEO of another small biotech company. . .Its goal is to find even better treatments for Pompe's disease and other disorders like it.
Today, we have an opportunity to buy shares of this high-quality biotech at a dirt-cheap price. A recent setback has left shares trading near cash. And insiders—including one of the biggest pharmaceutical companies in the world—have been buying up millions of shares of this small company.
We could see at least 100% returns on this stock within 12–18 months. As we'll show you, based on our research—and comments from our biotech insider, who works for one of the largest biotech firms in the world—this forecast could prove extremely conservative.
Before digging into our latest recommendation, let's take a closer look at the devastating group of diseases the company is targeting. . .
A Rare but Debilitating Group of Disorders
Pompe's disease is one of 50 genetic disorders known as lysosomal storage diseases (LSDs). They are inherited from a child's parents. As a group, they occur in one out of every 5,000 to 10,000 people worldwide.
People can carry the genetic mutation for LSDs without having the diseases themselves. In most cases, both parents must have a copy of the mutated gene for a child to get it. Even then, there is only a 25% chance the child will have the disease.
The problem in each of the 50 LSDs occurs on a cellular level, in the part of a cell known as the lysosome. To describe it simply, the lysosome is the "stomach" of the cell. It contains enzymes that break down certain materials, such as fats or sugars. LSDs are caused by lysosomal dysfunction, which typically happens when one of these enzymes exists in too small an amount or is missing completely. This deficiency leads substances (fats and sugars) destined for breakdown to build up in the cell.
For example, Gaucher's disease occurs when a person doesn't have enough of the enzyme glucocerebrosidase. As a result, the body can't metabolize a particular fatty acid, which builds up in the patient's liver, spleen, lungs, bone marrow and sometimes even in the brain. Symptoms of Gaucher's include an enlarged liver and/or spleen, a decrease in bone density that results in pain and fractures, a decrease in red blood cells (anemia) and excessive fatigue.
In Pompe's disease, patients lack an enzyme that breaks down glycogen—the sugar made by the body to store energy. The buildup of glycogen affects the patient's muscles. Pompe's disease can appear at birth or later in life, with a varying degree of severity. In all cases, patients have difficulty with basic activities like breathing and walking.
As I mentioned earlier, the most devastating type of Pompe's disease occurs in infants. Babies diagnosed with Pompe's often have enlarged hearts and trouble lifting up their heads. Infants can die from the disease if it goes untreated because it weakens their heart and respiratory system.
Patients with Fabry disease, another well-known LSD, experience a burning pain in their hands and feet. Heart problems develop over time, as fatty materials build up in the heart cells. Other symptoms include headaches, stomachaches, vertigo, ringing in the ears and fatigue. Patients' life expectancy is cut by decades due to eventual kidney failure.
Each of these specific forms of lysosomal storage disease is rare. They occur in the range of one in 40,000 to one in 120,000 people. Nevertheless, even mild cases result in debilitating symptoms.
While there's no cure for these diseases, treatments known as enzyme replacement therapies (ERTs) provide significant benefits to most patients. ERTs involve delivering the missing enzyme to a patient intravenously.
It's a burdensome process, in which patients undergo "infusions" every two weeks. Each of these sessions can take up to four hours. There are also many side effects, like throat tightness, trouble breathing, severe skin rashes, skin ulcers, less urination, irregular heartbeat, possible seizures and swelling in the face.
In short, ERT is one of the only FDA-approved ways to treat LSDs in young children and most patients. There is plenty of room for improvement. And the company that can bring new treatments to the market will make huge profits in a short period of time.
In spite of the inconvenience, most patients are desperate for any amount of treatment.
In 2011, a group of patients sued biotech giant Genzyme (now a part of Sanofi) after a forced plant closure caused a shortage in production of Fabrazyme, an ERT for treating Fabry disease. An Idaho woman filed a lawsuit, claiming her husband's death happened as a direct result of Fabrazyme rationing. Another patient considered moving to France to take advantage of greater availability of Fabrazyme.
ERTs are also super-expensive. Treatments like Fabrazyme and Cerezyme (an ERT for Gaucher's disease) cost $5,000 or more per treatment. Administered every two weeks, the annual cost can end up well over $300,000. There's huge demand for any treatment that can help LSD patients while bringing costs down.
That brings us back to John's story. . .
John Crowley's Quest
Today, John is the CEO of Amicus Therapeutics (FOLD:NASDAQ). It's a tiny, $130-million biotech company that's trying to find affordable ways to help anyone suffering from LSDs, like John's children.

Amicus' drug development technology centers on "refolding" the proteins (enzymes) at the heart of lysosomal storage diseases. The company's drugs act as "pharmaceutical chaperones."
Put simply, a pharmaceutical chaperone helps certain proteins form correctly. In LSD patients, incorrectly formed proteins cause devastating enzyme deficiencies. By helping the proteins maintain the correct "shape," Amicus' technology is closer to being a cure for these diseases than ERTs (injecting the enzymes into a patient) are.
More important, Amicus' treatments can be taken in pill form—a huge improvement to the twice-monthly intravenous delivery of ERTs. And there are fewer side effects.
In other words, Amicus aims to revolutionize an area that is desperate for any progress.
The company's pipeline includes a number of drug candidates to treat Fabry disease, Pompe's disease, and Gaucher's disease. Longer term, there's a possibility that Amicus' technology could treat "big market" conditions like Parkinson's disease.
For now, the focus is on the three LSD conditions mentioned above. If Amicus succeeds in developing a new treatment for any of them, the market opportunity is likely in the $500M to $1 billion range.
It's worth repeating. . .This is a market where only a few drugs are currently available. If Amicus gets any of its drugs approved, it could easily take a huge share of the $1 billion LSD market.
Why We Are Buying Amicus Right Now
We have a great opportunity to buy Amicus shares at a huge discount.
As I just mentioned, Amicus has several promising drugs in its pipeline. Amigal, used to treat Fabry disease, was in phase 3 trials. Results were expected in mid-December.
Investors were optimistic this drug would pass through phase 3 trials. In fact, insiders bought $55M of stock over the past nine months leading up to the trial results. (You can see this in the chart below.)
The average price for these purchases was over $5.50 a share.
Analysts were also optimistic. Research firm Canaccord Genuity had an $11 target on Amicus. JPMorgan and Leerink Swann had $9 price targets. On Dec. 20, phase 3 results were released. Amigal failed to meet its primary endpoint.
As you can see from the chart, the stock collapsed. Shares fell from $5.75 to less than $2.75, a 50% loss in one day.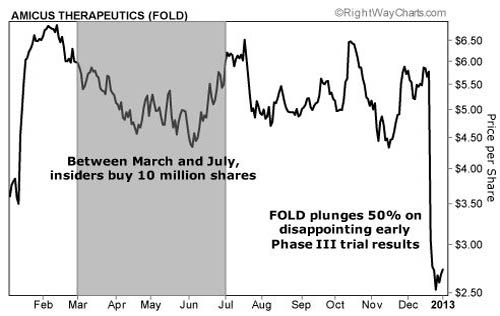 That's when we received an e-mail from one of our biotech industry specialists who knows the company well (and must remain nameless). He's a close friend—and has helped us research some of our biggest biotech winners in Phase 1, including GenMark Diagnostics (GNMK:NASDAQ), which is up 90% since our initial purchase in the August 2011 issue.
Here's what he told me:
Frank, if you get the chance, write this stock [Amicus] up immediately. The market is drastically underestimating the company's pipeline of drugs. It's a low-risk, huge-reward opportunity.
After taking a closer look at Amicus, I agree. . .These overreactions are common in biotech stocks. When a company disappoints on earnings or releases negative data on one of its signature drugs, these stocks get crushed.
We saw a similar situation last year with Human Genome Sciences (HGSI:NASDAQ). The biotech was one of the most beloved stocks on Wall Street in 2011. Two decades after opening shop, the company landed FDA approval for its first drug, Benlysta (a treatment for lupus). The stock traded at $30 per share, a 1,000% gain from its 2009 lows.
Then, in mid-2011, sales of Benlysta did not meet optimistic expectations. By early 2012, the stock became so oversold, it traded below pre-Benlysta-approval prices.
In April, we used the opportunity to buy the stock below $8 a share. Two weeks later, pharmaceutical giant GlaxoSmithKline offered to buy Human Genome Sciences for $13. We locked in 80% gains in 15 days.
We could see similar gains in Amicus. It's unlikely the stock will get taken over in the next two weeks. However, in the next year, we could easily see triple-digit gains. . .and perhaps much more. Here's why. . .
Amicus Still Has Huge Potential
You see, phase 3 results for Amigal were not a total bust. . .as the huge drop in the stock price suggests they were. In fact, Amigal has only been used in a six-month phase 3 trial study thus far. This data was a small sample size. Also, the drug proved to be active in Fabry disease, and much safer compared to other treatments. It's just the trial wasn't a slam dunk—as expected.
Amicus will report 12-month phase 3 data for Amigal by June. More important, the FDA said this data will be considered during the regulatory process—since it will provide much more information (a larger sample size) than the six-month study.
Amicus is also enrolling Amigal in a European trial. These results are expected in early 2014. If Amicus sees any positive news on these fronts, the stock will easily jump back over $6 a share. That's a potential 120% gain within 18 months.
But the real upside lies in the rest of Amicus' pipeline.
Amicus has what we like to refer to as multiple "shots on goal." The company is developing at least four different drug candidates.
Amigal, the company's lead candidate, is also in phase 2 studies as a chaperone-ERT combination technology to treat Fabry disease. Simply, Amigal is being administered prior to "already approved" ERT treatments. So far, the preliminary results show patients are seeing a fivefold increase in the active enzyme compared to just having ERT alone.
For Pompe's disease, Amicus' Duvoglustat drug is in a phase 2 study for use alongside ERT treatment.
Looking ahead, the company is in early-stage development of two drugs that show promise in treating Gaucher's disease. It's also working on developing one of its drugs as a treatment for Parkinson's disease.
With shares of Amicus trading near cash, we are getting all of these drugs almost for free. And since the only real treatment for LSDs has numerous side effects (ERT), the FDA may look to approve Amigal six months from now, even if the data shows just mild improvement in patients.
Amicus has over $100M in the bank. That's enough cash to easily fund its current pipeline of drugs through 2013. Also, pharmaceutical giant GlaxoSmithKline owns 20% of the company.
Glaxo has had a partnership with Amicus since 2010. However, Glaxo expanded this collaboration in July. As part of the expanded deal, Glaxo will receive commercial international rights to its signature drug, Amigal. Amicus will get 100% control of all U.S. commercialization.
Also, Glaxo invested $19M in stock at an average price of $6.30 per share. Today, shares are trading under $3. I wouldn't be surprised if Glaxo decides to buy the other 80% of the company at a 50% discount to its purchase just six months ago.
Either way, Amicus' partnership with one of the world's largest pharmaceutical companies should give investors confidence in the firm's technology platform. That's just one of the many reasons we suggest buying the stock right here, right now.
Another reason we like Amicus is because there are super-low expectations. After early phase 3 trial results on Amigal disappointed market participants in December, the stock has been left for dead.
If longer-term phase 3 results on Amigal come in positive, the stock will soar. And even if they disappoint again, we see little downside risk, since the stock already took a 50% hit and is trading near cash. That gives us exactly what we look for in Phase 1. . .massive upside potential with limited downside risk.
Our final reason—and the most important one—is John Crowley. John has a personal mission to create more effective—and affordable—drugs to treat LSDs. While his kids have defied the odds and lived long enough to receive treatment, they are still physically handicapped. So there is still room for massive improvement.
There are few people that know this market better than John. With his "failure is not an option" approach, we're sure he will get some of the drugs in the Amicus pipeline to market. John's actions also show his confidence in the company. . .He purchased shares at over $5 less than 18 months ago. That's almost double the price where we are buying shares today.
Action to take: Buy shares of Amicus Therapeutics (FOLD:NASDAQ) up to $3.30 a share. Once you have established a position, set a 35% stop loss.
Keep in mind, Amicus is a small company. The stock price may see a quick bump higher after our recommendation. Please remember, successfully investing in a stock this small means you must be patient.
Paying too much will limit your potential gains and increase your risk of losing money on this investment. Shares will likely fall back below our buy-up-to price, so please wait until they do—there's no need to rush out and buy shares.
Stansberry & Associates' Frank Curzio is the editor of The Small Stock Specialist and Phase 1 Investor and is the host of "S&A Investor Radio." To learn more about Frank and to sign up for his free weekly podcast visit www.stansberryradio.com.