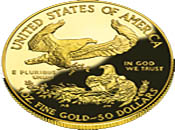 While gold and silver prices may have begun 2013 on a weakish note, the same cannot be said for opening day sales of 2013 Gold and Silver Eagle coins produced by the U.S. Mint.

Opening day orders for 2013 Gold Eagle coins have been one third higher than last year while the opening day of sales of Silver Eagle coins are believed to have come in at a new record for one day sales of the bullion coin as pent up demand kicked in following the suspension of sales of Silver Eagles due to exhaustion of stock in mid-December.

According to specialist website coinupdate.com, the Mint began accepting orders from authorized purchasers for 2013-dated American Gold Eagle bullion coins on Jan. 2. Opening day orders comprised 40,000 one ounce (oz) coins, 5,000 one-half oz coins, 10,000 one-quarter oz coins, and 50,000 one-tenth oz coins, cumulatively accounting for 50,000 troy oz of gold bullion.

Compared with 2012's opening day sales when authorized purchasers placed orders for coins totaling 37,500 troy ounces this represents an increase of 33.33%. Over the whole of January last year Gold Eagle coins sales totaled 127,000 oz.

It will be interesting to see if this kind of sales level can be achieved this year given that most predictions for the continuing rise in the price of gold are rather less optimistic than they were at this time a year ago.

But while not recording such a big increase in percentage terms over 2012 figures, Silver Eagle sales on their opening day of Jan. 7 are believed to have hit a new record one-day sales level of 3,937,000 one troy oz coins (the Silver Eagle is only released in the one ounce size).

Again, according to coinupdate, last year orders were placed for 3,197,000 Silver Eagles on the first day of availability for the 2012-dated coins. In 2011, opening day sales measured 2,085,000 coins, and in 2010 opening day sales had measured 2,440,000 coins. This year's opening day sales figure is still thus up an impressive 23% year on year.

At the metal prices at time of writing (gold at $1,649/oz and silver at $30/oz) the metals content sales values were respectively gold coins $82 million and silver a massive $118 million. Thus at least the authorized dealers are anticipating continuing strength in precious metals prices and that demand from the public for the coins will continue at a high level.

In 2012 the Mint sold a little over 6.1 million Silver Eagles over the full month of January while annual sales of the bullion coin reached 33,742,500 coins.
Lawrence Williams
Mineweb