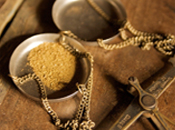 On the surface, gold is not often seen as a convenient financial instrument. It is old-fashioned, requires a place for storage and is not easily obtainable for the average American at current prices. However, the precious metal continues to evolve as the worldwide financial crisis motivates individuals to seek protection.
Gold may be old-fashioned, but only because it has stood the test of time extremely well. For thousands of years, gold has satisfied the three common requirements of money. First, it is a medium of exchange, as gold can easily be bought or sold in the market without causing a large movement in price or a loss of value. Gold can also be transported easily from one seller to the next buyer with little debate or confusion. While something like a painting may have value, its price can be highly subjective and there is no telling when the right buyer will come along and purchase it.
Secondly, gold is a unit of account. Its value is easily measured by weight and the prevailing market price per ounce. Gold's third and perhaps most important characteristic in meeting the requirements for money is its ability to act as a store of value. The price per ounce fluctuates on a daily basis, but in the longer term, the precious metal is a reputable way to store value, especially when fiat currencies are called into question.
Since 2001, gold has climbed from $270 an ounce (oz) to more than $1,600/oz today. The yellow metal is also on a massive winning streak, increasing in price for the past twelve consecutive years. It is the longest run of positive gains for gold since at least 1920, according to Bloomberg.
Critics have their doubts. . .
Critics are quick to point out that very few places accept gold as payment, or that dividing a gold bar into pieces is no easy task, but advancements are being made in the gold industry. In order to offer gold holders more flexibility, Swiss refinery Valcambi has been selling 50-gram gold bars that can easily be broken down into one-gram pieces. The product is called CombiBar and is roughly the size of a credit card. Wealthy private investors in Switzerland, Austria and Germany who are worried about the worldwide financial system have been purchasing the CombiBar. Valcambi also wants to bring the product to the United States and India, the world's largest consumer of gold.
Michael Mesaric, chief executive officer of Valcambi, explains, "The rich are buying standard bars or have deposits of physical gold. People that have less money are buying up to 100 grams. But for many people, a pure investment product is no longer enough. They want to be able to do something with the precious metal," according to the Daily Mail. He adds that the CombiBar "can be used as an alternative method of payment." The CombiBar is also available in silver.
Gold is not widely accepted as payment, but the CombiBar adds another function to the precious metal. Furthermore, there are plenty of other reasons to diversify a portfolio with gold. In case you did not notice, the world is awash in debt and central banks believe they can solve every problem with more money printing. Recently, the United States had a chance to deal with its fiscal situation in a serious manner, but once again avoided any hard decisions.
Late Tuesday, Congress passed a bill to "solve" the "fiscal cliff" plunge by raising taxes on high earners and allowing the payroll tax cut to expire. Spending cuts were next to zero and the Congressional Budget Office said the bill will increase budget deficits by almost $4 trillion over the next 10 years. With little change being made by governments and central banks, it is hard to believe that the historic bull market in precious metals will not continue in the coming years.
Investor Insight: Currency Wars Expand Their Battlefield
If you would like to receive professional analysis on miners and other precious metal investments, we invite you to try our premium service free for 14 days.
Eric McWhinnie
Wall St. Cheat Sheet
Disclosure: Long EXK, AG, HL, PHYS