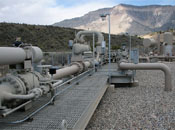 The development of new sources of energy—at the state level—will be the big idea for 2013.
Whether there is a grand bargain, a petite bargain, or no bargain at all on ways to decrease the national debt and avoid the fiscal cliff, one thing is clear: The American spirit will not be dampened by the inability of elected and appointed officials in Washington to get the economy moving.
Power, in the form of innovation and ideas, will shift from the nation's capital to the capitals of the 50 states. Governors do not have the authority to print money and 43 states have laws that require Governors to submit budgets that are in balance, so states are looking for ways to generate revenue without raising taxes which would only serve to drive businesses out.
The 21st century gold rush is shale containing oil or natural gas. Huge deposits have been discovered around the nation, instantly adding jobs—not just at the wellhead, but in the towns that surround the field where downtowns long abandoned are sprouting new stores to sell shoes, cut hair, and supply groceries to the oil and gas community.
Over the past four years, the ability to profitably recover oil and gas from shale deposits has turned natural gas from a closely guarded resource to an abundance that ranges from a 100 to 150 year supply depending upon the study.
Now, we need to create demand. The most efficient way to do that is to move our fleet of heavy-duty trucks from diesel that is largely imported from OPEC to natural gas that is produced in North America. . .