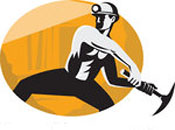 "The outlook for equity markets remains uncertain and unpredictable, with the apparent disconnect between assets and commodity values showing little sign of abatement," says Ernst & Young.
In the latest edition of its Mining Eye Index, which monitors the performance of AIM-listed mining companies, Ernst & Young's Mining & Metals Group observed "financing conditions on equity markets remain challenging for junior miners, with quarterly equity proceeds raised by the sector on AIM at their lowest since Q3 2004 (at €84 m)."
Meanwhile, "risk aversion among investors is being met with reluctance from companies to further dilute holdings of existing shareholders at current share prices," says Ernst & Young.
"The funding challenge is compounded in an environment of high and increasing operating costs, weakness in certain commodities, and unforeseen operational challenges, which can quickly and dramatically impact short-term working capital," Ernest & Young advised.
"The tightening availability of equity (and absence of available debt) reduces financial headroom and impacts companies' ability to swiftly address unexpected cash flow shortfalls or capital outlays," E&Y noted. "We have seen the material impact of these conditions on a small but nonetheless significant number of AIM miners this quarter in the form of distressed asset disposals; high-cost, last-resort financing (such as share subscription agreements); operations being placed on care and maintenance; and strategic reviews."
In their analysis, Ernest & Young observed that a positive upward movement in commodity prices, "while providing some support, has not been fully reflected in equity prices. This continuing disconnect is leading companies to consider themselves significantly undervalued by the market."
"The market values of nearly two-thirds of AIM miners were trading at over 30% below their 52-week highs at the end of Q3 2012."
Another trend revealed in the Mining Eye Index is the global retreat of mining IPO volumes to 2009 levels, "with average proceeds raised by junior IPOs just US$3.3 million. On AIM, there was only one mining IPO (Wishbone Gold) in the third quarter, taking the nine months total to just four IPOs."
The index also disclosed global equity proceeds from secondary offerings of equity by junior miners have fallen 41% year-on-year, "indicating the extent of negative investor sentiment and the expensive financing option that equity has become."
Nevertheless, Ernest & Young sees "a junior industry in 2012 that is smarter and leaner than it was in 2008-09."
"Juniors are responding creatively and opportunistically, pursuing growth through successful attraction of alternative funding; mitigating risk by building in options; and optimizing capital by focusing limited resources on core assets."
For instance in the third quarter of the year, E&Y witnessed examples of non-core asset disposals, alternative revenue streams, synergistic acquisitions, farm-out agreements, and strategic partners and alternative funding structure.
In the "outlook" portion of the Mining Eye Index, Ernest & Young observed that major mining producers are also responding to the change industry with a shift in priorities from "growth for growth's sake" to focus on cost control, credit quality and disciplined growth that optimizes short-term returns to shareholders.
"This is shaping mergers and acquisition activity in 2012," E&Y advised. "Our expectation is that one of the consequences will be a focus on 'lower-risk', strategic minority foothold acquisitions and that this may open up further, long-term funding options to the junior sector. We also expect to see a continued flow of capital (both debt and equity) from Asian and Middle Eastern investors, and also potentially private capital, into advanced exploration projects."
However, the index cautioned, "Competition for such long-term investment will be intense."
"Early stage juniors are faced with fewer options and we expect to see companies raising capital where they can—at some risk to financial flexibility and control over projects. Cost containment and the allocation of management and financial resources toward core projects must remain the priority," E&Y advised.
"These are challenging times, with clear implications for the longer-term exploration pipeline," E&Y concluded.
Dorothy Kosich
Mineweb