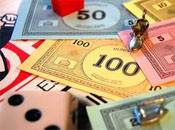 A Bloomberg report titled
Pentagon Challenges Chinese Monopoly on Rare Earths
(11/7/12) states that the Pentagon and Toyota Motor Corp. are trying to crack China's global monopoly on mining rare earths. The article would have been aptly titled if China did, indeed, seek a monopoly on rare earths. I would argue that this contention is inconsistent with reality.
China's global monopoly was unsustainable. Over the past several years, China's market prices have forced the rest of world (ROW) to close their mines, resulting in China achieving a global monopoly (China produces >90% of the world's supply) through the exploitation of its rare earth resources, increased competition between enterprises, ecological damage and environmental degradation.
China's global monopoly is not based on resources or technology; therefore it is unsustainable. In 2009, China cut rare earths export quotas from about 50,000 to 30,000 tonnes, boosting prices in the international markets and prompting the ROW's to resume the exploration and mining of rare earths. Meanwhile, along with Japan, the U.S. and EU have started to source an increasing share of their rare earths from areas other than China – reducing their dependence on China's rare earths.
The Chinese government, meanwhile, has been targeting a reduction in market share as seen by concessions; a point clearly outlined in China's rare earth White Paper, which notes that China "hopes that countries and regions with abundant rare earth reserves will make active efforts in developing their own resources." This means that Chinese government does not mind the loss of market share from the world's total rare earth supply.
Since this paper was released, shares in China's largest light rare earths producer, Baotou Steel Rare Earth (SHA: 600111) have begun to fall from the highest in its history on the Shanghai Stock Exchange.
Hongpo Shen
ProEdge Wire