Did you know that gold stocks tend to underperform during election years? As shown in the chart below, over the past quarter-century up until the prior election, the performance of the Philadelphia Stock Exchange Gold and Silver Index (XAU) was weak during the year of a presidential election.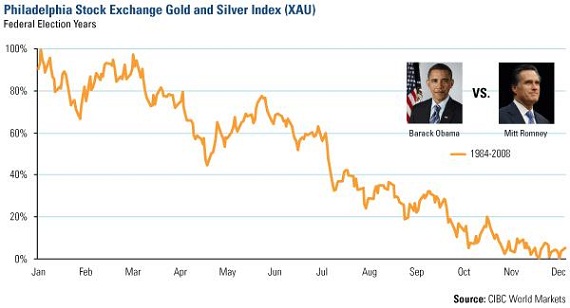 The silver lining for gold stock investors is that the XAU has historically bounced back the year after the election.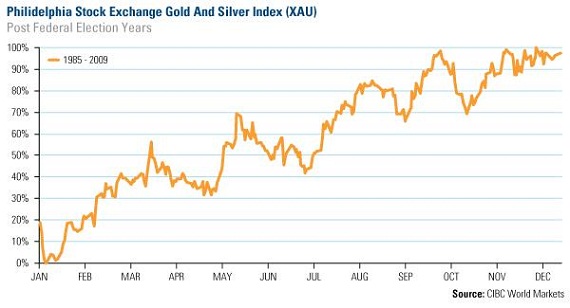 I often say that life is all about managing expectations. The difficult part of investing in gold and gold companies is experiencing the typical price swings, so it's important to understand the inherentmonthly and annual volatility.

Along with the normal volatility, gold equity investors have had to deal with plenty of challenges in recent years, as many executives overpromised and underdelivered, diluting their production per share and their reserves per share. In addition, margin costs have been rising. The result is unhappy shareholders, with bullion outperforming gold miners.

Perhaps investors can anticipate a sea change occurring in the management of gold companies. As I explained in a recent interview with Kitco, I believe a tipping point took place last summer when Gold Fields' CEO Nick Holland discussed the future of mining companies. In my opinion, his thought leadership regarding growing production volume, expanding margins and optimizing capital is crucial in shaping the future decision-making of boards, with an enhanced focus on protecting the value per share for their shareholders, increasing dividends, as well as an effective leveraging of the balance sheet.

See the Kitco discussion now.

2013 may be a pivotal year for gold stocks: With the presidential election year behind us, and executives making best use of their capital, it appears that miners are poised for a comeback.
What else is in store for investors after the U.S. election? Tune in to my webcast with Money Map Press' Chief Investment Strategist Keith Fitz-Gerald on November 12 at 2 p.m. Central Time as we discuss energy prices, the "fiscal cliff," and the presidential cycle over the next four years. Register today.

Frank Holmes
Frank Talk
Disclaimer: The Philadelphia Stock Exchange Gold and Silver Index (XAU) is a capitalization-weighted index that includes the leading companies involved in the mining of gold and silver. The following security mentioned was held by one or more of U.S. Global Investors Funds as of 9/30/12: Gold Fields Ltd.