MLPs did ok this week on very little company-specific news, aside from several distribution announcements that mostly fell inline of expectations. Energy didn't even get warrant much discussion during the VP debate this week, which I guess is a good thing. In the absence of news, commodity prices drove the bus, which helped MLPs outperform the S&P 500 for the week, while both were down.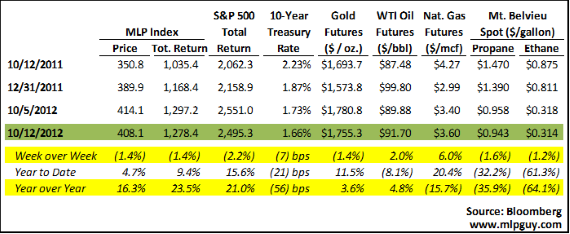 This week's winning trade was to be long coal MLPs. All 3 of the operating coal MLPs were up this week. Below is a five year chart with Central App coal spot price (Big Sandy) in blue, Henry Hub natural gas spot price in yellow and Illinois Basin coal spot price in green. It shows how closely Central App coal market has been tied to natural gas historically.
The operating coal MLPs have operations that are scattered around, with not much concentration in Central App, but Central App is widely followed because of its use as a price point for exports. ARLP makes most of its money in Illinois Basin, RNO had idled much of its Central App operations for several months this year, OXF operates in Northern App and the Illinois Basin.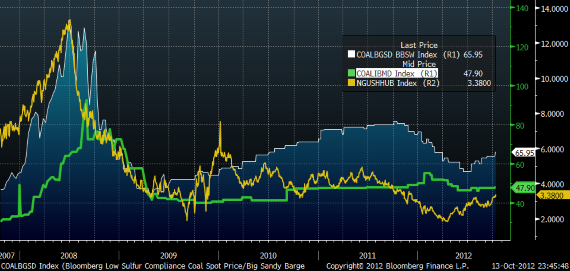 The next chart is the 1 year look at the same three spot price indexes. Central App coal and natural gas have both rallied pretty hard since late June, but remain below levels from a year ago and long term average prices, while Illinois Basin coal looks pretty low and stagnant since the end of April.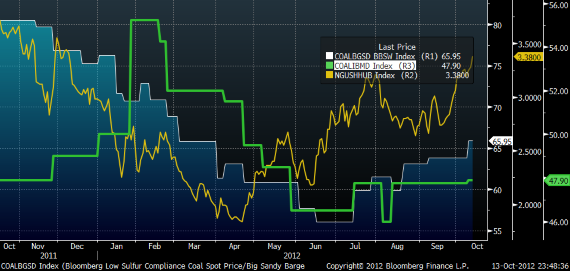 Natural gas price strength of late is at least partially the result of the rig count situation of around 5x the number of oil rigs vs gas rigs. Laying down natural gas rigs may finally be making a difference. If those rigs come back online too quick or if we have another warm winter, it could derail natural gas prices from their recovery track. But for now, natural gas above $3.00/mmbtu consistently is welcome.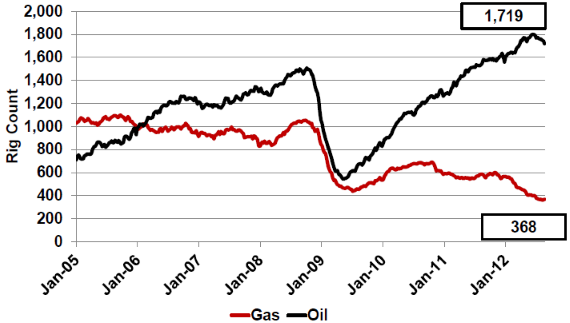 Source: Bentek and Rigdata
MLP earnings season starts again this Wednesday with KMP's earnings release. It will be interesting to hear from MLP management teams on the level of activity they are seeing in various operating areas, to hear updates on growth projects. Last quarter, the NGL-focused players shocked the sector with much lower distribution coverage on lower NGL margins. It will be interesting to see if WPZ, NGLS and MWE in particular had better 3rd quarters than 2nd quarters.

News of the (MLP) World
It was a light transaction week, with LNCO's IPO the most talked about bit of news. LNCO traded up on its first day 4.8% and was an all around success. It will be very interesting to see if any other MLPs try the same strategy.
Equity
LNCO priced initial public offering of 30.25mm common shares at $36.50/share (8.8% discount to LINE units), raising $1.1bn in gross proceeds
KMI disclosed that certain selling shareholders priced public offering of 69.3 million Class P common shares at $34.15, for gross sales proceeds of $2.4bn
Debt
WES priced additional $150mm of 4.0% senior notes due 2022 at 105.2%, a YTM of 3.356% (press release)
EROC announced 17% increase in its upstream borrowing base (press release)
Corporate Actions
GEL announced exit of Quintana Capital Group from ownership of its L.P. units (press release)
4 Quintna board members resigned as a result of the sale
The Davison family stepped up its ownership stake to more than 17%
CEO Grant Sims bought $6.5mm worth of units

Delaware Court dismissed lawsuit brought by HITE Hedge LP against El Paso Corp (now owned by KMI), citing lack of fiduciary responsibility of GP to LP with regards to drop down sales to EPB (judge's opinion)
Quarterly per unit distribution / dividend announcements:
TRGP: $0.4225, +7.3% quarter over quarter
WES: $0.50, +4.2% qoq
NGLS: $0.6625, +3.1% qoq
KMI: $0.36, +2.9% qoq
GEL: $0.4725, +2.7% qoq
EPD: $0.65, +2.4% qoq
CPNO: $0.575, flat
TGP: $0.675, flat
TOO: $0.5125, flat
200 Posts
This is my 200th post, by the way. At a conservatively estimated average of around 750 words per post, we are talking about 150,000 words about MLPs (mostly) in less than 3 years. That's roughly the equivalent of a 300 page book. Time well spent, I think. These posts have raised my credibility and profile, connected me with my new employer and a few new clients, forced me to keep up with MLP news religiously and (most importantly) helped me be a better investor. Thanks to all of you readers, old and new.
Hinds Howard
MLP HINDSight