MLPs closed this week at brand new all-time highs after gaining another 2.3% this week, outpacing a big week from the S&P 500 (+1.5%). 10-year treasury yield was up 9 basis points and oil prices were down sharply, but both of those negative forces were overwhelmed by strong broad market move and continued natural gas strength. Also of note below is how propane was higher while ethane was lower, a divergence which we can expect to continue as we get into the heating season. Propane petrochemical demand is supplemented by its use as a home heating and cooking source, whereas ethane doesn't have significant alternative uses.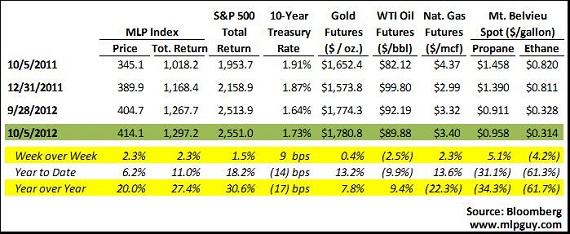 I was in Las Vegas this week at the Platts MLP conference, which I enjoyed despite losing most of my bankroll at the tables and video poker machines. The quality of the speakers (present company excluded) was excellent, but attendance was a little light, unfortunately for sponsors (like Guzman & Company), and for everyone that wasn't there. I hope to find time to provide more detail on what was said at the conference at some point this week, but it was hard enough trying to find time this weekend to put together this admittedly half-assed weekly update.

All-Time Highs
We reached fresh highs on the Alerian MLP Index this week, which is nothing new for spoiled MLP investors, who have gotten fresh all time highs with little interrupting for decades now. Below is a chart of the MLP total return index since Alerian's data started in 1996. The times when the MLP Index has not been making fresh all-time highs are rare. So, why do I point it out? For one, its been a year exactly since the MLP Index bottomed in its latest downturn. Second, the fact that MLPs are constantly making all time highs can be looked at two ways, each way revealing something about your investing worldview. You could look at the chart below and say: why invest in MLPs, they've basically gone straight up for nearly 2 decades, that must be a bubble, and it certainly can't continue for another decade.

Or you could say: there must be something structurally advantageous to this sector to have performed so well over the years, the underlying fundamentals of the sector are strong, interest rates will remain down for next few years, this sector offers a higher yield than alternatives, with visible growth, I expect this performance to continue for another few years, potentially a decade given the growth of production and supply of domestic oil and natural gas.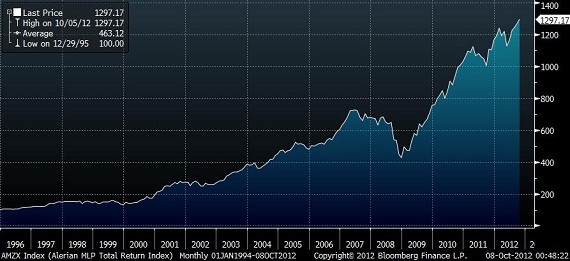 Personally, I tended to think more like the latter until the crisis of 2008. These days, absolute valuation of MLPs is scary to me (relative value still argues for MLPs being cheap). Guessing right on when to be greedy and when to be fearful is one of the hardest things about investing. But now, a year removed from MLPs bottoming out, and at all-time higher, seems like a good time to reflect on which way to lean.

Below is a five year chart of the Alerian total return MLP Index. As you can see, starting at around the middle of 2009, MLPs started making new all time highs again. In August of last year through September, MLPs took a negative turn, bottoming exactly 1 year ago (10/5/12). MLPs are up 27.4% since then on a total return basis.

Winners & Losers
Oil's price decline this week seems to have influenced a few names on the bottom 5 that have some operational leverage to oil drilling (HCLP) and oil midstream operations (TLP and RRMS). BWP was down 3.5% after it priced its 3rd equity offering of the year and 2nd since August 1st.
MLPs on the top 5 list this week seem to be ones that benefit from higher propane (SPH) and natural gas prices (XTEX, EROC, LRE). ETP completed its acquisition of SXL's general partner this week, which drove SXL higher. EROC was also up big on the announcement of an additional 800,000 of acreage dedicated by Anadarko to EROC under their existing gathering and processing agreement (which already had 1.1mm acres dedicated). EROC closed higher than $10.00 per unit for the first time since March 27th.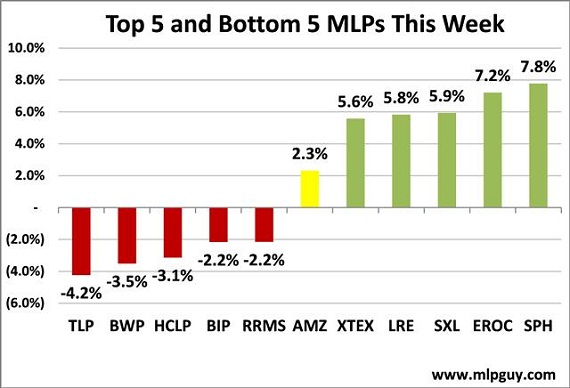 For the year, the top 5 and bottom 5 MLPs remained largely the same week over week. EQM displaced OILT as the fifth highest returning MLP so far this year. CLMT still leads the winners, and OXF still leads the losers.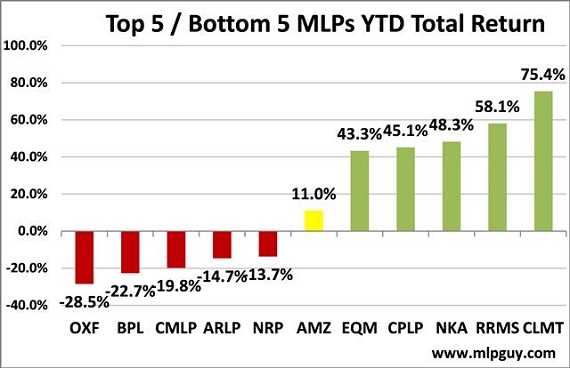 Quick News Recap

Carl Icahn's CVR Energy to launch another variable MLP, CVR Refining LP, which filed its S-1 this week (filing)
GEL's sponsors removed equity overhang this week with a secondary for approximately $192mm of GEL units owned by Quintana Capital

Priced at a steep discount (6.97%), and traded up more on the next trading day than any other MLP offering this year (+4.7%)

TLLP did an equity deal that also traded very well in the aftermarket

Priced at 3.78% discount, traded up 3.0% the next day
TLLP has grown its distributions rapidly lately, but has a limited float, so this offering and the heavy trading after pricing was an opportunity for institutions to buy TLLP in size

BWP's equity offering, mentioned above, priced at 3.74%, and traded down 0.89% the next day
LinnCo will price its IPO this week, which should garner quite a bit of attention
Distributions: MEMP raised its distribution 4.2%, PAA raised its distribution 1.9%, PNG held its distribution flat
MMLP announced two acquisitions from its parent for combined $271.8mm and announced lawsuit settlement with Scott Martin
VNR and CQP priced debt offerings
Hinds Howard
MLP HINDSight