MLPs were roughly flat for the second straight week, with the Alerian MLP Index stuck in the 400–405 range. Unlike last week, however, the S&P 500 was down more than 1% this week, so MLPs outperformed by standing still. Other risk assets, like gold and oil, were down this week, but oil may have bottomed on Wednesday just below $90/barrel (bbl).
Eccentric as usual, natural gas popped, with the November contract up more than 8% this week. Natural gas strength and the 10-year interest rate dropping 12 basis points to 1.64% probably helped MLPs stay flat. GPs were down 1.0% this week, mostly due to Alliance Holdings GP (AHGP) falling 7.3% for the week, one of a number of coal MLPs that were not correlated with the natural gas spike this week, which is counterintuitive because more expensive natural gas means coal is relatively cheaper.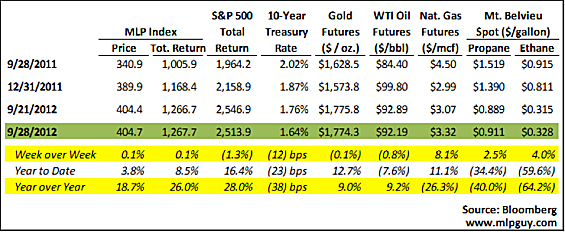 This post is going to be light on insight and commentary, heavy on colorful charts as we attempt to take stock of recent past performance, seasonality and winners and losers from another quarter in the books for the MLP sector. If a picture is worth 1,000 words, then what is a bunch of charts with 988 words surrounding them worth? The answer, for me at least, is an entire Saturday night. Enjoy.
Last 12 Quarters, Last 12 Months
For the quarter, MLPs were up 8.9%, bouncing back from a slow start to the year. Much of the quarter's gains came in July, when the MLP Index was up 5.1%. September's 2.0% return was the fourth straight positive month.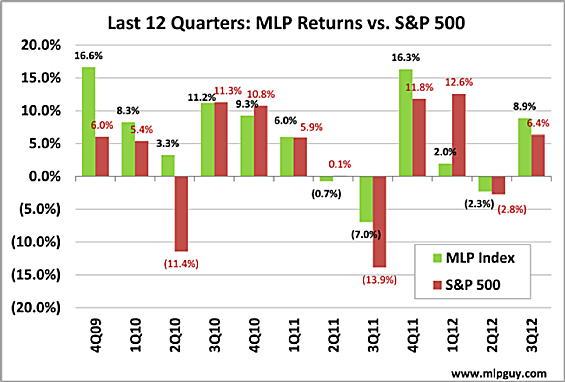 Here is the last 12 months for the MLP Index versus the S&P 500. At this point last year we were very close to the most recent big bottom in MLPs, which occured in the first week of October, before MLPs bounced dramatically into year-end, despite record equity issuance. This year we have coasted to the close of the third quarter, with much less excitement and volatility, which probably means 2011 will not repeat itself.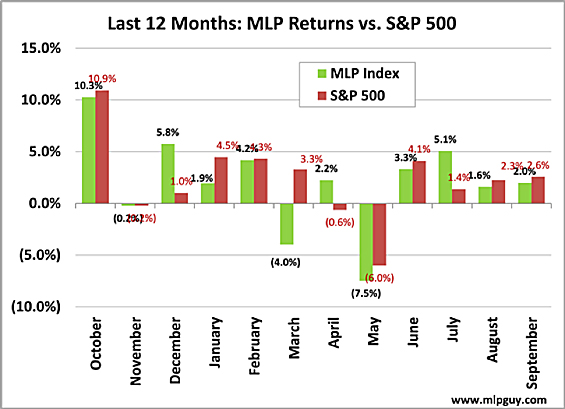 Seasonal Average Returns over the Last 201 Months, Last 67 Quarters
The Alerian MLP Index data goes back to the beginning of 1996. Since that time, there is a clear and well-documented monthly pattern of performance whereby MLPs rise in the first month of each quarter, then distributions get paid the second month, which is typically the worst month of each quarter, and the third month of each quarter is hit or miss, mostly hit. Below is a chart of the average total returns of each month for the last 17 years. January is the big winner, October is the weakest of the first months of the quarter, but it's up there right above December. So, if the averages hold for the rest of the year, we can expect a positive October, slightly negative in November (the worst month of the year on average), then a bounce into year-end. . .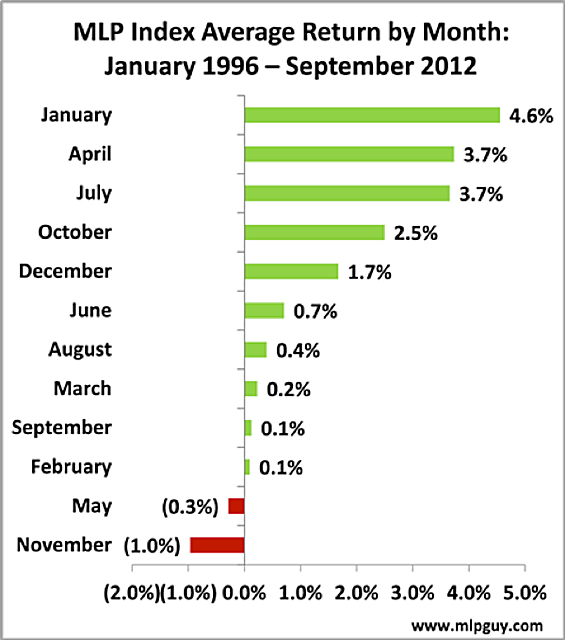 Things are never that smooth, but looking back and averaging things out over the long term looks pretty good for MLPs. How much that gets distorted and increasingly correlated with new assets creeping their way into the Alerian MLP Index remains to be seen, but the quarterly average total return the last 17.75 years is pretty consistent, with the fourth quarter on average being the weakest total return at 3.4%. But two really bad quarters (1999, -12.2% and 2008, -20.3%) skew the data. When comparing median returns for the four quarters, the second quarter is actually the worst month of the year at 3.3%. Any way you slice it, it looks pretty good looking back from here. What will this chart look like in another 67 quarters?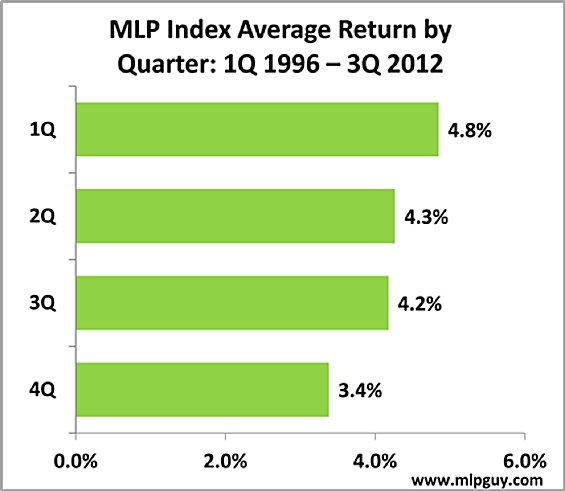 Winners & Losers
MCEP was the biggest MLP loser this week. MCEP went public in December 2011 and so was not eligible to file an S-3 and issue unit off of a shelf registration statement. So this week, just a few months before it will become S-3 eligible, MCEP filed an S-1 to register a follow-on offering that includes 1.omm primary units and 3.0mm secondary units owned by Yorktown. It is a lot of work to file an S-1 rather than wait a few months to file an S-3, so Yorktown must be pretty eager to sell. MCEP's S-1 filing was posted before the market opened on Thursday, and sent its units down 3.3% Thursday and another 2.1% on Friday. The rest of the bottom five includes the volatile CQP and two coal MLPs (ARLP and NRP), which as mentioned above did not benefit from the natural gas price spike.
For the second straight week, the MLP IPO du jour led the way. This week was less impressive than SUSP and HCLP's first-day pops, but Summit Midstream (SMLP) closed its first day of trading up 5.6% after pricing at the midpoint of the filing range ($20.00). CLMT and ACMP continued their recent strength, and DPM showed some signs of life.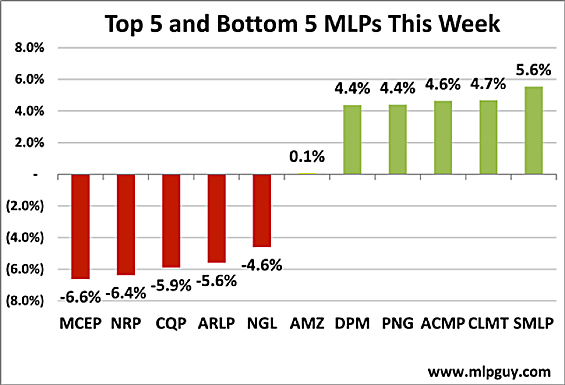 For the quarter, the biggest winner was Compressco Partners (GSJK) followed closely by CLMT and RRMS, all with total returns of more than 30% since June 29th. There were only 11 MLPs with negative total returns of the 75 MLPs (GPs and variable distribution MLPs not included) I reviewed, and all less than 10%. STON was the biggest loser at -6.9%.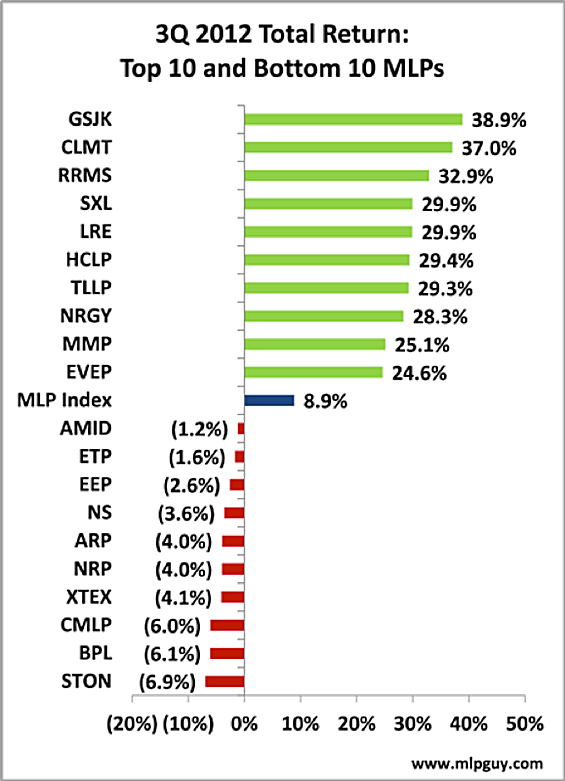 Year-to-date, OXF is still the biggest loser year-to-date, despite rallying for a 23.4% total return in the third quarter. Others in the bottom five year-to-date did not fare so well the past three months.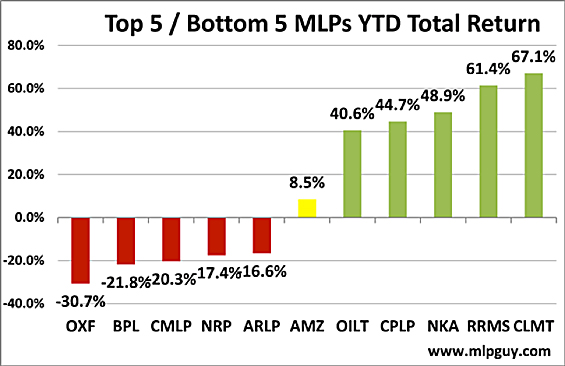 News Brief
In short, there was the sixth MLP IPO this year (SMLP), a follow-on at the tightest discount of the year (EPD at 2.75% discount to prior close), several debt deals (APL, RGP, BBEP and GMLP in Norwegian bond market!), one smallish E&P MLP acquisition (ARP). Oh, and there was one big promotion for my old friend Mike Campbell at NRGY, who is going to be CFO while Brooks Sherman gets promoted to president as the transformation of NRGY continues. . .there was the financial transformation, structural transformation (GP buyout, then subsidiary midstream MLP), asset transformation (propane to midstream), now the management transformation (OK, not really because Brooks isn't going anywhere). Never a dull moment at NRGY.
Hinds Howard
MLP HINDSight