The precious metals complex rebounded strongly in August and September, which is typical when the larger trend is bullish. We believe the larger trend turned bullish with the bottom in May. However, weeks ago we noted targets of $1,800/ounce (oz) for gold and 57 for GDX as resistance points. The market has begun a corrective period that should last deep into October. Nevertheless, such a correction would provide an excellent entry point before the market makes its next move higher. Today we examine potential medium-term and intermediate-term targets for gold and the gold stocks.
Starting with gold, we find it correcting and consolidating after reaching resistance at $1,800/oz, which was an obvious short-term target. Upon a break past $1,800, the initial target would be $1,900/oz. Since $1,800 is stronger resistance than $1,900, we can apply its distance from the bottom ($1,550/oz) and that projects to another target of $2,050. Upon a breakout past $1,900, the market could be setting up for a potential cup-and-handle pattern, which projects to a minimum of $2,250/oz.


Next, we analyze gold in terms of its trend channels. Note that trend line A defined resistance from 1999 to 2010 and has defined support in 2011 to 2012. The next trend-line resistance comes into play at $2,350/oz in Q3/13 and $2,550 in Q4/13.


Moving to the shares, we note that GDX faces its next major resistance at $65. A potential cup-and-handle pattern projects to the $90-$93 zone.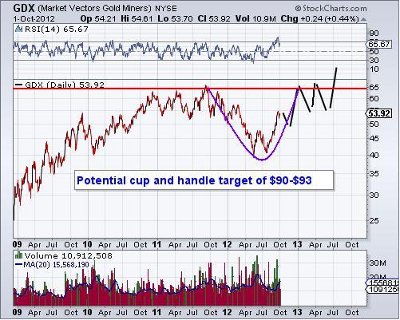 The GDX versus gold ratio shows 0.40 to 0.45 as a potential future target zone. Figures of $2,250/oz for gold and 90 for GDX equate to a ratio of 0.40.


The precious metals complex is correcting in the near-term and we expect that to continue for the next several weeks. Following the correction we see immediate upside targets of $1,900/oz for gold and 63–65 for GDX. Essentially, the next breakout should result in a retest of the former highs. Moving beyond the medium term, we see a target zone for gold of $2,300–2,500/oz and GDX to 90–93. The timetable for such is in the next 15 months. In the meantime, the sector is correcting and we expect that to continue for the majority of October. Thus, be advised that the coming weeks will be an opportunity to accumulate your favorite positions at lower prices.
If you'd be interested in professional guidance in uncovering the producers and explorers poised for big gains, then we invite you to learn more about our service.
Good Luck!
Jordan Roy-Byrne, The Daily Gold
[email protected]