Wall Street Journal, Thomas Burton
Research that suggests prescription drugs are as good or better at preventing strokes than interventional procedures is prompting a range of leading doctors to recommend against carotid surgery and carotid stent implants in most patients who haven't had stroke symptoms.
The shift has broad implications for large medical-device makers, including Abbott Laboratories, ABT +0.77% Boston Scientific Corp., BSX +0.43% Johnson & Johnson JNJ +0.50% and Covidien Inc., COV +0.50% which all make carotid stents to open neck arteries. Some of the companies are pushing the federal Medicare program to widen stent coverage so it pays for routine carotid stent placement in people with no stroke symptoms. The move could greatly expand stent use because an estimated 100,000 or more patients would potentially be candidates for it.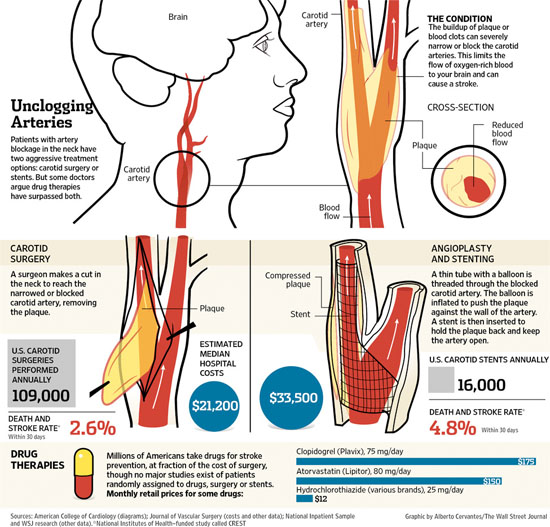 The device makers' effort is running into a heated debate among physicians over whether drug therapies to prevent stroke have surpassed stents or carotid artery surgery as the best treatment for many patients with artery blockage in the neck. Thirty-eight leading doctors in vascular medicine have written an open letter to Medicare and urged the program not to expand coverage for carotid stents.
"The great majority of patients won't get a benefit from stents or surgery," said Australian neurologist Anne L. Abbott, who has led a pushback against high rates of carotid surgery and stents. About 125,000 Americans now get carotid surgery or carotid stents each year. . . .View Full Article