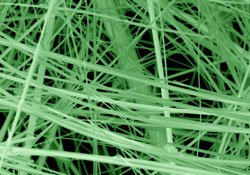 Few modern materials have achieved the fame of silicon, a key element of computer chips and the namesake for Silicon Valley, home to some of the world's most prominent technology firms.
The next generation of computers, however, may not rely so much on silicon.
University at Buffalo (UB) researchers are among scientists working to identify materials that could one day replace silicon to make computing faster. Their latest find: A vanadium oxide bronze whose unusual electrical properties could increase the speed at which information is transferred and stored.
In Advanced Functional Materials, the research team reports that they have synthesized nanowires made from vanadium oxide and lead. . .View Full Article