Since my last report a number of positive events have taken place and driven gold prices higher, as forecast in this report in late August.
ON September 6th the ECB met and Mario Draghi announced a plan whereby the ECB committed to an unspecified amount of purchases of one to three year bonds for EU members asking for help. Unlike today's Federal Reserve action, these bonds will be sterilized, which means they don't impact money supply.


On September 12th the German Constitutional Court ruled on the constitutionality of German funding of the ESM. The ruling was in favor of doing so. The only restriction on the funding is that should the amount of the German contribution need to go beyond the 190 Billion Euros Germany has already committed; any additional amounts of contribution would need to be approved by the German Parliament. Key to this ruling is that there is no limit on what Germany can contribute.


China has embarked on an aggressive QE plan to build more infrastructure.
The Fed acted this morning and announced another round of Quantitative Easing. Here are the highlights of the Fed Announcement:
Federal Reserve FOMC: keeps Fed Funds target steady in 0.0% to 0.25% range, as expected
Federal Reserve FOMC: voted 11 to 1 for action
Federal Reserve FOMC: announces another round of quantitative easing totaling $40 bln ABS per month
The Federal Reserve will be spending the $40 bln as additional funds
Federal Reserve FOMC: extends rate guidance to mid
Basically, the Fed threw the kitchen sink at the market. Don't underestimate what he did as this is a $500 billion Quantitative Easing Program and it can go on and on. It is QE Forever as if it proves to be not enough, the Fed will add more and more until it works. This is a very powerful move.

If you keep up with foreclosures as I do, you probably are aware that the banks have been holding off on dumping another round of these on the market. The Fed today basically gave the banks today the go ahead to do so and to package those mortgages so that the Fed can buy them from the banks. In the process, I think behind the scenes our government is going to press banks to lower lending standards. That combination will be important as it means that banks will loan. If they do, that will create jobs as those homes most likely will be in need of repair. In addition as they come off the market, demand coupled with low rates and a feeling of new wealth will hopefully combine to drive the building of new properties, in turn creating new jobs.

This move is inflationary as instead of reinvesting funds that mature, this action adds another $40 billion per month to the Fed's balance sheet. Keep in mind that this isn't all the Fed may do as the Fed Chairman clearly said in his afternoon interview. If this isn't enough, he is prepared to do more. Given that CNBC reported today at the last Fed meeting 13 members were expected in 2014 to vote to increase rates and now that number has fallen 6. They've made it clear that easy money is here to stay and that the Fed will most likely error on the inflation side, not the easy money side.

To gold bulls this is like a child walking into a candy store. It's a real shot in the arm and should move those on the sidelines into the market on pullbacks. Even before today's action gold was benefiting from healthy inflows of capital in ETFs, a lax monetary policy and a rise in the Eurocurrency. With this there's no reason to not be bullish.

Therefore, what I said in my last report hasn't changed. September is proving to be the month where market events have kicked in to drive gold up on a seasonal basis and I don't see much on the charts to stop this action.

In fact, given that CNBC reported today at the last Fed meeting 13 members were expect in 2014 to vote to increase rates and now that number has fallen 6 tells you that easy money is here to stay and that the Fed will most likely error on the inflation side, not the easy money side.


Seasonal Charts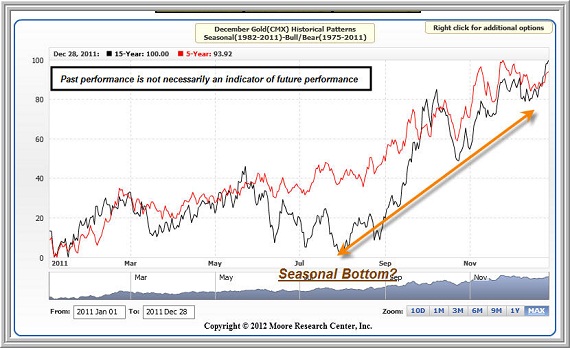 A picture is worth a thousand words.

Prices are following the historical picture of rising prices from August into September and possibly year end. While there's no knowing when this will end, past history shows there's often more upside ahead. In fact given the Fed action and the upcoming election, even stronger gains might be ahead than some thought.

I have been looking for the 1775-1800 range to be the first resistance point, but never expected it to be hit this early into the seasonal cycle. Here we are only in mid September and 1775 has already been hit, with the strongest seasonal part of the year ahead. To me this means there's room for more gains on the horizon.

Monthly Chart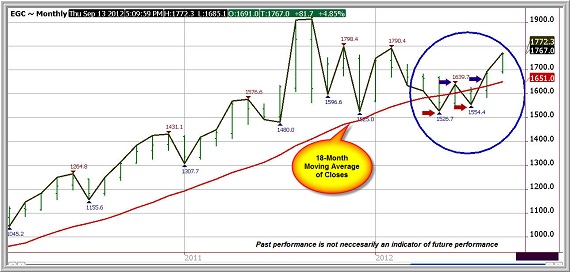 The above Monthly Chart pattern remains in a bullish mode. The chart pattern is one of higher highs and higher lows, taking place above the 18-Month Moving Average of Closing Prices. Only getting back under 1554.4 would at this time negate the bullish chart pattern.

The Swingline Study, the most recent part of it circled, has a clear pattern of higher lows and higher highs. I've shown the recent lows with a "red" arrow and the recent highs with a "blue" arrow. This formation is the classic definition of a bull trend. Higher highs and higher lows are being made and they are taking place over the 18-Month Moving Average of Closes, shown as the red line.


Daily Chart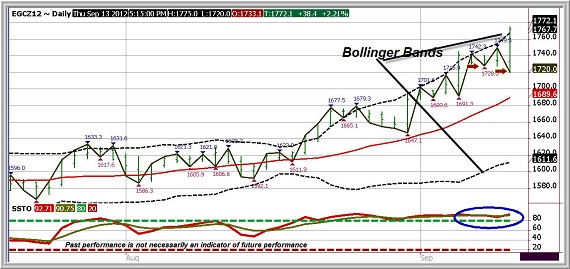 The setup on this chart is different from that of the Monthly Gold Chart. The Swingline Study now has a lower low, today's low of 1720, which is lower than the most recent low of 1728. I've marked the two lows with red arrows for you to see on the above chart.

The Swingline Study is what makes up these lows and highs. It's something I created years ago to easily see on a chart what the most recent pattern is. This pattern is not a classic pattern as it is one a lower low and higher high.

Another thing to look at is today's low. Until it is taken out I favor you being long. Given the current chart pattern, I think today's low is very important. In fact, it's as important as yesterday' Outside Day Down's high was. When you have an Outside Day, which is a day where the market exceeds the previous day's high and low, the way the market closes set's in place a rule I often use. On a day when prices close lower, as they did with yesterday's Outside Day Down, the high of the Outside Day Down becomes a number where those going short get trapped if that number is penetrated. That's what happened today.

Adding to the bullishness on this chart is the bullish embedded Slow Stochastic reading. Stochastics are made up of two lines, a "K" and "D" line. When both lines are over a reading of 80, the trend is said to be up, regardless of what other chart studies are doing. This is what I teach, believe in and what is taking place.

Therefore unless the Stochastic reading loses its embedded reading, I continue to view a price breaks as just "noise". On the other hand if the Stochastic reading were to lose its embedded reading than this thrust up's power would be lost and I would think it wise to get out of the market.

Even then, because prices would most likely be over the 18-Day Moving Average of Closes, currently 1689.6, the trend would not have turned down. It would have been weakened to the point of being neutralized, but would not turn down.

I see nothing at this time that points to a downtrend setting in, especially given the current readings of the Monthly and Weekly Gold Charts. A disappointing correction could set in, but not a downtrend as I define it.
Summary

You should get long gold.

I do not recommend where in this report as that is what my subscribers pay me for.
Ira Epstein
The Linn Group
Disclaimer: This publication is strictly the opinion of its writer and is intended solely for informative purposes and is not to be construed, under any circumstances, by implication or otherwise, as an offer to sell or a solicitation to buy or trade in any commodities or securities herein named. Information is taken from sources believed to be reliable, but is in no way guaranteed. Chart data is courtesy of LGP-IraCharts. No guarantee of any kind is implied or possible where projections of future conditions are attempted. Futures and Options on Futures trading involve risk. In no event should the content of this market letter be construed as an express or implied promise, guarantee or implication by or from The Ira Epstein Division of The Linn Group, Inc. or The Linn Group, Inc. that you will profit or that losses can or will be limited in any manner whatsoever. No such promises, guarantees or implications are given. Past results are not indicative of future performance.