The simplest way to speculate on rising gold prices is to buy gold itself, this is no secret. However some investors and traders wish to add leverage and optimize their position to increase their exposure and profits. Traditionally, investors would buy gold mining stocks to increase exposure to the gold price. The rationale behind this theory is arguably based on sound accounting principles but fails in practice.
Imagine a mining company that produces one ounce of gold a year. The cost to mine this one ounce is fixed at $1,000. The price of gold and consequently the company's revenue is stable at $1,500/oz giving yearly net profit of $500.
Now say the price of gold increases by 10% from $1500 to $1650. A gold investor has made a 10% return. How about the investor in the mining company? They only variable that has changed is revenue, which has increased to $1,650 and consequently profit has risen to $650. This is a 30% increase from last year which one would expect to see reflected in the share price.
Theoretically this is a very attractive way to profit from a rise in the price of gold but in practice the results are far less flattering for mining companies and their shareholders.
We've looked at this topic before and explained in great detail why
Are Gold Stocks The Real Barbarous Relic
.
Not too long ago when financial markets and instruments were far less flexible and available than they are now, leveraged exposure to gold was very hard to achieve. Gold stocks used to be the best way for the ordinary investor to increase exposure in the search for higher returns.
Nowadays, leverage is extremely easy to come by, even for retail investors. There are a massive amount of derivative products that allow exposure to the gold price for small to medium investors as high as 100:1 or more. These include CFDs, options and leveraged ETFs.
These derivative products are far superior instruments to profit from a gold rally than mining stocks. Why is this the case? Mining stocks do not track the price of gold closely at all, as anyone who invested in the gold mining sector in 2012 will tell you (Thankfully this group does not include us nor our subscribers).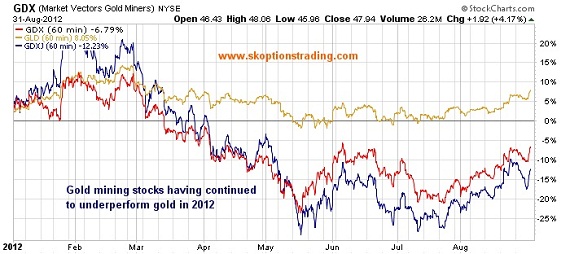 The above chart shows two gold mining index ETFs, GDX and GDXJ which track a basket of gold mining stocks compared to GLD which exactly tracks the gold price. In 2012 the mining indexes have been down as much as 25% and are still showing a negative return. Losses are sometimes part and parcel of investment, but if one correctly predicted a rise in the gold price in 2012 (currently up 8%) and bought into a gold mining stock such as GDX or GDXJ to profit from this view, they'd be immensely frustrated with the performance of gold stocks despite gold's 8% rise.

Reasons for the poor and unpredictable performance of gold stocks are covered in Are Gold Stocks The Real Barbarous Relic?

Let us reiterate we're not here to disparage the gold mining industry or gold mining stocks. Money can be made in this sector. However, using these vehicles to profit from a rally in the gold price is a poor strategy. Comparing the return on gold to the return on gold mining stocks all the way back to 2007 is further evidence for this: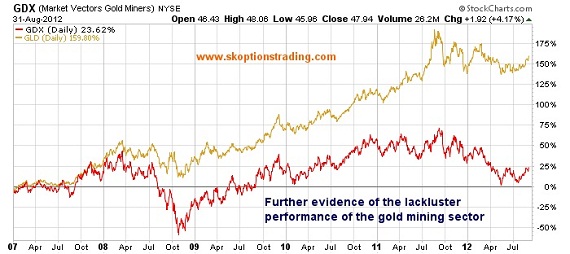 Miners have returned a miserable 24% since 2007, whereas gold is up 159%.

For comparisons sake, since mid-2009 SK Option Trader has returned 470%.

How have we generated this sort of return? Well for one we've avoided mining stocks (except for one trade where we speculated that gold would outperform the miners – we were correct). But pivotal to our success is the flexibility and opportunities that option trading allows.

Unlike mining stocks, gold options are directly related to the price of gold. If one holds bullish gold options and gold rallies, a profit is made – which is not always the case with mining stocks. Options are the most flexible financial instruments ever created. One can speculate on the price of a stock/commodity at a certain time in the future, whether that be up, down or unchanged.

The advantages of options extend further because with options:

· Leverage can be customized
· Timing is flexible, one can speculate on the gold price next week or in two years or more
· Downside is known and limited
· Upside is unlimited, with huge returns in short time frames easily achievable
And best of all gold options are not subject to the numerous costs and risks mining stocks are exposed to, which we have covered in Are Gold Stocks The Real Barbarous Relic?

We've had several options trades return well over 100% and with gold set to rally very soon, we think we have some more big winners on the cards. One of our currently open trades is up 69% in 50 days, in what has been a relatively tame market. We expect more when things take off.

Big returns are generally compensated by big risks, as finance 101 will have you know. Derivatives and options by their very nature carry risk and in the same manner returns are amplified, so too are losses.

Options provide great opportunities for those from both ends of the risk aversion spectrum. Devoting even only a small percentage of an investment portfolio to gold options can enhance its performance, unlike gold mining stocks.

SK Options Trading has a proven track record of consistency and performance. Out of our 102 trades, 93 have closed at a profit for an average return of 34.96%. Our model portfolio is up 470.14% since 2009. Our mixture of fundamental and technical analysis and what can only be described as pin point market timing is our recipe for success. We are measured and our number one priority is the growth of our subscribers' portfolios. Paramount to this is being very careful to avoid losing any of it!

Proof of our calculated approach was clear very recently. We correctly foresaw choppy, foggy trading over summer. We largely stayed out of gold over this time in anticipation of better opportunities in the future. And of course we have been avoiding the mining stocks since 2008.

Our weekly subscriber update from the 23rd of July included the following chart: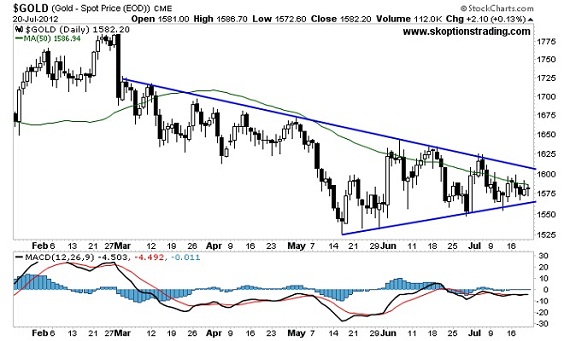 Along with the following commentary:

"Gold has been forming a symmetrical triangle formation over the last couple of months, however it is only a matter of time before the yellow metal breaks out of this range, since the upper and lower trend lines will meet in just a few weeks.

We think that gold prices will break upwards and out of this formation, driven by weaker US data and/or hints at further easing of monetary policy.

Another piece of technical analysis that also indicates a major move in gold prices could be coming soon is that of the Bollinger Bands (BBs), which are a measure of volatility.

Weekly BBs are shown on the chart below (in blue overlay) and the width of these bands is show in the black line overlaid. Tighter BBs are a result of lower volatility.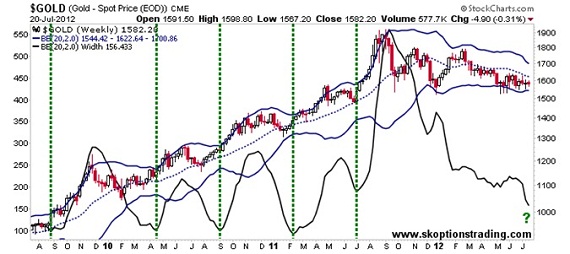 As one can see, volatility in gold has been decreasing in gold for some time, however it is now approaching levels that it has previously bounced on. Volatility cannot decrease forever and in the current economic climate we think that there is enough uncertainty to speculate on a large move happening in gold in the coming weeks and months. Our research suggests that this move will be to the upside, given the lack of momentum in the US and global economies and the current record low levels of real interest rates."

We were correct in saying gold prices would break out of this range and to the upside, as they have done: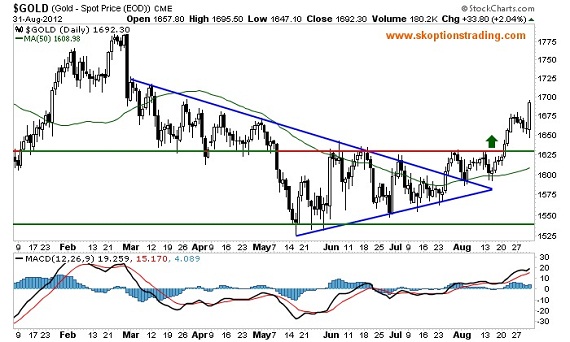 Again we were correct in saying hints at monetary easing would be the driver. Ben Bernanke has recently opened the door to monetary easing. If Bernanke delivers, gold will rally very hard. Volatility has also risen.

At the time we traded on the back of this view, and advised subscribers of our actions. As a result we're sitting on a trade that's up 69% in 50 days. We're still holding it as we think gold has much greater heights to reach before long and we anticipate even more profit. Subscribe now to see this trade and others in the future.

$1,000 invested in this one trade would have returned more in 50 days than investing $8,000 in gold outright would have returned in the whole year!

Not only that, but the profit on the $5,000 trade would have covered our subscription fee many times over – with just one trade!

Our performance trading options is exemplary by any standards. In contrast, the mining stocks continue to falter.


Bob Kirtley
SK Options Trading