The precious metals are moving back into the spotlight.
After being left for dead by Wall Street several months ago, gold and silver are at 4-month highs. This latest rally is apparently on worries about inflation due to rumored (hoped for?) worldwide central bank stimulus plans.
Silver has had more upward momentum of the two, rising 11% over the last month. Gold is up 2.8% in the same time. You can see the recent upward momentum in the one year chart of the Gold ETF (GLD) and the Silver ETF (SLV).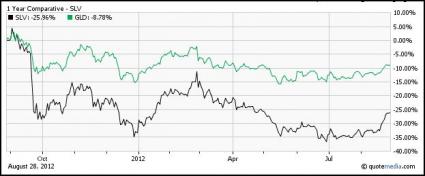 Despite the recent gains, silver is still down 24.5% over the last year and gold has fallen 8.7%.
Much discussion has been made about famed hedge fund managers George Soros and John Paulson both adding to already existing gold positions in the second quarter of this year. The Soros Fund Management doubled its investment in the SPRD Gold Trust to 884,000 shares. But that pales in comparison to the Paulson & Company position. It raised its position by 26% to 21.8 million shares. (Wow!)

Is the recent move higher in the precious metals sending a signal about future inflation?

Or is it just nervous investors looking for safety?

Tracey Ryniec
Zacks