Over a year ago, I told you about two companies pioneering a new therapeutic platform that provides the benefits of chemotherapy while reducing the side effects. Many of you are familiar with the innovators of these new biological "magic bullets": ImmunoGen (NASDAQ:IMGN) and Seattle Genetics (NASDAQ:SGEN).
Both companies specialize in antibody-drug conjugates (ADCs), a biotechnology that works against cancer by linking antibodies to powerful toxins. The antibody is engineered in the lab to hone in on proteins found on the surface of cancer cells. Once the antibody attaches to a cancerous cell, it is drawn inside, where the toxin is released to kill it.
Both companies have enjoyed success. Seattle Genetics won regulatory approval for Adcetris—the world's first commercial ADC therapy. Although the initial approval is for late-stage lymphoma in patients who have seen other therapies fail, the company is pursuing the opportunity to expand the label into earlier lines of therapy. It is also conducting clinical trials in other kinds of cancer that express the same molecular targets.
ImmunoGen, on the other hand, is still advancing its lead compound to commercialization in partnership with Roche. Called T-DM1, it takes Roche's very successful breast cancer antibody Herceptin and improves it with a toxic payload. The T-DM1 program has enjoyed additional clinical validation, and ImmunoGen and Roche expect to file for regulatory approval in the U.S. and Europe in 2012, followed by Japan in 2013.
Investors in these two biotechnology pioneers have been rewarded since their addition to our portfolio. ImmunoGen is up 122% at the time of this writing, and Seattle Genetics is up 78%. In addition to these lead therapies, both companies enjoy deep pipelines of additional clinical-stage compounds. That's what I like about companies with breakthrough platforms: They enjoy the ability to leverage them to create many new therapies. If well managed, they can grow for many years and continue to build value for their shareholders.
I'd like to tell you about a company with a different kind of "magic bullet" technology. It also has a compound in late-stage trials for cancer that has recently enjoyed independent validation through a partnership with a large pharmaceutical company. The company is Endocyte Inc. (NASDAQ:ECYT).
Endocyte Founder Discovers Cancer's Poison Pill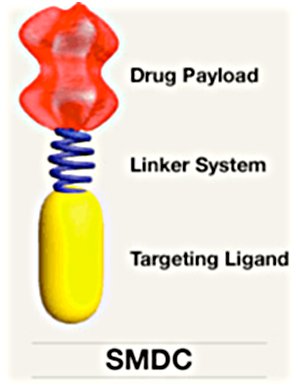 Source: Endocyte
Endocyte's platform, called small molecule drug conjugates (SMDC), emerged from research performed at Purdue University by Philip S. Low, Ph.D. SMDC technology is conceptually similar to ADC technology. There is a targeting molecule—in Endocyte's case, a small molecule, instead of a large antibody—a linker system and a drug payload.
Low is the Ralph C. Corley Distinguished Professor of Biochemistry at the institution, where he focuses, among other things, on the design and synthesis of receptor-targeted imaging and therapeutic agents for cancer, infectious and inflammatory diseases. Low, who has published hundreds of peer-reviewed scientific papers, helped found the company and today serves as its chief scientific officer.
In the early 1990s, Low's research demonstrated that plants could absorb vitamins by means of a cellular mechanism called endocytosis. Endocytosis, which is a process by which cells engulf molecules, had previously not been considered a mechanism for vitamin absorption by plant cells.
After this discovery, Low's team researched endocytosis of vitamins in animal cell lines. They learned that one of these vital nutrients, variously known as vitamin B9, folic acid or folate, was taken up by means of endocytosis to a far greater degree in cancer cells than in healthy cells. Furthermore, he also discovered that small molecules like folate could be linked to toxic payloads.
Folate is an essential nutrient required for cell division and growth. Human cells need it, especially when they are dividing. The way many cancer cells take in folate, however, is not the same as in healthy cells. Normally, cells use an outer membrane gateway called reduced folate carrier (RFC) to receive the nutrient. Low's research showed that many lines of cancer cells would greedily take in folate by means of a different receptor, called the folate receptor (FR), not normally used by healthy cells.
Low's research also found that when a toxic payload—a chemotherapy agent—was attached to a molecule-mimicking folate with a molecular linker system, it wouldn't pass through the cell membrane by the ordinary means used in normal cells. This, however, did not affect the ability of these Trojan horse constructs to penetrate many cancer cells that express the FC receptor.
The FC receptor is, therefore, an excellent way to target cancer cells yet leave healthy cells unharmed. With this discovery, a new way to build targeted therapies for cancer using a small molecule with an affinity to the folate receptor has been created.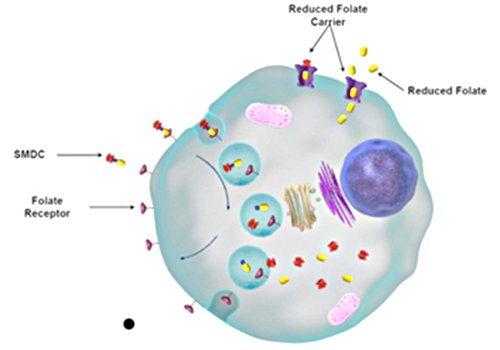 Source: Endocyte
Conclusion
Endocyte is a leader in small molecule drug conjugates, with a novel approach for delivering highly potent, precisely targeted therapeutic molecules. The company has a strong patent position, with over 245 patents issued or pending. To date, this innovative company's lead compound has delivered strong data in ovarian and lung cancer, with more SMDC drugs entering the clinic over the next 24 months. It is also leading the development of personalized cancer therapies with its companion diagnostics program.
As of its last four filings, the company is spending approximately $40 million in cash per year developing its pipeline. At this rate, Endocyte's war chest is good for approximately six years. Furthermore, with a current float of 36 million shares, Endocyte sits on over $6.50 per share. At the time of the writing, this means the market is assigning a value of only about $1.50 per share to the company after backing out cash.
Ad lucrum per scientia (toward wealth through science),
Ray Blanco
The Penny Sleuth